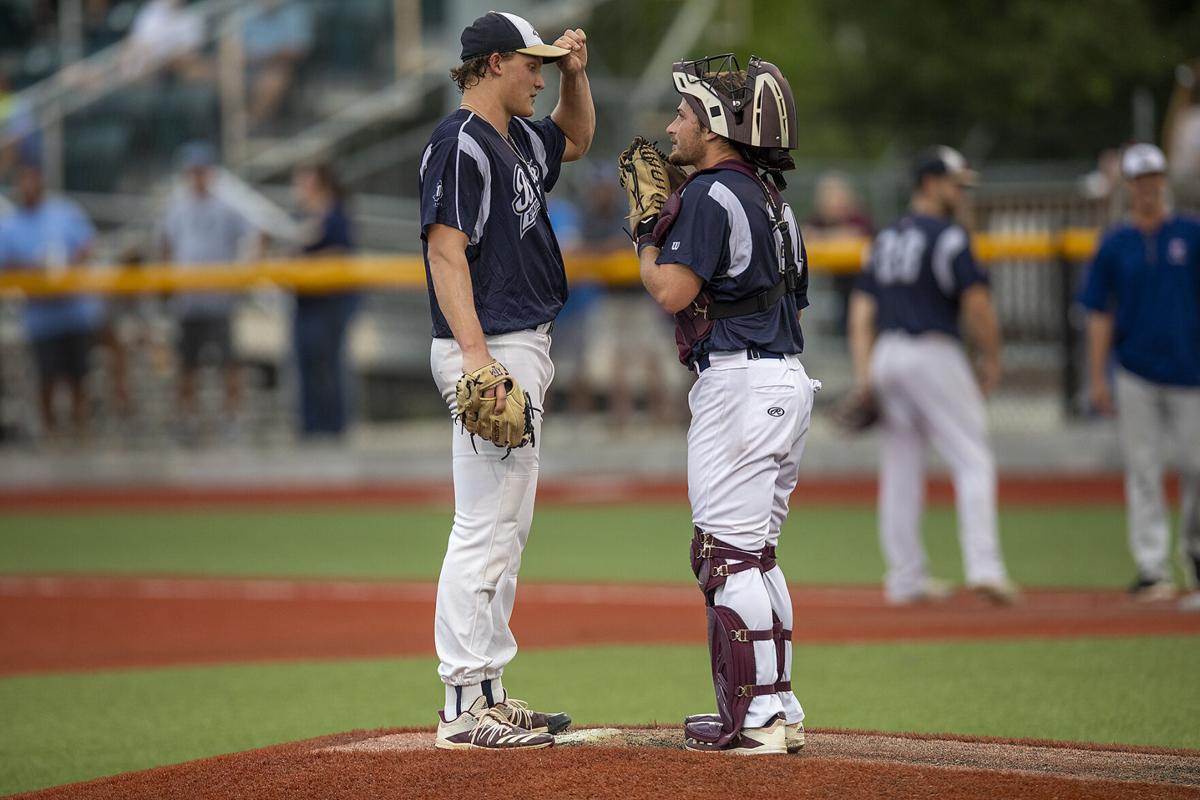 A year ago, Texas A&M catcher Mikey Hoehner thought he was coasting into his final season of eligibility with the Aggies. He had no idea he would spend part of the summer grinding out the end of the Texas Collegiate League season with the Brazos Valley Bombers
Hoehner went 3 for 4 with a walk and two RBIs in Brazos Valley's 12-4 victory over the Victoria Generals on Friday at Travis Field. It was just his second game with Brazos Valley (16-12), but already he is making an impact.
"It's just good getting out there and being able to play baseball," Hoehner said. "When everything went wrong and you didn't know if you were going to play again, it's nice to get out there and just play baseball no matter the level. It's been a really great experience."
Hoehner waited tables at Napa Flats in College Station last summer, believing there was still plenty of games left to play in his collegiate career. He didn't play summer baseball because he wanted his legs fresh for the long haul of his senior season. But 18 games in it, the coronavirus pandemic halted games.
With another year of eligibility granted to the "super senior" by the NCAA, Hoehner decided it was time to get back to work this offseason. He began the summer playing in the Five Tool Summer Collegiate League, which wrapped up play about a week ago.
"I was looking at the draft, but I didn't have the greatest season, so I guess that door wasn't really open for me, especially being limited," Hoehner said. "I sat back as an old guy, and you think, 'Am I going to keep doing this baseball thing or is it time to be a grown up and make a salary?' I'm just a baseball player."
Bombers' head coach James Dillard had been asking Hoehner to sign with the club since he returned to the Brazos Valley and practiced with the team.
"He was looking for more innings like so many guys around here, and that's a no-brainer," Dillard said. "You get a guy like Mikey that can handle a pitching staff and caught in the SEC, that's a no-brainer for us."
Hoehner lined a single to left and drove in Louisiana Tech's Manny Garcia in the first. Garcia reached on a three-run triple.
Two singles and a walk against A&M pitcher Will Johnston set the table for General Luke Coale to line a single into right, scoring two for Victoria (9-19) in the top of the second to cut Brazos Valley's lead to 4-2.
Brazos Valley second baseman and Aggie Bryce Blaum led off the bottom of the second with a triple that clanged off the fence in center field. Incoming Aggie transfer Taylor Smith then hit a towering infield fly that fell just inside fair territory, allowing Blaum to score.
Victoria added another run in the third when Ambren Vitik crossed the plate on a groundout to second by Hobbs Price.
Brazos Valley scored three more runs in the fourth, including two on Wesley Faison's single. Hoehner followed with another liner to left for his second RBI single of the game for an 8-3 lead.
Blaum led off the bottom of the fifth with a walk and later scored on Fashion's sacrifice fly.
Brazos Valley put together another big inning in the sixth with three more runs, including Hoehner reaching and eventually scoring on walks.
Victoria added one more in the ninth on a two-out wild pitch.
Behind the plate, Hoehner handled two of his Aggie teammates on the mound, Johnston and Dustin Saenz. Johnston (1-0) allowed three runs and six hits in four innings with six strikeouts. Saenz pitched two perfect innings with three strikeouts.
"Will has done a lot of good work in the offseason," Hoehner said. "It's good to see him develop a fourth pitch he can use in his outings. He looked good tonight, and he's still growing and developing, but I'm looking to see good things from him. Dustin was lights out tonight. He pitched some great sequences and looked really good on the mound."
The win helped Brazos Valley solidify second place in the TCL's South Division, which is one of four playoff spots to be decided after the regular-season ends Sunday.
Brazos Valley will host Victoria on Saturday and Sunday at 7:05 p.m. both nights.
Be the first to know
Get local news delivered to your inbox!