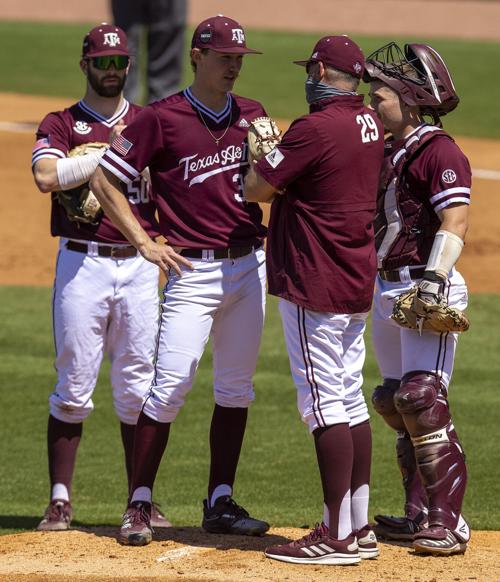 The look of disbelief that flashed across Texas A&M pinch hitter Taylor Smith's face as he watched the final strike of the game, matched those in the stands as the Aggie baseball team's losing streak reached five games.
A 6-3 loss to Alabama on Saturday at Blue Bell Park gave A&M its longest losing streak since joining the Southeastern Conference.
"When you talk about a five-game skid, you can point to a lot of different things in each and every game," head coach Rob Childress said. "We all have got to be better in each and every area and we're going to be. The sun is going to come up tomorrow and we're going to have an opportunity to respond."
Senior starter Bryce Miller took to the mound for the first time since March 19, because of a 10-day COVID-19 quarantine. Miller wasn't able to give the Aggies a lift.
Miller (2-1) lasted 2 1/3 innings, allowing four runs on a hit in the shortest outing of his career. He hit four batters and walked two, laboring through traffic on the base paths in every inning as Alabama (18-12, 4-7) took a 4-0 lead.
Miller has hit seven batters for the season, two behind team leader Chandler Jozwiak. Childress said it appeared the 10-day break prevented Miller from getting into a rhythm.
"Maybe he was a little bit amped up, revved up," Childress said. "Mechanically, he was very off the pitch. He missed arm-side, high quite a bit. He pulled quite a bit and he was limited. The only pitch he could command was his slider, which is his fourth pitch."
Miller hit his third batter to start the third. He walked the bases loaded. Crimson Tide's Zane Denton followed with one of his two RBIs on a bloop single to center. A sacrifice fly to right field by catcher Sam Praytor and two more singles by TJ Reeves and Drew Williamson – both off A&M reliever Mason Ornelas – gave Alabama the lead for good.
Beyond the singles from Reeves and Williamson, Ornelas provided stability from an Aggie bullpen that has been lacking that through the losing streak. Ornelas worked through 3 2/3 innings, allowing two runs on seven hits. He struck out six.
Denton's second RBI single drove in the first run on Ornelas after Peyton Wilson doubled to lead off the fourth inning.
Childress said he left Ornelas in too long in the sixth, when he gave up an RBI double to Praytor. Ornelas threw a career-high 76 pitches.
"We had Trevor Werner hot to come face Praytor and [Ornelas] had rolled through the first two hitters and thought we'd just let him stay out there and he hit the big double," Childress said.
Trailing 5-3, the Aggies began the bottom of the fifth with back-to-back singles by Will Frizzell and Austin Bost. A wild pitch put the runners in scoring position with no outs. But Frizzell was thrown out at home on a chopper hit to third and Aggie right fielder Logan Britt missed the sign for a hit-and-run, which left Bost unprotected as he attempted to steal second before being thrown out.
"When you look at it, we don't cash in there," Childress said. "We miss a sign. Mismanagement on my part going back out in the top of the sixth and just like that it's a three-run game."
The Aggies plated their three runs in the fourth, thanks to a wild pitch that allowed left fielder Brett Minnich to take home. A two-RBI single by freshman shortstop Kalae Harrison plated the other two runs.
"They were just trying to attack with fastballs and I was just trying to be on time and be ready for them," Harrison said. "They were going to try to come at me and stay away and I was just trying to take it wherever it was pitched."
Harrison had two hits as did Frizzell and Minnich.
Alabama starter Dylan Smith failed to pick up his first win of the season, despite a solid outing in 4 1/3 innings. He allowed three runs on eight hits, walked one and struck out three. Reliever Connor Shamblin (3-2) pitched 1 2/3 hitless innings. Werner and Joseph Menefee finished the game for the Aggies as the duo didn't allow a hit in three innings.
A&M hit 4-for-22 with runners on and 1-for-10 with runners in scoring position. The Aggies are 5-for-35 with runners on and 2-for-14 with runners is scoring position against Alabama in two games.
"When you're struggling and when you see the team struggling, you want to be the guy to step up and pick up your teammates and do what you can to help the team," Harrison said. "Sometimes, it might put a little pressure on some guys."
A&M freshman Nathan Dettmer (3-1, 1.77 ERA) will pitch Sunday, making the first weekend start of his career.
"This losing streak and record doesn't reflect this team," Ornelas said. "This team has a lot of talent in bullpen, through the rotation, offensively and defensively. We know what we're capable of and this record doesn't reflect us."
NOTES — A&M's last five-game losing streak came in April 2012. The Aggies lost a Big 12 game to Kansas, a midweek game to Rice and then three more Big 12 games to Baylor. … The Aggies in the last five games are batting .248 with 53 strikeouts. The team ERA is 6.21, up from the 3.47 season average the Aggie pitching staff carried into the weekend series ... The A&M pitching staff recorded 11 strikeouts on the 100th birthday of Chuck Connors, who starred in the TV show "The Rifleman." The opening credits of the show are played on the Blue Bell Park video board after every Aggie pitcher strikeout. Connors died in 1992 at the age of 71. …. A strong northern wind kept A&M's power at the plate at bay and caused problems with swirling pop flies in the infield.
"For it to be 80 degrees and the north wind blowing like that, it was unusual, to say the least," Childress said.