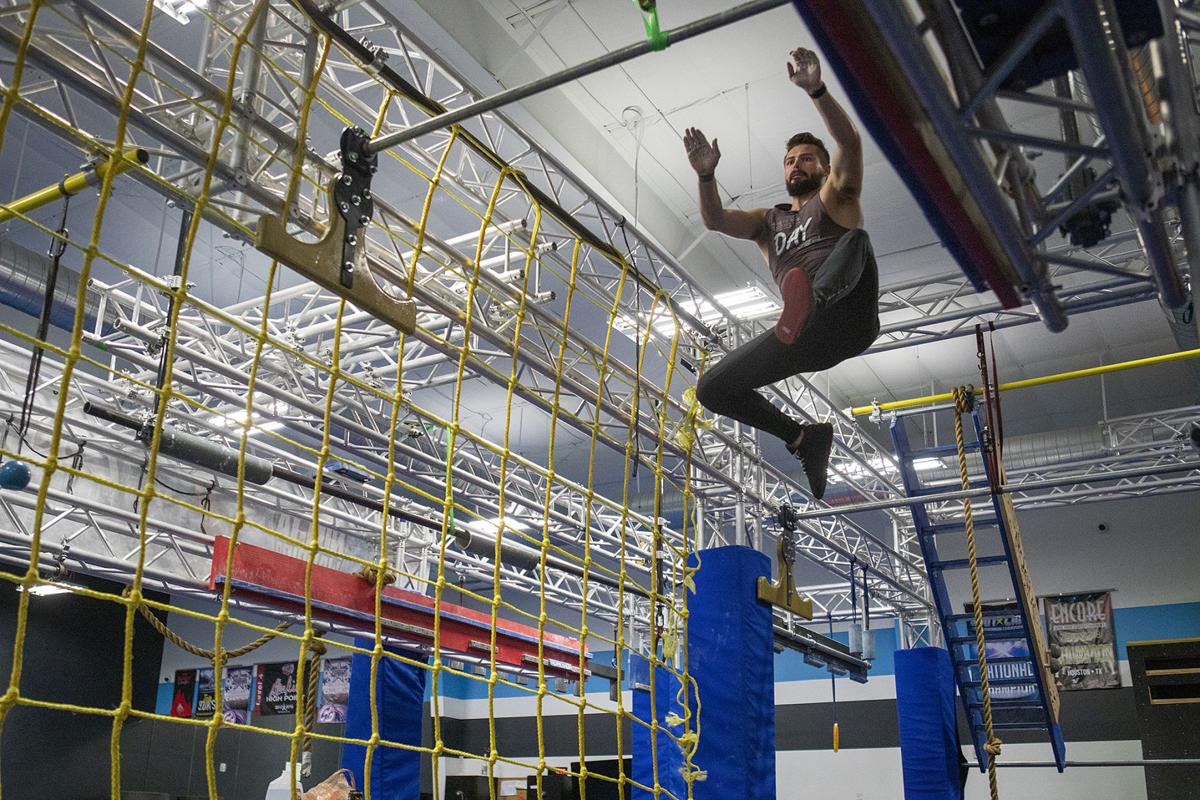 On a rainy March 20 afternoon, Matthew Day was the only person training at Powersports gym in College Station. Each footstep on the 16-foot warped wall resonated with a louder thud throughout the steel building, emptied out by precaution from the spread of COVID-19.
It was a stark contrast to the spring 2018 morning when the Texas A&M student took the starting blocks for the American Ninja Warrior course in Dallas, unsure if his first run would be included during the broadcast of the television show.
Two years later, Day's time in Aggieland has come to be defined by the emerging sport of ninja training.
"Matthew Day is one of the top names [in the sport]," fellow Ninja Warrior competitor Thomas Stillings said. "When people talk about the ninjas with serious, legitimate shots at going all the way, he's always in that top 10 and you're looking at a sport that has thousands and thousands of people across the world."
Athletics of any kind held no importance to Day through his childhood and high school years. Marching in the Frisco Liberty band was his only extra-curricular activity, until he decided to get involved at Obstacle Warriors, a Dallas-area ninja gym, which beckoned him with the chance to play on all the colorful obstacles.
"When I first started getting into Ninja Warrior, I wasn't really athletic or anything," Day said. "One of my aunts found a gym in Dallas and we checked it out and I really liked it, so I started going pretty often."
Day was drawn to A&M's engineering department, which eventually brought him to Aggieland. The thought of leaving the ninja gym where he first developed a love for the sport was less of a consideration, he said. If he wanted to get a fix of strength and endurance testing obstacles, he could travel to Houston or Austin every so often.
It was a matter of luck that Powersports started a ninja-training program, complete with all the necessary obstacles, during Day's freshman year. According to Day, he was offered a job as a coach on the spot, when he visited during an open house.
"With him coming from gyms where he actually had a background in curriculum and the ideas of setting up the different stations and the different obstacles, it was a big help," Powersports owner Thad McKinley said. "And his personality is amazing."
During that introduction to college life and his new job coaching children's ninja classes, Day's outlook on the sport shifted from exercise to series competition. He was sparked by the lowering of the minimum age to compete, from 21 to 19, on the primetime NBC television show.
"It just lit a fire," Day said. "I really kind of dove into actually conditioning and training and thinking out what I'm doing in the gym to make sure that I would progress and get better."
Even before Day made that internal decision to set his sights on serious competition, his talent was evident to the veteran ninjas around him.
"Matthew Day is one of the strongest competitors in Texas and the community, period, and those of us who are part of that older crowd in Texas, we're like, 'He was that 16-year-old kid who was working at Obstacle Warriors as a summer job,'" said Stillings, one of Day's close friends.
After building up his experience with local competitions through organizations such as the National Ninja League, Day got his shot at the big stage in season 10 of American Ninja Warrior as a 19-year-old rookie. Fittingly, his first qualifying run was in his hometown of Dallas.
The self-proclaimed introvert had placed his toes on the starting line of many ninja courses, but none compared to the scene produced by the power of television.
Day arrived at Fair Park at approximately 6 p.m., but didn't take the podium for his run until nearly 3 a.m. The application process encouraged aspiring ninjas to state whether they are there strictly for the competition, or if they have a story to tell as well. Day was simply there to prove he belonged.
That didn't stop producers from encouraging him to make a flashy entrance when he was introduced to better his chances of making the condensed broadcast. Day simply offered a smile.
"Stepping up to the platform and seeing all of the lights and the cameras, it's really intimidating and it's something you really don't experience anywhere else," Day said. "When you step up, you've got five different producers talking to you and looking at you and telling you it's your time to go."
He completed his very first run, including a climb up the famed warped wall that leads to a clock-stopping buzzer. Day's time of 2 minutes, 9.62 seconds placed second in the city qualifier. Shortly after, Day finished second again in the city finals, punching a ticket to the show's finals in Las Vegas in his first season as a ninja.
"Getting to Vegas was a lot of fun and it was probably one of the most fun experiences within ninja that I've had the opportunity to do," Day said. "It was really cool to have the opportunity to even go. I know a lot of my friends have trained and competed for years and just end up making one small slip up and the show and don't get that chance."
Last season, Day posted the second-best time in the Oklahoma City qualifiers, before slipping in the city finals, ending his run.
While continuing to make a name for himself on a national level, Day returned to College Station to resume his classes with the kids of the community. Over the last three years, the program has grown to nearly 250 regular attendees, McKinley said.
Thanks to ninja training, Day's focus has long shifted from engineering to his new major of kinesiology, with which he hopes to use while opening a ninja gym of his own in the future.
"Just being able to say we've got a coach who is on the show and he knows everyone… that has been amazing," McKinley said. 
Along with all sports across the globe, the taping of Ninja Warrior has been postponed due to the COVID-19 pandemic and Day is not sure when he will be able to return to competition. However, when he takes the starting podium, he'll add the flair of school spirit to his run.
"This year my shirt is maroon, because it's my last year at A&M," he said. "I kind of wanted to show that off."
Be the first to know
Get local news delivered to your inbox!