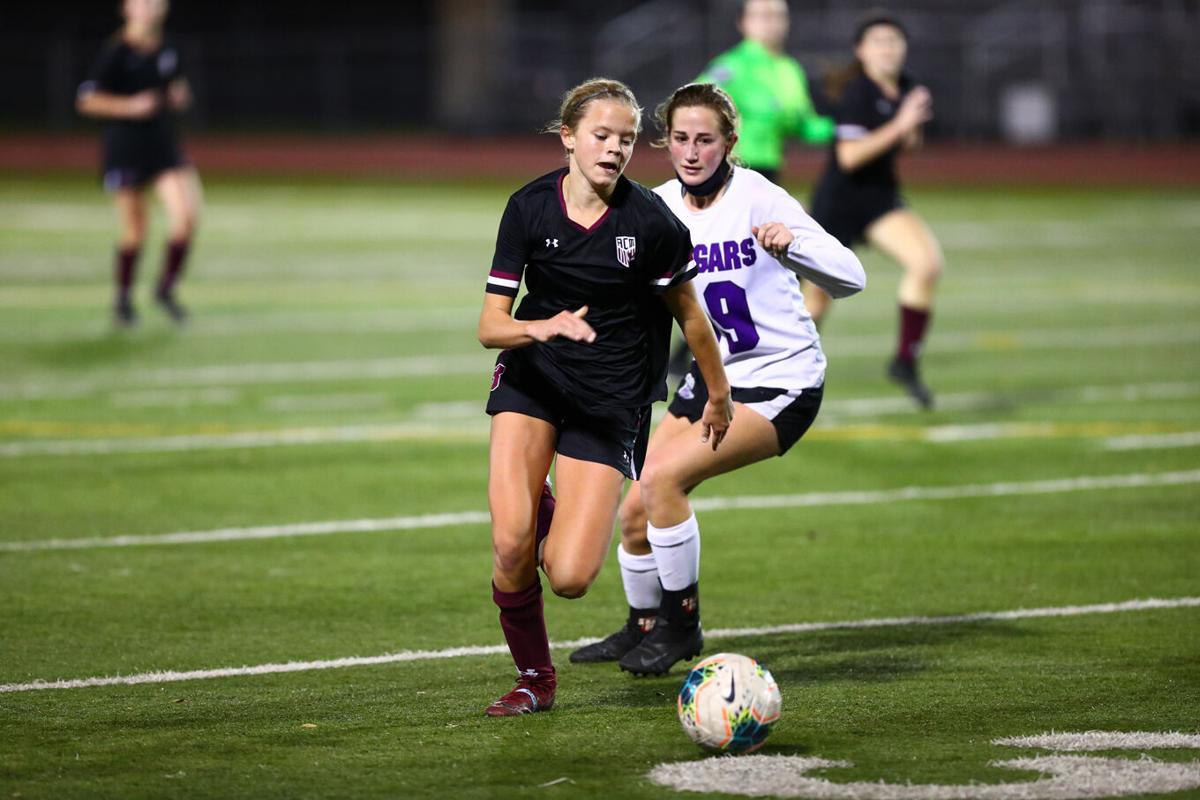 As the final seconds ticked off the Tigerland Stadium clock, A&M Consolidated's players started looking around to see who they would hug first. They sprinted into each other's arms as the horn sounded, their screams of joy signifying the end of nine years of frustration.
The Lady Tigers used two second-half goals and a stingy defensive effort to defeat College Station 2-0 in girls soccer for the first time since College Station opened its doors.
"They know they made history tonight," Consol first-year coach Caleb Blakely said. "It's not the easiest thing to say, but I think for us and for College Station, we kind of metaphorically got this monkey off our backs, and now we got this win and they have this loss, and we can go into [future matchups] with clear heads. In a weird way it put pressure on both teams."
Consol (10-3, 7-2) led until the final 10 minutes when the two teams met during the first half of District 19-5A play in early February. But College Station rallied to win 2-1, which made Tuesday's victory that much sweeter for the Lady Tigers.
"Definitely feels a lot better than a month ago to the day," Blakely said. "We left a little dejected. The girls came out tonight and were on fire and got out of our own way, got out of our own heads, and we did it, finally got that win. My first thought was they really deserve this. They have worked their tails off."
Consol defensive midfielder Ella Goodwin scored the opening goal seven minutes into the second half, one-timing a loose ball from 35 yards that went over the head of Lady Cougar goalkeeper Keira Herron, who was at the top of the 6-yard box when Goodwin took the shot.
"One of our things in pregame was we said we can't score if we don't shoot," Blakely said. "We didn't think that was the way it would happen, but she one-timed it and props to her. There wasn't anywhere else she could have hit it without it being saved."
The goal came a minute after Consol goalkeeper Alyssa Crites came off her line and turned away the Lady Cougars' best scoring opportunity. From an offside free kick, Kalen Breedlove got behind Consol's defense but couldn't get the ball past Crites as she did with her game-winner the last time the teams met.
Consol's second goal came 10 minutes later courtesy of hard work by senior captain Abby Ross in the right corner, who beat two College Station defenders to make enough room to slot a pass toward the penalty spot. Freshman Kate Homeyer redirected it into the back of the net for the 2-0 lead.
"I cannot sing the praise of Abby Ross enough," Blakely said. "That kid works her tail off, and you have to tell her to take rests."
Ross set up Homeyer the next time down the pitch, and Consol just missed a third straight goal with Homeyer' well-struck shot deflecting slightly off a defender and hitting the upright.
There were no late heroics for the Lady Cougars, who ironically will have to get some help from Consol to win a ninth straight district title. Anna Kjerfve had a scoring opportunity from distance late in the game, but the shot sailed a little wide and high.
"It's been a pretty good run, but they have a very good team," said College Station head coach Stoney Pryor, who has run the Lady Cougars' program since the school opened. "They played well and deserved the W. We have to turn controlling the ball into scoring opportunities. You don't get possession points."
Blakely praised his defensive unit, including backline defenders Kayla and Grace Tomlinson and Addison Kieschnick.
"I'll tell you it took both teams a long time to settle in, and honestly as well as we did on the front end, I can't say enough about how our back three and our keeper played, "Blakely said. "And Ella Goodwin played lights out back there."
Consol didn't take a shot until the 31st minute and its first corner kick came with three minutes left in the first half, but the Lady Tigers made those last 5 minutes frantic. Herron got a fist on the first corner kick to make the save, but Ross sent the ball back into a the fray where several players on both teams had an opportunity to get a foot on it.
Ross, who hit the post in the first game between the teams, then took a short ball from Homeyer and from a tough angle left-footed a shot that banged off the crossbar and back into play.
The Lady Tigers kept the pressure on with two corner kicks in the last minute of the first half but couldn't get off a shot.
NOTES — Consol's victory tightened the top of the 19-5A standings. Consol and College Station (13-4-2, 8-2) both play first-place Magnolia next week. Magnolia is still undefeated in district. ... Consol won the JV match 2-1 with Masie Johnson scoring both goals for the Lady Tigers.