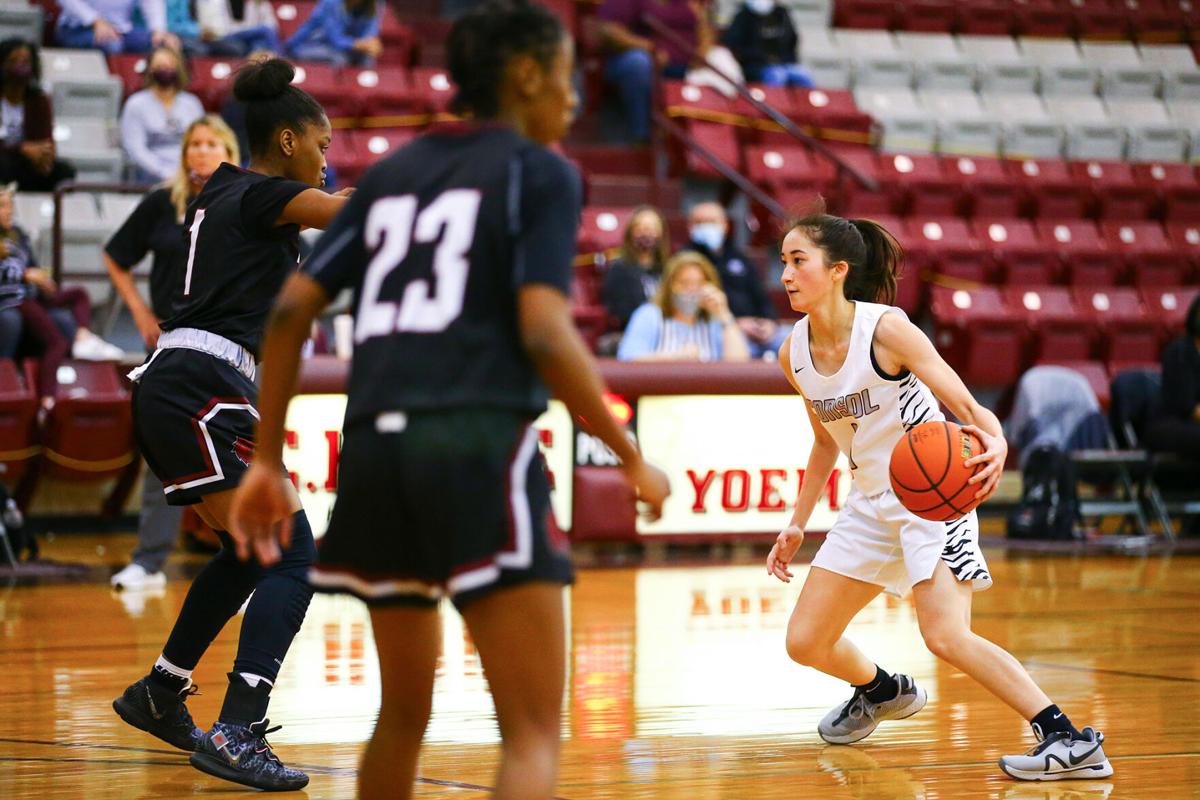 CAMERON — Defense was the name of the game on Monday and it was the A&M Consolidated girls basketball team that prevailed.
Consol (13-7) beat Pflugerville Weiss 47-33 in the Class 5A area playoffs and will advance to the regional quarterfinals for the first time since 2015.
The Lady Tigers will face ninth-ranked Pflugerville Hendrickson on Wednesday in Rockdale with a time to be determined. Hendrickson knocked out Rudder with a 68-39 win on Saturday at Consol.
"We've got to keep rolling and they're just so excited," Consol coach Wendy Hines said.
Consol countered Weiss' athleticism by playing strong defense, a signature mark of the Lady Tigers' team. Weiss finished the night just 12 of 52 shooting (23.1%).
"Knowing that we'd been off a week, like everybody else, we didn't know where the ball was going to fall so we knew that defense was going to get us where we needed to go," Hines said.
Weiss got hot early in the third quarter, scoring four baskets to cut Consol's lead to 28-22 with 4:28 left in the period. But the Lady Tigers shifted the momentum quickly by holding the Lady Wolves without a basket until six-and-a-half minutes into the fourth quarter and went on a 18-4 run to build an insurmountable 46-26 lead with 2:56 left in the game.
For the second straight game, junior guard Claire Sisco led Consol in scoring, dropping 13 points while maintaining her prominence on defense.
"Energy is a big thing for us," Sisco said. "We like to be out there smiling and having fun and I think defense sparks that when we get a few stops and we go down and get a bucket. Even if it was a hard-earned bucket, those are almost the better ones that get you pumped up."
Also, for the second straight game, Consol senior forward Cierra Gilbert sat out for the majority of the first half after picking up her second foul with 1:38 left in the first quarter. Coupled with sophomore forward Kateria Gooden exiting in the first quarter with a knee injury, the Lady Tigers were down two starters for most of the first half.
Bench players Mia Teran and Brook Roberson stepped up in place of Gilbert and Gooden, combining for 15 points on Monday.
"It was really good to see because sometimes you overlook that," Hines said of Consol's bench play. "Mia did a fantastic job, Cami [Mosier] did a good job, Brook. … I was really proud of the kids that went in off the bench. It was a total team effort like it has been all year."
Weiss guard Jamyria Ramsey led the Lady Wolves with 16 points, scoring 14 of them in the second half, but the Lady Tigers continued to limit Weiss' offense. The Lady Wolves had just three other players score and none in double figures.
"Sometimes you can key on their main player and then all of the sudden you look up and three of them got double figures, how'd that happen?" Hines said. "I think we didn't allow that because they have scorers. … That says a lot about the team."
Weiss' man defense lived up to its billing early as Consol struggled to find a groove on offense. But the Lady Tigers didn't let up on defense and went up 26-13 at halftime.
"When we can't score on offense, we know that we have to get it done on defense and I think that's what we did tonight," Sisco said. We came out here and when one side's not working, you've got to make sure you're working hard on the other side. We were doing our thing and just let the game come to us and then whenever we started hitting shots on offense, everything got easy."
The Lady Tigers are in the third round for the first time since making the regional finals in 2015. Hines said she saw the Lady Hawks (24-2) play on Saturday, but is confident in her team's toughness.
"They're very, very talented," Hines said. "We're going to give it all we've got. I'm not going to sell my team short. They work hard and you've got to play every game, so you don't know what's going to happen, especially in this crazy year. Every night's an opportunity to just keep on rolling, so hopefully that's what we do."
A&M Consolidated 47, Pflugerville Weiss 33
CONSOL (13-7) — Claire Sisco 13, Sarah Hathorn 11, Mia Teran 8, Brook Roberson 7, Cierra Gilbert 5, Kira Merrell 3.
WEISS (9-13) — Ramsey 16, Wash 7, Birdow 6, McClure 4.
Next: Consol vs. Pflugerville Hendrickson, Wednesday in Rockdale, time TBD.