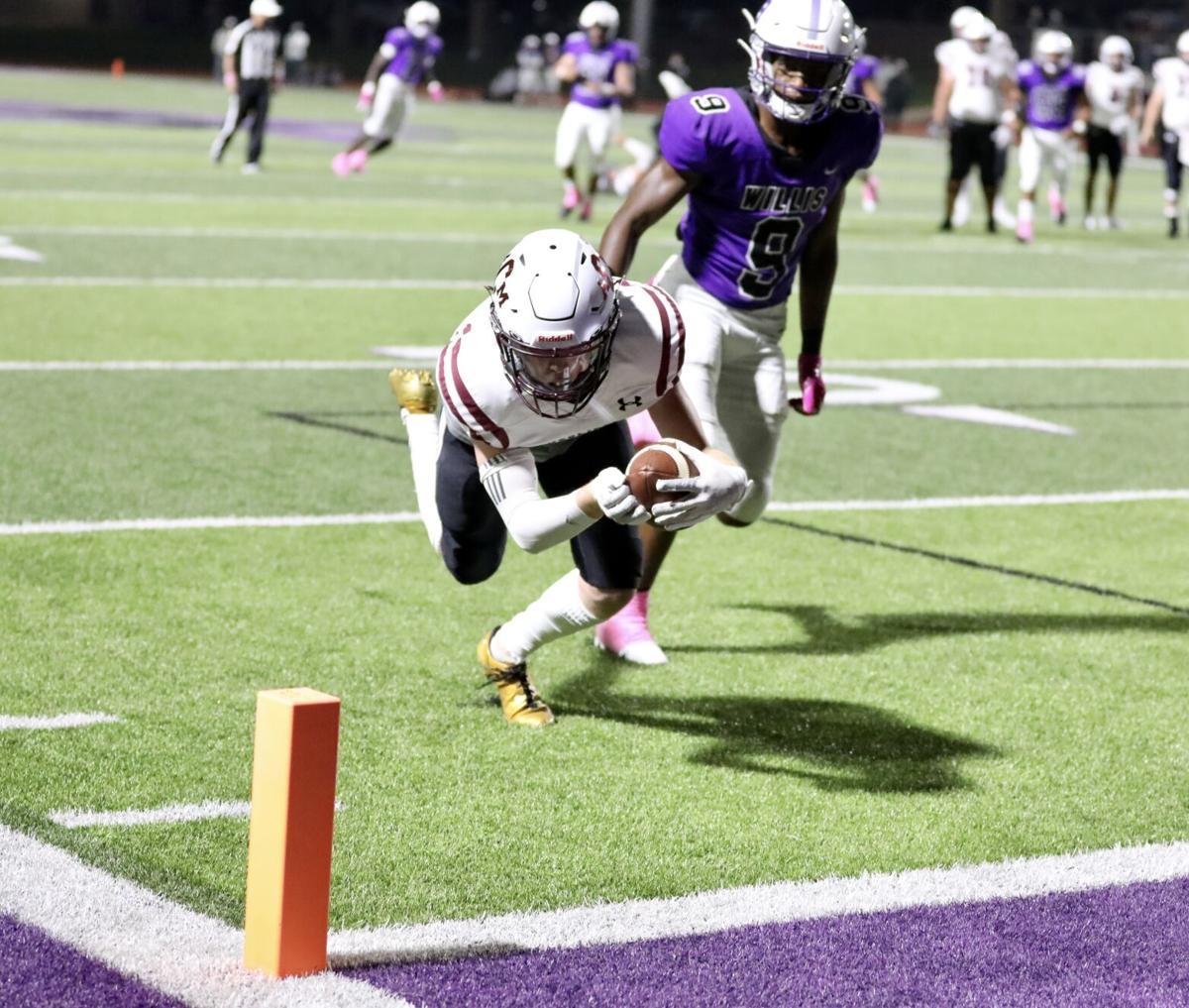 WILLIS — Defense wins championships — or at least can get you an unblemished record going into district play.
A&M Consolidated's defense ensured a below-average offensive performance was enough to get past Willis 21-0 on Friday night at Yates Stadium.
The third-ranked Tigers held up inside their own 25-yard line three different times, keeping the Wildkats (0-4) off the scoreboard and ensuring a 4-0 start to the season.
"We won the game because of the defense," Consol coach Lee Fedora said. "One thing we've got to get better at is we've had too many turnovers all year long. I'm proud of our kids. They kept their heads up, and they kept fighting."
After averaging more than 50 points per game in its first three outings, Consol sputtered while failing to cash in on some of its own trips inside the red zone.
However, a workhorse performance from running back Sutton Lake helped open up the passing game, and quarterback Kyle Willis connected with three different receivers for each of the Tigers' scores. The first was a 25-yard toss to Brodie Daniel with 3:36 remaining in the first quarter. The 7-0 lead came immediately on the heels of a fourth-down strip by the defense that set up Consol with great field position.
Another defensive stop and a trio of runs by Lake then set up a 13-yard scoring pass from Kyle Willis to Joseph Perez with 10:06 left in the second quarter.
The Tigers later missed a chance to make it a three-score game before halftime when an apparent 18-yard catch in the end zone by Daniel was ruled incomplete.
However, the defense limited the damage by twice making third-down stops inside the Consol 25 in the second quarter as Willis missed field goal attempts of 40 and 38 yards.
"Our defense played a great game, and we had a lot of great field positions thanks to them," Kyle Willis said. "We've just got to clean up the mistakes."
The Tiger defense made its biggest stop later in the third quarter after Wildkats quarterback Steele Bardwell connected with Jamarious Wells on a 38-yard pass that got Willis to the Consol 8. The Wildkats failed to break through on a pair of runs by Johnny McHenry before pressure from Consol's Eric Goodman helped break up a pass on third down. Another incomplete throw by Bardwell turned it over on downs at the Tigers' 7 with 1:24 remaining in the third.
Then Consol's offense really clicked.
A run of four straight carries by Lake for a combined 33 yards, a 27-yard pass from Kyle Willis to Wyatt McDougal and an interference call on the Wildkats helped get the Tigers deep down field.
Kyle Willis capped the 93-yard drive with a 20-yard touchdown pass to Wesley Greaves, rounding out the scoring with 9:15 left in the game.
Lake finished with 19 carries for 124 yards, while Willis eclipsed 1,000 yards passing for the year with 207.
"They were putting more guys in the box to try to take care of the run, and that's why we were throwing it more tonight," Fedora said. "That's what I like about Sutton. If they're going to try to stop the run, he's good with us throwing the ball. That's what is a threat for us."
Despite some offensive miscues that stunted scoring chances, it was a relatively clean game for Consol with just one penalty and no turnovers until trouble started in the final five minutes.
With a three-score lead in hand, a holding penalty wiped out a first-down run in the red zone before Kyle Willis was intercepted by Jadarius Brown for the first turnover of the game.
The Tigers later lost a fumble inside the Wildkat 20 before a personal foul helped Willis get the ball near midfield with under two minutes to go.
Consol's Brylan Davis preserved the shutout with an interception with just under a minute left.
"Our defense did an outstanding job," Fedora said. "We could have put up more points. We had opportunities and we just didn't take care of the ball and do the things that we needed to do."
Consol will try to hammer out those mistakes before opening District 10-5A Division II play at home against Lamar Consolidated next Friday.
Be the first to know
Get local news delivered to your inbox!