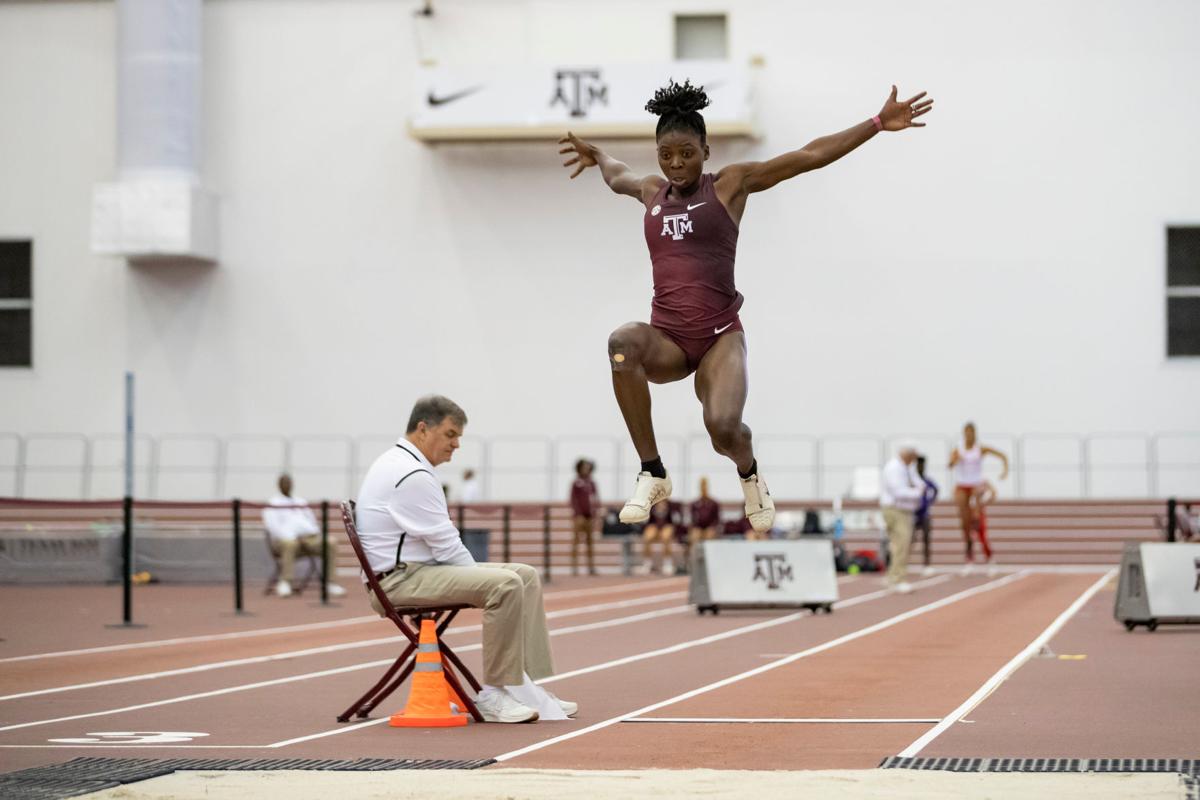 Texas A&M placed 124 student-athletes on the 2020 Spring Southeastern Conference Academic Honor Roll. That's 36 more than a year ago.
The sports include baseball, golf, softball, tennis and track & field with grades from the 2019 summer, 2019 fall and 2020 spring terms.
The women's track & field program led the way with 37 selections. The A&M men's track & field program had the biggest improvement, reaching 30 by adding 12. All the other sports matched or improved last year's totals. A&M had 277 student-athletes named to the fall, winter and spring honor rolls in the 2019-20 school year, an improvement of 41 from a year ago.
To make the honor roll student-athletes had to have a grade point average of 3.00 or above for either the preceding academic year (two semesters or three quarters) or have a cumulative grade point average of 3.00 or above at the nominating institution; if a student-athlete attended summer school, his/her grade point average during the summer academic term was included in the calculation; student-athletes had to be on scholarship, a letterwinner or been on a varsity team for two seasons; student-athletes must have successfully completed 24 semester or 36 quarter hours of non-remedial academic credit toward a baccalaureate degree at the nominating institution; and the student-athlete must have been a member of a varsity team for the sport's entire NCAA Championship segment.
Here are A&M spring sport student-athletes on the SEC academic honor roll.
Baseball (19): Brandon Ashy, university studies; Rody Barker, psychology; Dawson Barr, university studies; Bryce Blaum, university studies; Jonathan Childress, general studies; Hunter Coleman, management; Mason Corbett, management; Zachary DeLoach, management; Will Frizzell, sport management; Mikey Hoehner, supply chain management; Chandler Jozwiak, sport management; Asa Lacy, university studies; Bryce Miller, finance; Jake Nelson, land economics & real estate; Christian Roa, finance; Dustin Saenz, business administration; Logan Sartori, psychology; Zane Schmidt, business administration; Chris Weber, biomedical engineering
Men's golf (6): Sam Bennett, sport management; Dan Erickson, accounting; Josh Gliege, management; Walker Lee, university studies; William Paysse, sport management; Reese Ramsey, university studies
Women's golf (6): Stephanie Astrup, psychology; Elizabeth Caldarelli, sport management; Courtney Dow, health; Amber Park, university studies; Ava Schwienteck, university studies; Brooke Tyree, mechanical engineering
Softball (13): Dani Elder, university studies; Kelbi Fortenberry, ag communications & journalism; Blake Ann Fritsch, ag communications & journalism; Kayla Garcia, psychology; Makinzy Herzog, recreation, park, & tourism sciences; Madi Jatzlau, business administration; Hannah Mayo, health; Gabby Moreno, industrial distribution; Kyndall Murray, sociology; Kendall Potts, sport management; Kayla Poynter, interdisciplinary studies; Taudrea Sinnie, sociology; Ashlynn Walls, psychology
Men's tennis (5): Juan Carlos Aguilar, university studies; Pranav Kumar, computer science; Guido Marson, business administration; Noah Schachter, sport management; Valentin Vacherot, university studies
Women's tennis (8): Jessica Anzo, sport management; Dorthea Faa-Hviding, university studies; Jayci Goldsmith, business administration; Tatiana Makarova, sport management; Renee McBryde, sport Management; Riley McQuaid, human resource development; Lucia Quiterio, communication; Katya Townsend, business administration
Men's track & field (30): Juan Arcila, Finance; Jonathon Bishop, Applied Mathematical Sciences; Johnathon Blaine, Economics; Joshua Brown, Sport Management; Brittan Burns, Biomedical Sciences; Mason Corbin, sport management; Bryce Deadmon, recreation, park, & tourism dciences; Devin Dixon, recreation, park, & tourism sciences; Jaqwae Ellison, kinesiology; Brady Grant, sport management; Kristofor Grimes, economics; Tyler Hart, finance; Gavin Hoffpauir, university studies; Jackson Jett, accounting; Jake Lamberth, general studies; Jake Lanier, business honors; Hunter Madore, sport management; Lagarious McQuirter, university studies; Nickolas Mirabelli, general studies; Carlton Orange, land economics & real estate; Zephyr Seagraves, aerospace engineering; Spencer Simons, nutrition; Dewitt Thomas, industrial distribution; Harrison Tillman, communication; Ricky Waer, university studies; Alstian Walker, management; Austin Warren, biomedical sciences; Campbell Webb, wildlife & fisheries sciences; Robert Woodworth, mechanical engineering; Colby Zamzow, kinesiology
Women's track & field (37): Deborah Acquah, university studies; Allyson Andress, interdisciplinary studies; Lauryn Barrientos, marketing; Rachel Bernardo, psychology; Julia Black, ag communications & journalism; Rebecca Bonta, animal science; LaJarvia Brown, kinesiology; Catalina Cerda, general studies; Emily Chastain, business honors; Parker Clay, kinesiology; Kimberly Dow, environmental engineering; Ashley Driscoll, biomedical sciences; Jenna Ellis, health; Laura Fairchild, general studies; Carrie Fish, business administration; Elizabeth Green, business honors; Rachel Hall, general studies; Margaret Hofmann, communication; Megan Hopper, Animal Science; Ashton Hutcherson, biomedical sciences; Michala Janssen, Kinesiology; Jean Jenkins, Sport Management; Jania Martin, university studies; Kirby Matocha, ag communications & journalism; Emily McCollum, industrial engineering; Audrey McKnight, university studies; Morgan Michals, psychology; Brittany Parker, kinesiology; Sarah Pia, chemical engineering; Grace Plain, nutrition; Jaevin Reed, marketing; Abbey Santoro, ag communications & journalism; Natalie Scheifele, biomedical sciences; Hannah Searby, nursing; Kennedy Smith, communication; Kelsie Warren, industrial distribution; Falon Wilson, political science.
Be the first to know
Get local news delivered to your inbox!