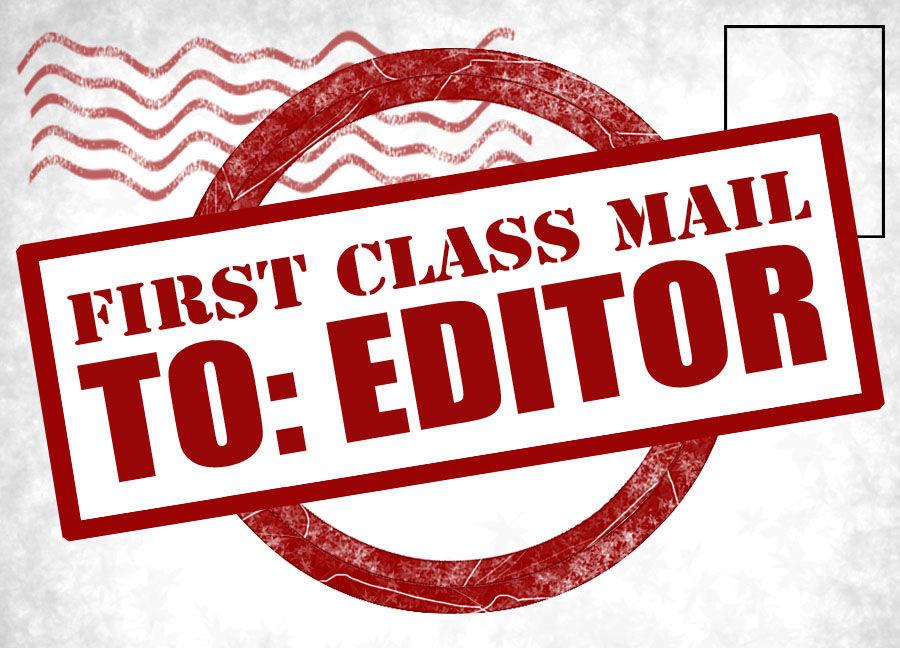 Media have no regard for Donald Trump's patriots
Upon returning from D.C, having joined "The March to Save America," I was not surprised to see The Eagle headlines "Chaos in DC" and, on Jan. 12, "House rushes to impeach Trump."
Regarding the first, the only chaos was that incited by the antifa hoodlums who were bused in -- escorted in by law enforcement. We all -- 250,000 people -- made a peaceful march from the Ellipse to the Capitol to show our support for President Donald Trump and to let those inside know that we did not condone the actions by corrupt officials that resulted in the fraudulent election in November. Of course, The Eagle has joined with all the other corrupt media in referring to us patriots as being a mob -- which couldn't be further from the truth (but then the media really aren't interested in the truth).
Regarding the second headline, our president made no statement in his speech that could be considered as direction towards violence. Why are The Eagle and the politicians of both parties so afraid of President Trump and hate him so viciously? Could it be because each of you see him as a real threat to a lust for power who must be stopped at all costs?
Thee media have no regard for the 74 million patriots in this country who legitimately voted for President Trump. He won by a landslide and you can't stand it.
Editor's note: Steven D'Antuono, the assistant director in charge of the FBI's Washington field office, told the Associated Press that investigators had seen "no indication" antifa activists were disguised as Trump supporters in Jan. 6's riot. Joe Biden received 81 million votes to Donald Trump's 74 million votes in November's presidential election.
---
All of this could have been avoided by the GOP
The casualties from the Jan. 6 assault on democracy have not yet been buried, and already Jay Ambrose (Eagle, Jan. 9) launches his "Whataboutism" campaign, in effect trying to shift some blame for this debacle onto Democrats.
Perhaps I am guilty of "the assault on Trump after the 2016 election." More than once I called Donald Trump "the People's second choice (and Putin's first)." But that is literally true, by nearly 3 million popular votes in 2016, and more than 7 million in 2020. It took until mid-December for Putin to congratulate Joe Biden on his victory and acknowledge him as president-elect.
Ambrose calls the Russian collusion investigation leading to impeachment "pretty much a farce." In fact, it ended up with the Scottish verdict "not proven" beyond a reasonable doubt, but with a bipartisan minority favoring conviction. And Ambrose, gender neutral language never killed anyone, much less a Capitol policeman, though it does sometimes throw me a curve on old Christmas hymns I thought I knew by heart.
All of Trump's "achievements" cited by Ambrose could be summed up under two points: packing the Supreme Court with the help of Mitch McConnell, and surfing on the wave of the Obama recovery (at slightly lower growth rates) till the COVID crisis hit. Thereafter it could be summed up by near-criminal negligence.
All this could have been avoided had Republicans acted on the evidence in the Access Hollywood recording, posing the dilemma of whether their candidate was a sexual predator or merely a liar (hint: the two are not mutually exclusive). Now the GOP needs to decide whether it is the party of Abraham Lincoln or the sedition caucus.
I still see the same Trump signs in my neighborhood, so I fear that I know the answer.
---
Trump's recent efforts have damaged democracy
I am a registered Republican. I voted for President Donald Trump and have been an ardent supporter of his administration.
It is with sadness that I acknowledge Trump has made a series of very bad political moves since the 2020 election. There is little doubt in my mind that there was significant voter fraud that was overlooked, perhaps even enabled, by election officials in several states. However, whether there was sufficient fraudulent activity to influence the final outcome is possible, but doubtful.
Trump was treated very badly by most of the news media and the so-called deep state throughout the four years that he has been in office -- perhaps worse than any other president in our history.
However, his conduct since the election has been both deplorable and regrettable. He has destroyed much of the aura that he previously enjoyed. His post-election conduct has reflected badly on himself and on the Republican Party. His conduct likely contributed to the two Republican losses in the Senate runoff in Georgia, and thereby cost Republicans control of the Senate.
Hence, his unseemly behavior could result in great damage to our democracy.
---
Trump and his enablers broke America's promise
My most memorable trip to the U.S. Capitol occurred about 15 years ago when our then-Rep. Chet Edwards took our young daughter down to the House floor to help him cast a vote. As my wife and I watched from the gallery, Erin received a lesson in the process and promise of America and its government.
That process and promise rests on the rule of law and the peaceful transfer of power from one office holder and one party to the next. President Donald J. Trump and his Republican enablers -- including Texans Ted Cruz, Ken Paxton, Pete Sessions and Bill Flores -- have defiled that process and broken that promise. They have promoted lies, violence and the rejection of repeatedly verified election results. They have bent and twisted the law to suit their petty political objectives and contributed to the chain of events that led to a police officer being beaten to death by an out-of-control mob of Trump supporters.
Certainly America's healing would be welcome, but true healing cannot come without contrition and an acknowledgment of wrong-doing. The naive both-sides-do-it and obfuscating false equivalency of those who call for healing without justice and contrition promote more division than they heal.
A return to the process and promise of America my daughter experienced on the House floor requires honest and clear-eyed truth telling as well as forgiveness and healing.
---
Can't stay silent on the Capitol rioters of Jan. 6
My friends, I have tried to not say anything about the domestic terrorists who invaded our Capitol in Washington, D.C. on Jan. 6, but I cannot be silent any more.
So, this old, retired Army first sergeant has the following message for all the people who truly love this great nation of ours: The U.S. population is around 328 million people. We have 1.3 million American service men and women on current duty. That is 0.5%. We have 18 million veterans in America. All these Americans took an oath upon enlisting into the military service. In that oath the first few sentences read as following: I do solemnly swear that I will support and defend the Constitution of the United States against all enemies foreign and domestic.
I believe in civil protest, but, when people become a mob and step foot on the Capitol grounds regardless of their intentions. They have just become domestic enemies of the United States and should be treated as such, no exceptions.
It was a slap in the face to all active-duty personnel defending the Constitution here and abroad and disrespectful to all our veterans who have defended this great nation for centuries. Also, it was an insult to all the service members who gave their life defending this great nation and their families.
So, remember my fellow American citizens, we, the military service members defend the Constitution of the United States. First and always.
May God continue to bless America which is the greatest nation in the world. And God Bless all Americans.
JOHNNY YEPPEZ, U.S. Army retired
---
Shouldn't panic at the use of the socialist charge
When I was a professor at Texas A&M, I did research on and taught my students about Theodore Roosevelt's writings. TR (aka the Rough Rider) was certainly one of the most intelligent and well-read American presidents.
Recent disturbing political events in this country sent me back to a chapter in his autobiography titled "Social and Industrial Justice" (chapter 13). Every American should read it, because it teaches principles that could not be more relevant today. For example:
"Because of things I have done on behalf of justice to the workingman, I have often been called a Socialist. Usually I have not taken the trouble even to notice the epithet. I am not afraid of names, and I am not one of those who fear to do what is right because someone else will confound me with partisans whose principles I am not in accord. Moreover, I know that many American Socialists are high-minded and honorable citizens, who are merely radical reformers. ... I have found opposed to them on the side of privilege many shrill reactionaries who insist on calling all reformers Socialists. I refuse to be panic-stricken by having this title mistakenly applied to me."
---
Candidates should know constitutional principles
The last four years have taught us that an essential element of our electoral process needs to change. When we swear a president into office, we as a country ask this person to swear allegiance to the Constitution. But what if the person swearing allegiance has no idea what the Constitution says? This, in my view, is clearly, in part, what has happened with our current President. In the future to protect this country from personalities with dictatorial tendencies, we need to have all presidential candidates take and pass a test concerning the working principles of our Constitution before they can begin their political run for office. Then, when the winner of the presidential election swears allegiance to the Constitution, we will at least know s/he has read and knows it. Any calumny from then on by a president will NOT be because of ignorance of the constitution, but some kinds of other devious levels to attempt to subvert our democracy. I know this would be a difficult addition to our electoral process; but clearly it needs to happen.
---
'The Eyes of Texas' has no racist connotations
This letter is to comment on the article "Texas Replaces Herman …." (Eagle, Jan. 3) It was written by Jim Vertuno of The Associated Press.
While the story was interesting and informative, a statement in the last paragraph not only was unnecessary, it was factually incorrect.
I ended my 30-year career in public education by teaching American history at Texas A&M University in Kingsville.
I tried to emulate my mentor and close friend at The University of Texas, H. Bailey Carroll, professor of history, director of the Eugene C. Barker Texas History Center on campus and director of the Texas Historical Association. He taught the Texas history course to a standing-room-only class for many years. One of his favorite subjects was the origin and history of the school song, The Eyes of Texas. We enjoyed this lecture immensely, which contradicted Vertuno's writings.
Vertuno concludes his story with "… when the players didn't join the traditional postgame singing of The Eyes of Texas school song for several games in protest over racist elements of the song's past."
There are no actual or implied "racial elements" of this song. Had Vertuno taken Carroll's class, he would have known better.
The media has some unaccountable infatuation, and false idea, of innate racism in America. They perceive racism behind every bush and at the end of every rainbow. We are not a better nation for misleading narratives.
I am not letting this one go uncontested.
---
Dr. Terry Jones will be missed when he retires
Sad to learn Dr. Terry Jones is retiring from practice. Besides being a friend, Jones is one of those who truly cares about his patients. That is the common denominator I have not only witnessed personally, but heard the same from many friends who sought his care.
His staff was always courteous and helpful which is a reflection of Dr. Jones. Yes, we will miss him and his expertise, but I think we all would say congratulations and extend our best wishes. Thank you Dr. Jones and happy hunting!