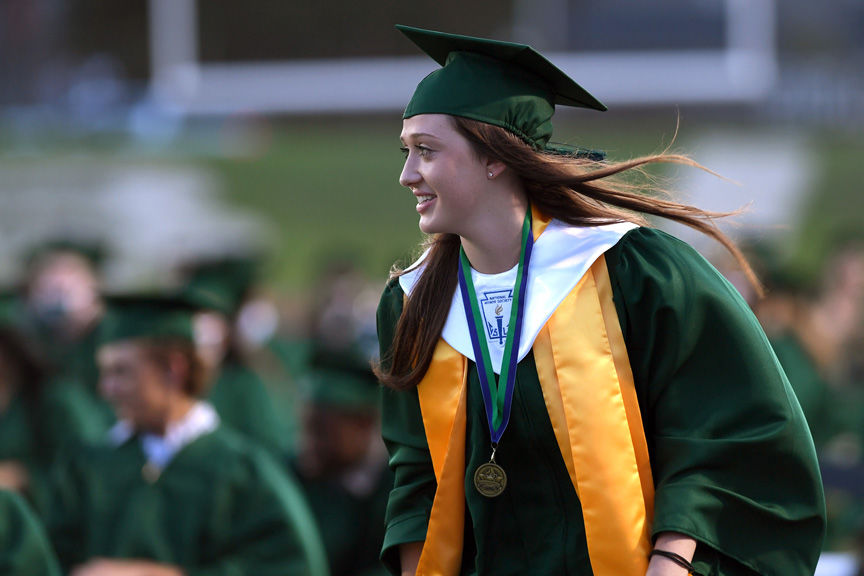 At last. College Station and Bryan have a host of newly minted high school graduates. Their senior year wasn't what they expected or were looking forward to, but the seniors buckled down at home to make sure they had completed the requirements to graduate.
The actual graduation ceremonies came about a month late, and heavy rain threatened to postpone some of them a bit longer, but in the end, the seniors — practicing proper social distancing for the most part — marched across the stage to receive their diplomas.
Like everyone, the seniors had their life turned upside down by the novel coronavirus. Suddenly, schools were closed, athletic events canceled and all the parties and events that are so much a part of senior year were gone. We know that seems like a huge loss when you are 18, but they become less important as the years mount.
What really matters, of course, is the knowledge gained and the lessons learned as the students progress from first grade all the way through senior year. The new graduates may not realize it now, but everything they learned in school will come back to serve them well as they move through life. Yes, that includes the algebra and geometry, too. In fact, you will use them far more than you even will realize.
As important as the knowledge gained is the friendships made. Many of those friendships will last a lifetime, unbroken by time and distance. You might not see those friends for years or even decades, but get together, and everything falls into place as if you were never apart.
And we can't forget the confidence the graduates gained, a self-assurance that will come to the forefront in work and family and, well, life in general.
Our seniors heard inspiring words and great advice during their graduation ceremonies.
We would like to encourage the graduates to continue learning throughout life. Be curious, be inquisitive, be hungry for every bit of information you can find. Read a book that can take you to faraway places, on earth and in the heavens. Watch documentaries that inform, inspire, make you laugh or make you cry. Travel as much as you can; this world remains a marvelous and wonderful place. Spread kindness wherever you go.
We also encourage the new graduates to be active in the life of your community and this great nation. There are any number of nonprofits in whatever community you end up calling home. Whether they work to feed the hungry, heal those who are unwell, protect and promote our children, stimulate our heart and souls through music, dance or visual art. Every one of these organizations needs two things from you: your donations and, just as important, your volunteer time. What you get in return far exceeds what you contribute.
As ugly as it has become, politics still matter. Each vote counts, and speaking up not only is a right, it is a duty. Don't let the future of this country be decided by the relative handful of Americans who bother to go to the polls.
Finally, have a wonderful life, wherever you end up. Know that your dreams are matched by the hopes and aspirations this proud community has for each and every graduate.
Best wishes as you continue to grow and thrive.
Catch the latest in Opinion
Get opinion pieces, letters and editorials sent directly to your inbox weekly!