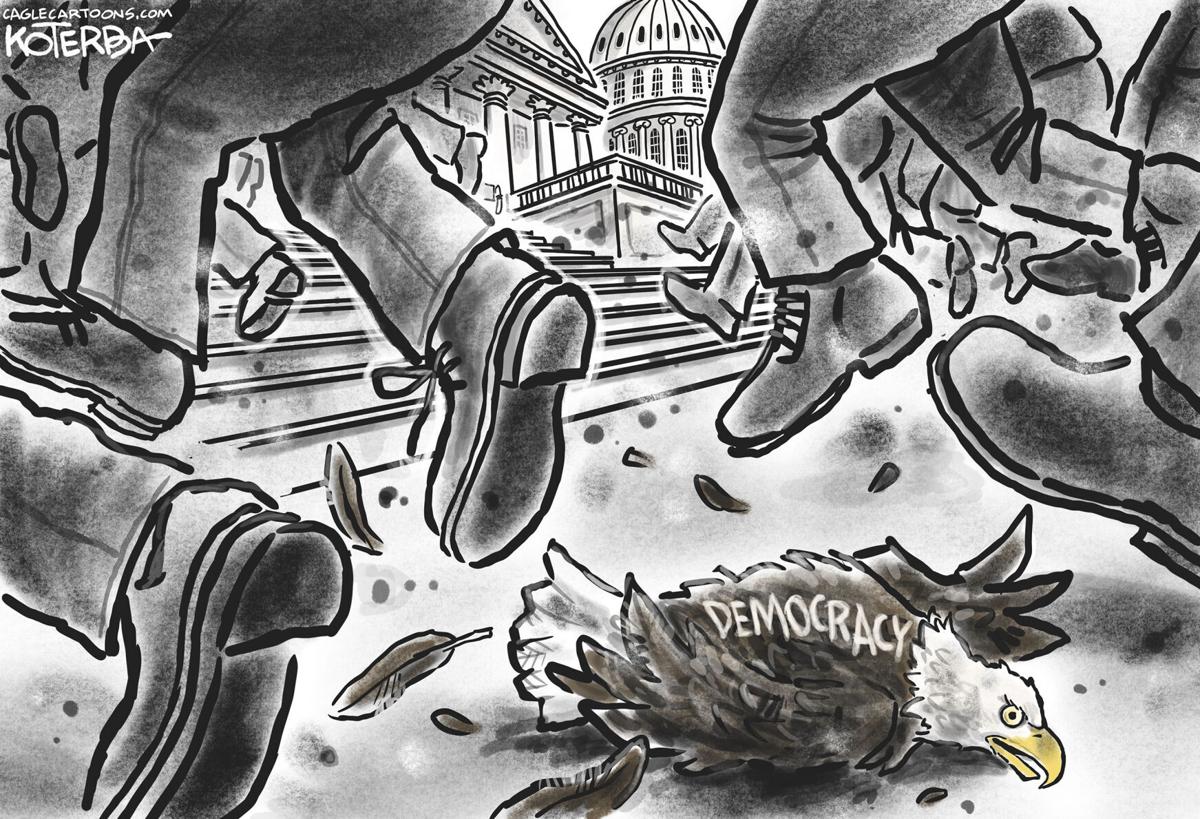 Did you feel the earth beneath your feet move when pro-Trump insurrectionists, stirred to violence by the president of the United States and other elected officials, stormed the U.S. Capitol Wednesday?
If you didn't feel dread or anxiety as democracy itself was trampled underfoot, capping two months of the same by the president's seditionist enablers in more than 60 unsuccessful, evidence-starved lawsuits dismissed by some 90 incredulous judges and justices, maybe it's because of our surreal times. Maybe nothing surprises us anymore, given the numbing sensation of those determined year after year to drag the rest of us into their anarchist, nightmarish, truth-isn't-truth, burn-it-all-down anti-constitutional fantasies of white grievance and Old Testament theocracy.
Low point during Wednesday's American carnage: Insurrectionists allowing a U.S. flag at the Capitol to drop to the ground while apparently trying to run up a blue Trump flag, telegraphing the mad obsession many have for this charismatic but demagogic, deceitful and incendiary president. Seeing Trump forces invade the Capitol reminded me again that what these people imagine as patriotism is akin to the "cancel culture" and constitutional subversion they forever accuse "socialist" Democrats of demonstrating. Yet those who stormed Congress in session weren't socialists.
Texas has been a breeding ground for this seditionist scheming. Indicted Texas Attorney General Ken Paxton filed a Dec. 7 lawsuit pressing the Supreme Court of the United States to overthrow election results in Pennsylvania, Georgia, Michigan and Wisconsin — an idea in complete conflict with Republicans' supposed principles of states' rights and federalism. Republican Sen. Ted Cruz, who has shown more vigor in defending President Trump than he showed in defending his own wife and father from vicious attacks leveled at them by candidate Trump in the 2016 campaign, not only volunteered to argue the Paxton case before the high court but led legislative efforts this week to challenge Electoral College results in swing states where majorities of Americans dared favor Trump's opponent. Not to be outdone, East Texas Republican Congressman Louie Gohmert filed suit to scrap the Electoral Count Act of 1887 and the Twelfth Amendment. Who would guess Republicans were so eager to overturn the Electoral College they raved about in 2016?
Nor are Central Texans above all this. In November we elected a zealously pro-Trump Republican congressman whose first course of action was to rally in defense of President Trump's utterly false claims of an election stolen from him through fraud and election irregularities. Shortly before Pete Sessions took an oath to "support and defend the Constitution of the United States against all enemies, foreign and domestic," he put aside his famous Boy Scout ethics and posed alongside some of our domestic enemies near the Capitol supporting the Trump-or-nothing, Constitution-be-damned fanaticism assembling in Washington. He posted on his Facebook page: "Had a great meeting today with folks from 'Stop the Steal' at our nation's Capitol. I encouraged them to keep fighting and assured them I look forward to doing MY duty on January 6th."
Several individuals online naturally applauded Sessions' complicity; others saw matters differently. One tweeted a memorable passage written by Ulysses S. Grant, part of an April 21, 1861, letter to his father shortly after the South's firing on Fort Sumter, triggering the Civil War: "There are but two parties now: traitors and patriots. And I want hereafter to be ranked with the latter and, I trust, the stronger party." Another responding to Sessions' post and photo tweeted an illustration of Benedict Arnold, leaving it up to the congressman and his staff to figure out who the unnamed and bewigged figure was.
By Wednesday afternoon, Sessions — just four days into his new tenure — had taken cover as these "folks" had their way in the U.S. Capitol. As Trump rioters rummaged through the building and trashed offices with little resistance from the 2,300-member Capitol Police, the Republican congressman had the gall to reassure constituents in Central Texas that all was well. His tweet: "My staff and I are safe. Thank you to all law enforcement for protecting us. I am praying for every officer's safety."
No prayers or apologies, meanwhile, for the democracy Sessions helped assault in recent weeks through his wildly misleading electoral nonsense on social media.
Skeptical constituents again responded to Sessions: "This is what happens when rule of law is replaced by hypocritical party pandering. I'm glad you're safe, but please reflect on how your choices exacerbated the sentiments that have now imperiled you. Please protect our Republic." Another: "YOU could have taken office representing all of us instead of siding with Trump immediately & encouraging his reckless, delusional behavior. Now we are all praying USA will get out of this tragic mess brought on by [the] GOP."
Most of us were happy to bid 2020 farewell. Yet Insurrection Day reminds each of us, in Texas and beyond, that heady challenges and determined obstructionists and outright seditionists remain in 2021.
The first step is up to principled Republicans if any remain: If these partisans spent as much time weeding out the seditionists within their ranks as they did pursuing socialists, real or imagined, America might be better prepared for the future.
Veteran Texas journalist Bill Whitaker recently retired as Waco Tribune-Herald's opinion editor.