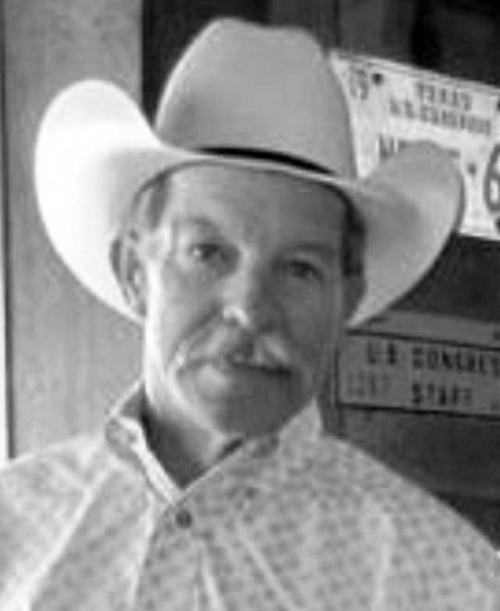 August 25, 1956-June 22, 2014
Clay Herrmann, 57, of Caldwell passed away peacefully at his residence Sunday evening in Caldwell. Services are set for 2 p.m. Thursday, June 26, at The New Tabor Brethren Church near Caldwell with the Rev. David Johnson officiating. Burial will follow in the church cemetery. The visitation will be from 6 to 8 p.m. Wednesday evening at the funeral home.
Clay was born August 25, 1956 in Caldwell, Texas to parents Roy Herrmann and Dorothy (Norman) Herrmann. He was a rancher his whole life and loved every minute of it. He married Lorey Nedbalek October 7, 2005 at Elizabeth Lutheran Church in Caldwell. He loved being a true cowboy, being outdoors, riding horses, working his cattle, or fiddling with his tractor, he also enjoyed watching the Dallas Cowboys. Here are a few words that described Clay; conscientious, constant, dependable, on schedule and reliable, he would always check his watch to make sure he was on time. He could always be found at Dave and Jerry's. His favorite pastime would have to be spending time with his family whom he loved very much.
Clay was preceded in death by his parents, Roy and Dorothy Herrmann.
He is survived by his loving family, his wife, Lorey Herrmann of Caldwell; son, Jake Herrmann of Caldwell; two step sons, Kole Taylor of College Station and Brady Taylor of Caldwell; a brother, Carl Herrmann and wife Leslie of Caldwell; a sister, Cathy Garbs and husband Jeff of Caldwell; his mother and father–in-law, Waymann and Betty Nedbalek of Caldwell; a brother-in-law, Wayne Nedbalek and wife Cindy of Snook, sister-in-laws, Cheryl Strucely and husband Nick of Caldwell and Kathy Ewald and husband Jeff of Caldwell, and by numerous nieces, nephews and other relatives and a host of friends that will miss him dearly.
Pallbearers will be Dennis Drgac, Lee Alford, Jerry Schafer, David Hildebrand, Ben Trcalek, Jimmy Arrington, Charles Doonan, and Fritz Wolz. Honorary pallbearers will be, Jeff Ewald, Nick Strucely, Wayne Nedbalek, Jeff Garbs, Perry Schwierzke, Mark Heald, Craig Heald, Eddie Heald and Steve Benet.
Arrangements are under the direction of Phillips & Luckey Funeral Home, Caldwell.