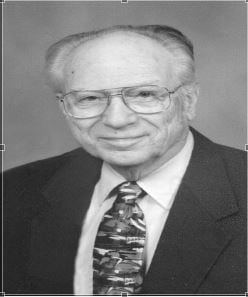 Oct. 28, 1916 - Nov. 19, 2015
Dr. Clare A. Gunn, son of Lila B. and Fred M. Gunn, passed away Thursday, November 19, 2015. A Visitation will be held from 5-8PM on Sunday, November 29 in the Chapel of Trevino-Smith Funeral Home, 2610 S. Texas Avenue, Bryan. A Memorial Service will be held at the A&M United Methodist Church, College Station at 2PM Monday, November 30. Dr. Gunn will be laid to rest in a private family ceremony at Rest-Ever Memorial Park.
Dr. Gunn was born October 28, 1916, at the home of his parents, Fred and Lila Gunn in Grandville, Michigan. From his parents, he learned the importance of family love, discipline, faith in God, and the value of work. After graduating from Grandville High School in 1935, he attended Grand Rapids Junior College where he fell in love with Mary Alice Parish. They were married June 20, 1941 in South Congregational Church, Grand Rapids. He is survived by his wife, Mary Alice Gunn and their four sons: Thomas A. and wife Debby, LTC Bruce R. (Ret) and wife Jo-Anne, Richard C. and wife Dr. Kerry Hope, and William E. and wife Dee. They have five grandchildren and three great grandchildren.
Dr. Gunn's career began at Michigan State University with a BS in Landscape Architecture in 1940, MS degree at MSU in Land and Water Conservation in1952, followed by a Ph.D. in Landscape Architecture at the University of Michigan in 1965: the first in the nation. His 21 years of extension work at MSU introduced him to the field of tourism, providing the focus of his work in research, teaching, writing, and consulting for seven decades.
He served in six universities; two schools of Landscape Architecture, two schools of Hotel Management, and two departments of Recreation, Parks, and Tourism. He retired from Texas A&M University as Emeritus Professor in 1984. He has been cited as a pioneer in Tourism Education and his books and other writings have been used by governments, tourism agencies, and educators worldwide. His consulting work took place throughout the United States, Canada, and in many other countries.
His main books include: The Campus Beautiful (1940), Motel Planning and Business Management (coauthor 1964). Tourism Planning (2002 and in Chinese 2005), Vacationscape (1997and in Chinese 1998), and Western Tourism—Can Paradise be Reclaimed? (2004). His writings have appeared in many books, journals, encyclopedias, and manuals; these works now reside in the Michigan State University Archives & Historical Collections. He established tourism courses at the School of Travel Industry Management, University of Hawaii and the Department of Recreation, Park, and Tourism Sciences, Texas A&M University.
Dr. Gunn was an active member of the American Society of Landscape Architects since 1952, Michigan Chapter President, National Trustee from Michigan, and named Fellow, FASLA, 1986. He was active in The Travel and Tourism Research Association and received "The TTRA Lifetime Achievement Award" in 2001. He received a Special Citation for 38 years of Inspirational Teaching from the Governor of Texas. He was a member of Phi Kappa Phi and Distinguished Member of Sigma Lambda Alpha, the International Society of Educators of Landscape Architecture. He was a licensed Landscape Architect in Michigan, California, and Texas.
For over 30 years he was a member of Rotary International, was on many District Committees, directed the creation of three new clubs, served as President of the Rotary Club of College Station, and was named to the District 5910 Roll of Fame. He was also an Emeritus Member of the International Academy for the Study of Tourism.
He was a member and supporter of the A&M Methodist Church for over 40 years. He was a dedicated loving husband and father, always keeping a warm personal approach to others and claimed that any success he achieved in his lifetime was due to the love and support from his wife of 74 years, Mary Alice.
Memorials may be made to the Clare Gunn Scholarship, Department of Recreation, Park and Tourism Sciences, Texas A&M University, College Station, Texas 77843-2261.
Serving Your Family Is Our Family Business.