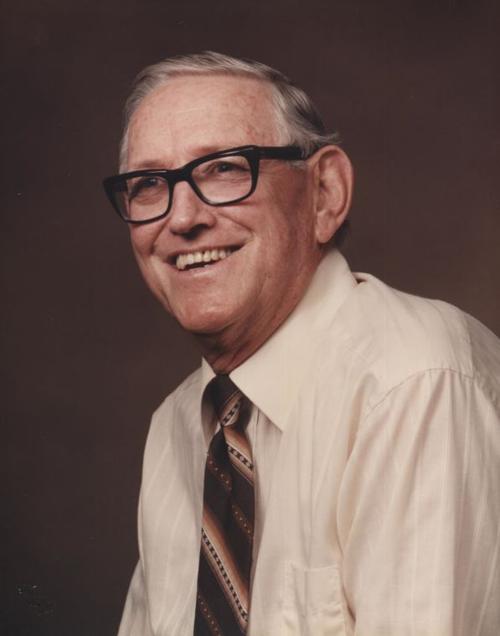 September 21, 1926 – July 10, 2014
Lawrence Vaughn Conrad, Banty to everyone that knew him, passed away Thursday July 10 at his home in Kurten.
Funeral service will be 2:00 p.m. Sunday July 13 at Alexander United Methodist Church with Rev. Sam Cutrone officiating. Interment will follow in the church cemetery. Visitation will be from 5 -7 p.m. Saturday at Memorial Funeral Chapel in Bryan.
Banty was born on September 21, 1926, to his parents, Will and Ruby (Hudspeth) Conrad of Tabor. He was born and raised in Tabor. He was a member of Alexander United Methodist Church for 76 years. He hauled milk for 44 years until his retirement in 1999. Banty knew every dairy in the Brazos Valley and surrounding communities all the way to Houston. He enjoyed playing dominoes, loved to watch sports and old westerns. His favorite singer was George Jones. He was the heart and soul of his family, a loving husband, father, grandfather, great-grandfather and great-great-grandfather. Banty never met a stranger and had a laugh as big as his heart. He never said, good bye or see you later, his favorite saying was, "Glad you got to see me". He was a sweet and kind man and the only thing he did not like was a thief and a liar and said that often.
Banty is preceded in death by his parents; six brothers, Jack Conrad, Ervin Conrad, Ruben Conrad, Kenneth Conrad, Charlie Conrad and Bill Conrad; infant sister, Francis Conrad; nephew, John Conrad; and the love of his life his wife of 41 years, Mary Sue (Kuykendall) Conrad.
He is survived by two sons and daughters-in-law, James and Patsy Conrad of Kurten, George and Linda Conrad of Hidenheimer; step-sons and daughter-in-law, Phillip Jr. and Marla Endler of Pearland, and Michael Endler of Bryan; nine grandchildren, Angie (Conrad) Regmund and husband Dwain, Justin Conrad and wife Samantha, Jamie Conrad, Nocona (Conrad) Park and husband Thomas, Jeremy Conrad, Lindsay Conrad, Ashley (Conrad) McCormick and husband Tommy, Ely Conrad and wife Casey, and Jake Endler; sixteen great-grandchildren, Britney Hobson, Braden Hobson, Justin Conrad Jr., Christopher Conrad, Samantha Conrad, Brody Conrad, Audrey Batten, Colton Welch, Isabell Park, Nathan Park, Elizabeth Park, Jeremy Conrad Jr. , Audry Conrad, Dylon Conrad, Pazlee Conrad, and Kimber Conrad; great-great-grandson, Traden Ransom; and numerous nieces, nephews, cousins, and friends.
Pallbearers are, Ralph Stevener, James Shephard, Kenneth "PeeWee" Conrad, Bill Conrad, Rex Beasley and Cody Lenz. Honorary pallbearers are, Ely Conrad, Jake Conrad, Braden Hobson, John Prihoda, Jessie Prihoda, E.W. Conrad and Mitchell Beasley.
In lieu of flowers memorials may be made to Alexander United Methodist Church.
Obituaries Newsletter
Sign up to get the most recent local obituaries delivered to your inbox.