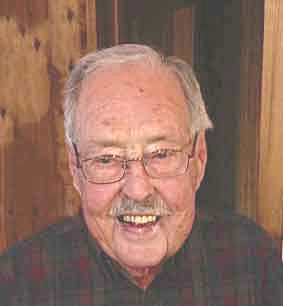 March 8, 1924—January 11, 2015
Dr. Thomas Campbell (Tom) Cartwright was born in York, South Carolina to George Campbell and Ruth Patton Cartwright. He died in the home that he and Carolyn Hobson Cartwright had built at Pack Creek Ranch near Moab, Utah. He left behind a devoted and loving family and many friends and colleagues, all of whom had their lives enriched by their association with him.
Tom began his university studies at Clemson University but left to serve in the US Army Air Corps during World War II. His military service was in the Pacific theater, where he was the pilot of a B24 bomber. His plane, The Lonesome Lady, was shot down during a mission over Hiroshima, Japan on July 28, 1945. He was captured and interrogated in Hiroshima. He then was sent to Tokyo and ultimately a POW camp in Tokyo Bay, while six members of his crew remained imprisoned in Hiroshima, where they perished in the atomic blast on August 6. The memory of this loss never faded for him, and he campaigned quietly to insure that the sacrifice of his crew was not forgotten. He told this story in a memoir, A Date With The Lonesome Lady, and in the documentary movie Genbaku-Shi, which led to interactions with the Hiroshima Peace Memorial Museum.
Following the war, Tom returned to Clemson and completed a Bachelor of Science degree. He undertook graduate studies in Animal Sciences at Texas A&M University, from which he received his Ph.D. He then joined the faculty at Texas A&M, where he enjoyed a distinguished career as a professor and researcher. He pioneered the use of computer-based statistical methods in genetic studies of traits in cattle and other animals, and he conducted projects around the world that had the goal of improving the standard of living for the poor. He traveled extensively in his work, and his children came to expect travel photos that included cattle or goats. A Professor Emeritus at the time of his death, he leaves a legacy of an important body of scientific work, a reputation for integrity, and many former students who themselves have had distinguished careers and who remained devoted to him, as he was to them.
Tom shared most of his life, including 66 years of marriage, with Carolyn, who died in February 2012. Tom is survived by four children: Thomas Cartwright (Mary; Salt Lake City), Susan Prescott (Steve; Oklahoma City), Clarke Abbey (Tom Rees; Moab), and Dr. Patrick Cartwright (Deborah; Salt Lake City); eleven grandchildren and eight great-grandchildren, who live from sea to shining sea and who all hold special affection for their Pop.
The family suggests the Canyonlands Natural History Association for donations in honor of Tom.