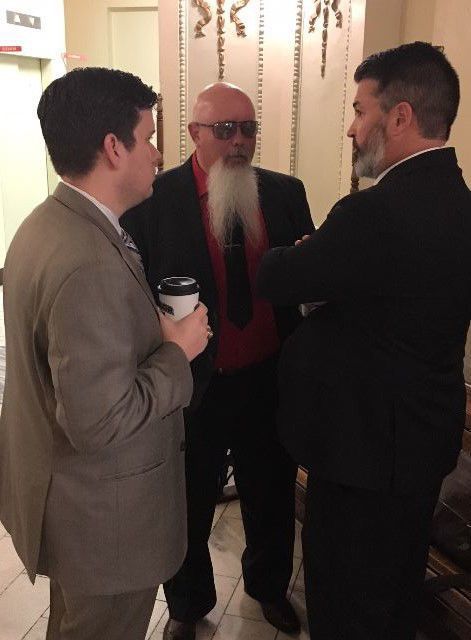 Biker Jeff Battey thought that after the McLennan County District Attorney's Office dismissed charges against him and the remaining Twin Peaks defendants, it was not too much to ask to have all records of his 2015 arrest destroyed so he could move on with his life. 
It appears that won't happen. Now Battey, a former Marine who still has a bullet in his arm from the May 2015 Twin Peaks shootout, is threatening to sue the DA's office for malicious prosecution, his attorney said.
Waco attorney Seth Sutton, said a district attorney's office representative recently told him that the office would oppose Battey's motion to expunge records pertaining to his arrest after the Twin Peaks shootout on May 17, 2015.
Of the 24 remaining Twin Peaks cases that District Attorney Barry Johnson inherited when taking office in January, only three defendants were charged with murder and rioting: Battey, of Ponder; Glenn Walker, of Copperas Cove; and Ray Allen, of Krum. 
The three-year statute of limitations has expired for prosecuting rioting and other possible charges stemming from the melee — except for murder, which has no statute of limitations. 
Johnson said Monday his office opposed Battey's expunction request in case some additional evidence surfaces "down the road" and they can file murder charges.   
In an expunction motion, a person who has been arrested with no conviction asks a judge to order clerks, courts, local, state and possibly federal law enforcement agencies — anyone with information about the arrest — to destroy those records. It's like wiping the slate clean and allows a defendant to legally say he or she was not arrested. 
However, in today's world, with information only a Google search away, it's difficult for someone arrested in a biker shootout in which nine died to remain anonymous.  
"It would seem that everybody would be satisfied with the way the evidence has turned out in this matter and the way we handled these cases," Johnson said. "Those cases were dismissed. Are they not satisfied with that?" 
The answer in Battey's case is no, because his is a textbook case of self-defense, Sutton said. He still has the bullet in his arm from a rival Cossack to prove it, he said.
"There are cases where there are missing pieces to the puzzle that you might want to hold open," Sutton said. "That makes sense in those cases. This is way different. There are zero puzzle pieces missing here. We know what happened. The most important piece of evidence has always been the bullet in Jeff's arm. This is just a refusal for the state to admit there is a bullet in his arm."
He said Battey is upset at the DA's opposition to his expunction request and is considering filing a malicious prosecution lawsuit. Battey is among the more than 130 Twin Peaks defendants with federal civil rights suits pending in Austin. 
The man who shot Battey was one of the nine bikers who died in the shootout. Battey and fellow Bandido Ray Allen were parking their motorcycles behind Twin Peaks when the shooting started, Sutton said. Three bikers from the rival Cossacks or one of their support groups came running around the corner of the building, and one, Matthew Mark Smith, of Keller, started firing, Sutton said.
Smith first fired two shots at Allen but missed, Sutton said. He next fired at Battey, who raised his arm as a shield and was shot in the forearm, he said. Smith then fired at bikers who were trying to leave the parking lot in the back of a truck, Sutton said. Smith was killed by return fire, he said.
Ballistics reports show Smith was not one of the four bikers killed by Waco police officers, who were stationed on an adjoining parking lot and fired on bikers they felt were threats to them or others.
Houston attorney Paul Looney, who represented six Twin Peaks defendants, said none of his clients have asked to have their cases expunged. Looney said they likely are not entitled to expunction because judges and grand juries have found there was sufficient probable cause to arrest them. 
"That tends to limit the availability for expunction as a matter of right," Looney said.  
Johnson said Battey is the only Twin Peaks defendant to inquire about expunction so far. If others do, his office will consider the requests on a case-by-case basis, he said. 
"This was not just a blanket deal where we would oppose them all," Johnson said. "We would take a look at each one and see what kind of evidence we have and what their level of involvement was before making that decision."