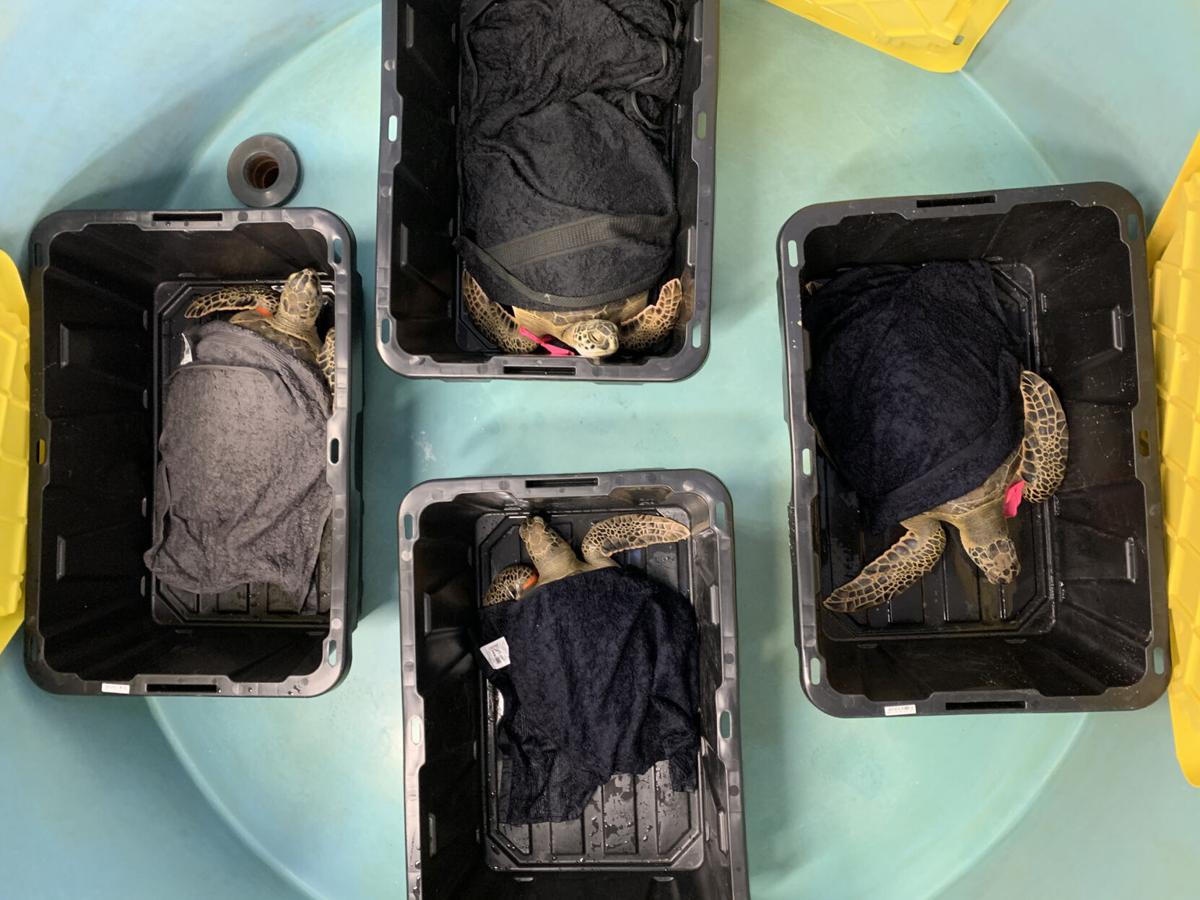 About 70 sea turtles have been saved by Texas A&M Galveston's Gulf Center for Sea Turtle Research from the unprecedented winter storm that swept across Texas this past week.
The effort is just one of many in the state to rescue green sea turtles, which are especially susceptible to being "cold stunned," meaning a turtle has become hypothermic due to severe cold weather, according to the National Park Service. When water temperatures are around 50 degrees or lower, the National Park Service website states that sea turtles become lethargic and unable to swim, often causing them to float up to the surface where they can be struck by boats, washed ashore or be stranded. 
The Gulf Center for Sea Turtle Research partnered with the Sea Turtle Stranding and Salvage Network to help respond to more than 150 turtles. Seventy of those were able to be treated, while the rest were dead, said Christopher Marshall, professor in marine biology at Texas A&M-Galveston and director of the Gulf Center for Sea Turtle Research. 
This effort was made possible with the help of more than 100 volunteers including students, area naturalists and Texas Parks and Wildlife Department officials. 
Across the state, several groups have been caring for cold-stunned turtles, rescuing and recovering around 10,000 green sea turtles overall, Marshall said.
Marshall said the Gulf Center for Sea Turtle Research recovered turtles from Galveston Bay down to East Matagorda Bay and is returning them to the Gulf of Mexico where the water is warmer. 
On Monday, the first batch of 25 recovered green sea turtles saved by the Gulf Center were delivered using the Texas A&M University R/V Trident — a 70 foot research vessel.  
"The best part is seeing a sea turtle coming into our hospital that's almost dead, and then caring for it and seeing it come back to life and then releasing it back into the wild," Marshall said. "There's nothing like seeing a sea turtle either crawl back into the ocean or be placed in the water off the side of a boat and just swimming away to live its life. It's a beautiful thing."
This is the third batch of cold-stunned turtles that the Gulf Center for Sea Turtle Research has treated at the sea turtle hospital on A&M Galveston's campus, which opened in December.
When the turtles arrive at the hospital, they are put into plastic containers with moist towels and placed in a 60-degree room for 24 hours. Next, the turtles are examined by a veterinarian from the Houston Zoo and are given a swim test. If the Houston Zoo veterinarian determines that the turtle failed the test, Marshall said the turtles are placed back in the plastic container to continue warming. If they fail the test twice, the turtles must be taken to the Houston Zoo to receive more intensive care.
So far, Marshall said half of the turtles that the Gulf Center rescued have failed their swim tests. 
Turtles that pass their test can be placed in water-filled tanks until they are released back into the Gulf of Mexico.
Marshall said last week's cold-stun event was historic, with record-cold waters affecting an unprecedented number of sea turtles. 
A system of buoys in the Gulf of Mexico operated by Texas A&M University reported the lowest water temperatures recorded since they were installed in 1995, according to Texas A&M. Buoys near Galveston recorded a temperature of 52.5 degrees, while a buoy near Corpus Christi reported a temperature of 50 degrees, when the average temperatures for this time of year is 58.5 degrees. 
Statewide, Marshall said the mortality rate of sea turtles during this cold-stunning event has been 50% or more. 
Marshall said the Gulf Center for Sea Turtle Research is still looking for turtles and will continue to do so for the next few days. After that, the center will continue to respond if community members call in to report that they have found a turtle. 
The Gulf of Mexico is home to five species of sea turtles: green, loggerhead, Kemp's ridley, hawksbill and leatherback. The first three species are the most common.
Green sea turtles are the main species around Galveston, and they are the most prone to cold stunning.
The green sea turtle is protected as a threatened species by both the state of Texas and the federal government, the National Park Service website states. 
Had groups like the Gulf Center not jumped to action, Marshall said a "very large percentage" of the Texas green sea turtle population could have been lost. 
Marshall said green sea turtles are beneficial to the health of seagrass beds, which are good for fish. Additionally, he said sea turtles overall are an indicator of ocean health, with health being defined as a diversity in different species of marine animals and a lack of pollution. 
Working to find and care for the sea turtles started Feb. 12 for the Gulf Center and has put a strain on the newly opened A&M Galveston sea turtle hospital resources, Marshall said. 
To get involved and help out, people can purchase supplies for the hospital on the A&M Galveston Amazon wish list, donate to a fund for undergraduate student internships, or make general donations to the Gulf Center.