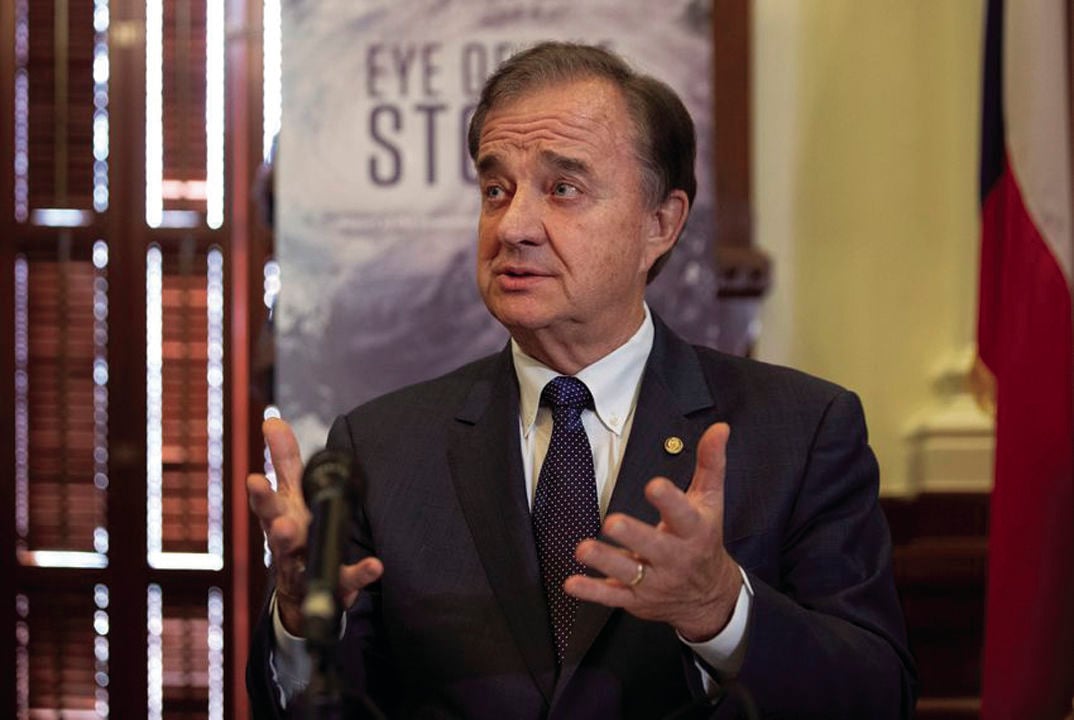 Texas Tribune higher education reporter Shannon Najmabadi sat down with Texas A&M University System Chancellor John Sharp for a discussion on how the novel coronavirus outbreak in Texas has impacted higher education institutions and the students they serve.
Here's a look at some of Sharp's responses to questions during the interview.
What effects has social distancing had on coursework and the overall campus experience?
Sharp said that roughly 5,400 students remain on campus across the university system. He says that for many of these students, "this is home," and that if they were not able to remain on campus they would not have the proper support and resources to continue their education. These include international students and students who live in rural areas with limited or no access to online resources, among other things.
Sharp also said that in cases where essential, on-campus research must continue, but that the necessary precautions are being taken to ensure adherence to social distancing guidelines.
Sharp said he's optimistic in terms of student enrollment, citing steady acceptance and tuition deposit numbers for the summer and fall semesters. However, he also anticipates that many universities in the state could see enrollment drop in masters programs that typically have a lot of international students.
In an effort to further support students who are living off-campus, Sharp said that WiFi has been installed on a number of the on-campus parking lots, a measure that he hopes will, "make [online resources] as accessible as possible."
In terms of the infrastructural costs for remote learning, Sharp said that it has cost just under $10 million dollars — the majority of which Sharp said went into equipment and training.
For a majority of the universities in the A&M System, Sharp says, the pivot to online coursework has been an adjustment — as it has for many universities across the state. "When I first got here, there was a real reluctance to do online education" Sharp said. Yet, he added, in eight days at the system's flagship university, officials "put 58,000 students online and almost flawlessly."
While Sharp acknowledged that there are limits to what can be done online — such as laboratory classes — he said he's encouraged by the vast potential the online tools and infrastructure have to provide teachers and students with greater access along with a more personal element to learning. "[This] will change how education is delivered for the better," he went on to say.
What are some other effects that this outbreak has had on the A&M system, overall?
In addition to reducing the stigma surrounding online learning, Sharp said that he believes that one of the biggest collective takeaways will be the renewed sense of importance placed on a college education. Sharp noted that the current situation has emphasized the benefits of a college education along with the inevitable and continued decrease in the number of jobs that people without college degrees have traditionally relied upon.
"As tragic as it is, there are at least some things that are going to wind up operating easier and cheaper than we anticipated," Sharp said, citing an anticipated reduction in both interest rates and construction costs.
Sharp also noted that one of the higher points of this crisis is that it has highlighted just how much individual universities within the system have to contribute to the response effort, citing numerous scientific and operational resources the university system is providing to the broader community — including surplus testing.
What effect has the outbreak had on the university system and its students/staff/faculty, financially and operationally?
Sharp said that there are currently no plans to have a commencement ceremony so long as social distancing measures are in place. He also noted that not having such gatherings helps to further underscore the seriousness of the situation.
One of the primary ways that the A&M system is supporting its faculty and staff is to promote adherence to social distancing guidelines, Sharp said.
He also highlighted that a recent discovery in cross-species testing for COVID-19 found by the Texas Veterinary Diagnostic Lab made it possible to provide roughly 2,000 tests to all the universities within the system along with the surrounding communities.
Sharp says that the A&M system has refunded dining and housing costs to students, which amounts to nearly $48 million dollars in system-wide refunds. Students can opt for either cash refunds or to use the funds as a credit to cover those costs for the next semester. He also estimated that the university system has lost roughly $33 million dollars in revenue due to the suspension of athletics programs and the loss of various operational fees.
Sharp noted that while he and his office hope that in-person classes can resume in the fall, that contingency plans are in place in the event that remote learning must continue into the fall semester.
Sharp anticipates that the A&M system will receive roughly $110 million of the $1 billion in federal dollars going toward higher education in the state. According to Sharp, half of the federal aid dollars will go directly to the students — particularly those who are Pell Grant recipients — and the remaining amount will go to individual universities within the system.
To address the remaining financial needs of the universities that cannot be covered by state and federal aid or individual reserves, Sharp advised university officials across the system to take a surgical approach to budget cuts as he anticipates higher education will be among the hardest hit in terms of the state budget. "The last time [something like] this happened, higher education absorbed 40% of the cuts and we're only 15% of the budget," Sharp said.
Among these cuts are a partial freeze on hiring, meaning no additional hires can be made without the permission of the university's president or the agency's A&M CEO. However, Sharp also noted that currently no one has been laid off and he said that, "this is not a time for [tuition] increases."
"We don't know when this thing is going to end," Sharp said.
Sharp said that makes it that much more difficult to predict or plan how to mitigate additional financial losses. "None of it can even be discussed until we know when the world [will go] back to work," he said.
Sharp has led the Texas A&M University System since 2011. Previously, he served in the Texas House and Senate, as state comptroller and on the Texas Railroad Commission. Sharp also served as a second lieutenant in the U.S. Army Reserve.
The interview was streamed on the Tribune's website, Facebook page and Twitter, as well as by our media partners at KPRC2, KXAN and the Eagle to a live audience of more than 3,400 viewers.
This virtual event series is presented by Pearson, Educate Texas, the Texas Education Grantmakers Advocacy Coalition, Blue Cross and Blue Shield of Texas, Trellis Foundation, the Texas A&M Foundation and Raise Your Hand Texas. Media support is provided by KXAN, KPRC2, Univision62, Community Impact and The Eagle.
Tribune events are also supported through contributions from our founding investors and members. Though donors and corporate sponsors underwrite Texas Tribune events, they play no role in determining the content, panelists or line of questioning.
Disclosure: Texas A&M University has been a financial supporter of The Texas Tribune, a nonprofit, nonpartisan news organization that is funded in part by donations from members, foundations and corporate sponsors. Financial supporters play no role in the Tribune's journalism. Find a complete list of them here.