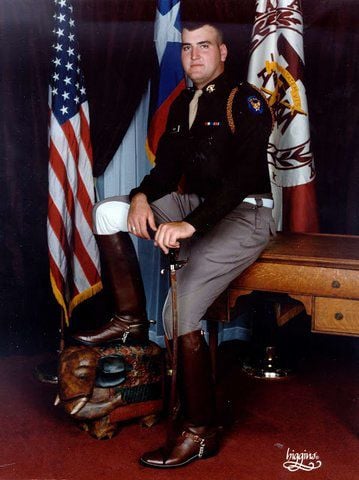 Christopher Breen lived for adventure as an Eagle Scout and wilderness guide, according to family members.
The 25-year-old Texas A&M graduate was killed in the Aggie Bonfire collapse on Nov. 18, 1999. His love of the wild is shown in the image in his Bonfire Memorial portal, where he is smiling, wearing his guide hat and standing in front of a canoe.
On breaks from school at A&M, Chris would lead 10-day camping trips with the Boy Scouts' High Adventure Program. His favorite excursions were in Manitoba, Canada, including one winter program that required wearing snowshoes and building igloos to stave off the cold, according to his father, John Breen, professor emeritus in the civil engineering department at the University of Texas.
Chris led his family on these excursions on more than one occasion.
"My brothers and I, my dad, got to go on several different trips which was just a tremendous amount of fun," said Chris' brother Sean, who is an attorney in Austin.
The last time John and his son spent a full day together was on the water a few weeks prior to the collapse.
"We've always been involved in sailing," John said. "Chris was a very good sailor and loved to sail."
The Breens had recently purchased a new boat, replacing the 25-foot boat the family kept on Lake Travis. John said that the two of them sailed, starting early in the morning through the early evening, moving the old boat to a temporary slip and getting ready to put it up for sale. It was an opportunity to spend time together, just the two of them, talking and sailing, he said.
Chris was the youngest of eight siblings. The Boy Scouts was a family tradition, Sean said, noting that all of the Breen boys and their father are Eagle Scouts. But Chris was the only Aggie. Six of his siblings boast degrees from the University of Texas.
"Chris was the maverick that went to A&M and we respected him for it," John said. "But [he] was always defending A&M to his siblings. He could take care of himself, no problem."
Chris graduated from A&M in 1997 with a degree in agricultural development. He was a member of the Corps of Cadets in Squadron 12 and a member of St. Mary's Catholic Church in College Station. He had served as a senior coordinator brown pot in building Bonfire, a group of students responsible for equipment maintenance and the construction process.
On Nov. 17, 1999, Chris spent the day assisting Sean and his family move into a new home in Austin.
"As the day wound down and the sun was setting, this house had a porch that faced west, and you could see 15 miles off into the Hill Country," Sean said. "Chris, my dad and I sat out on the porch furniture and had a cold beer and watched the sunset."
Afterward, Chris joined John for dinner at the family home. John said that Chris received a phone call during the meal. It was a request from Bonfire crew members, asking him to return to the stack site to take part in a tradition of passing down of the helmet, or pot. The current brown pot could not attend, so Chris was asked to take part in the tradition in his place, John said. Chris agreed and headed to College Station. He was the only former student to die in the Bonfire collapse.
A call came for his parents about a week following his death, John said, letting them know that Chris had passed preliminary testing and had been approved for pilot training in the Air Force. John said he was unaware of Chris' plans to join.
"And they didn't realize that he had been killed," he said. "They were calling to set up the date for him to come down to begin an Air Force career."
The Breens have a tradition on Nov. 17 each year, going to the same Hill Country area where John, Sean and Chris watched the sun go down in 1999.
"We watch the sunset as it goes down on the 17th," Sean said, "and typically will have some type of Irish beer, raise a toast to my brother, remember and be thankful for everything that he gave us in his short life."
The Breens forgo the official remembrance ceremony in College Station, opting to privately honor Chris. The family has a Mass said in Chris' intention each year on Nov. 18 at St. Austin Catholic Parish.
"We think of him as being 25 years old ... we always remember him as he was at that time, because you have no further memories to build upon," John said. "So we still see him as a strapping [young man]. It's hard to believe it's been 20 years."