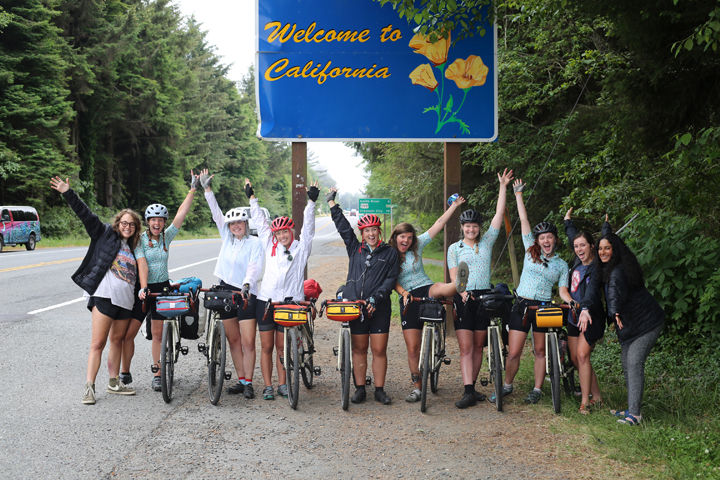 Over the course of 45 days, Texas A&M senior Hadley Hanson and nine other cyclists biked from Seattle to San Diego in an effort to raise awareness about sex trafficking and human trafficking.
Hanson said the trip — which began in June and ended this week, traveling primarily on U.S. 101 and U.S. 1 along the West Coast — was amazing, calling it a life-changing experience. 
The goal of the 1,700-mile trip — complete with camping and a few donated hotel rooms and host homes along the way — was not just something fun to do over summer break, but an effort to raise both money and awareness about trafficking. 
"I think that a lot of people have this idea about human trafficking in their head that it is like the movie Taken or something that just happens in foreign countries or whatever it may be," Hanson said in February. "A lot of people don't realize that it is something that's so local and most likely happening in their city. The girls that this is happening to, they don't have a voice, and so we get to be their voice and kind of get to be the people to explain what's happening to them and what truly is human trafficking and how we can help."
One of the ways they do that through Pedal the Pacific is to raise money. With a goal of $250,000, the group — of which Hanson was the only Texas A&M representative — ended up raising $257,689 for The Refuge Ranch in Austin.
The Refuge, Hanson said, is a long-term rehabilitation center for girls ages 11-19 who have been affected by sex or human trafficking. The facility provides varying types of therapy for the residents and has an on-site medical clinic and attached charter school through The University of Texas. 
All the money raised during the third annual Pedal the Pacific will be used to fund Refuge residents' stays, which last for as long as they need. It costs $400 per day for a resident to live at the ranch, Hanson said. 
Long-distance biking experience is not necessary to participate in Pedal the Pacific, Hanson said, with most of this year's bike group novice riders. Each of the riders, some of whom have participated in the past two years and others who are new, trained in the months leading up to the big ride to prepare for the 50- to 60-mile-a-day journey.
"Then next thing I know I'm biking every day for the next 45 days," she said, describing it as "a bike ride of hilariously unathletic college girls, and all of us are passionate about human trafficking in different ways." 
Acknowledging how tough a subject trafficking is to discuss, she said the group used their lack of athletic ability and bikes to begin conversations with people they met along the way. 
"We met so many incredibly kind and compassionate people who didn't know about sex trafficking, and once we told them about what we were doing and fighting for, then they wanted to do something about it or they would take us food and let us stay in their home or cook us a meal or bring us food, whatever it may be," she said.
The experience showed her how many people want to help but do not know how, she said. That then reinforced for her how important it is to continue raising awareness. 
"I am more on fire now than ever … to make a change about the reality of sex trafficking," she said. "After this trip, I've just learned so much more about it." 
Each of the students who rode in Pedal the Pacific are passionate about ending sex and human trafficking, and for Hanson, her interest in the fight began when she was growing up in Houston.
"I could drive down this road and see the brothels and point them out from a very early age, probably middle school. … I was just very curious about why I could point them out, but the police couldn't do anything about it or why it was still there," she said. Then, she did her own research when she got to college and joined an on-campus organization called Jesus Said Love that is committed to raising awareness about trafficking. 
In addition to learning more about their fight to end trafficking and the accomplishment of completing the ride, Hanson said, she also was able to see a part of the country she had never visited. 
"Oregon really surprised me, because people don't talk about Oregon very often. … Oregon was beautiful," she said. "The forestry of Washington was beautiful. And then California was pretty much what I expected it to be, just because California is so publicized."
Hanson said she would like to see more Aggies apply for Pedal the Pacific, and said if she was able to complete the ride, anybody can. 
Though she will not be riding again next year, she said, she wants to help mentor the next group. 
"As one person, you have the ability to make a huge difference," she said. "No person is too small or too unimportant to do something crazy like ride their bike down the West Coast and raise a quarter of a million dollars for something that they're passionate about. I just encourage everybody to get out, find something that you're passionate about and know that you're able to make a change. Even if it's just one tiny step forward in the change, it's a chain reaction."