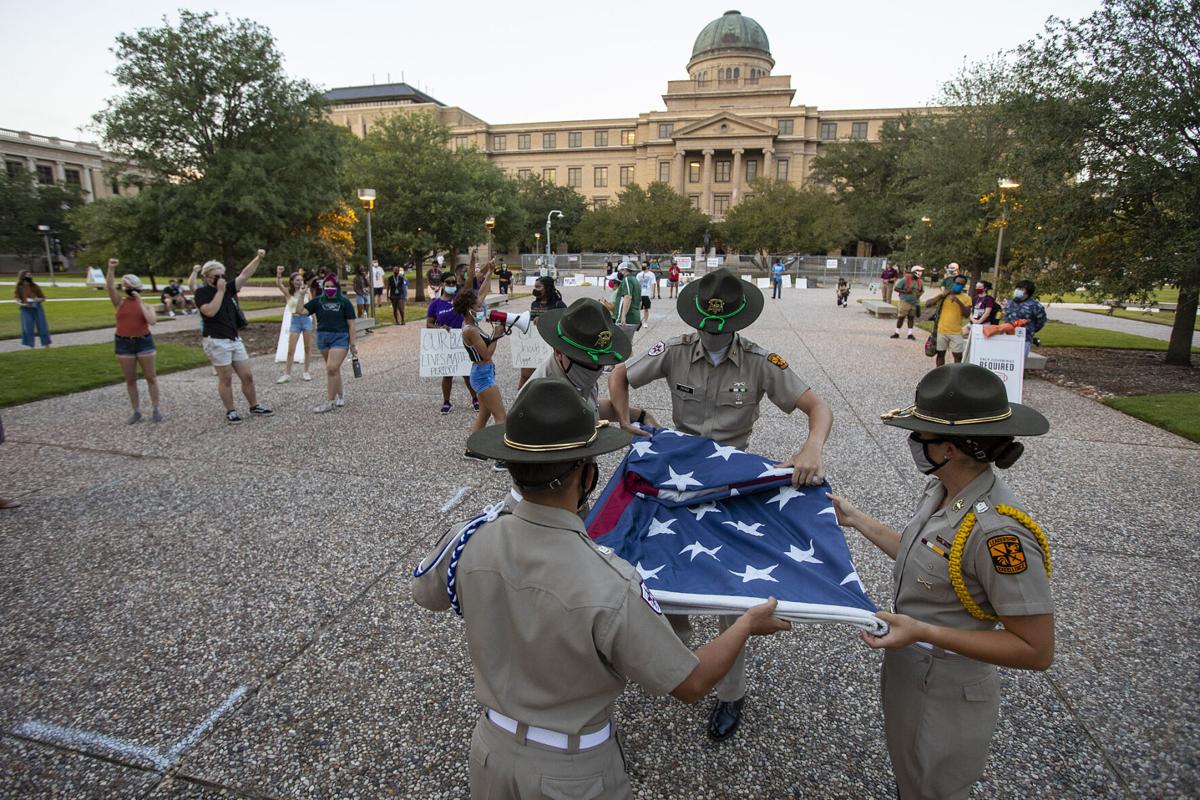 About 100 people gathered at Texas A&M University's Academic Plaza on Saturday afternoon to express their views on the placement of the Lawrence Sullivan Ross statue.
While one group called for the removal of the statue in the center of campus, another group stood to defend the statue's prominent placement.
The latest of several demonstrations to take place at the statue this summer, the informal event drew demonstrators of varying ages. One group of several dozen held signs calling for the removal of the statue and used chalk to write messages condemning white supremacy on the ground.
Ross was a Confederate general who later served as governor of Texas before becoming A&M's president, serving from 1891 until his death in 1898. He is credited with saving the struggling university in its early years, boosting enrollment and securing additional funding to improve infrastructure. The statue in front of the Academic Building was dedicated in 1918. A&M students traditionally have placed pennies on the base of the statue for good luck before taking exams.
"Myself and the other organizers of the protests ... we've been consulting on what we can do on campus to get racial injustice highlighted and to make a more inclusive environment for students," graduate student Carlos Aleman said. "We thought the first step would be to remove the statue from the center spotlight on campus."
A group of several dozen counter-protesters in favor of the statue's placement was present and sang the Aggie War Hymn, played patriotic music over an amplifier and chanted popular Texas A&M school yells.
"I'm here to protect Sully," said Taylor Husak, a member of A&M's class of '22. "He is an important part of our traditions — not just because we put pennies on him, but because he is connected to the Ross Volunteers."
A&M officials had sent an email to students, faculty and staff and posted a statement to the university's website on Aug. 11 that said groups seeking to have outdoor gatherings for more than 10 people must follow university protocols and a state-mandated process that includes securing permission from local authorities. The protocol for outdoor gatherings that exceed 10 people will remain in effect until Sept. 18.
A&M spokeswoman Kelly Brown said Saturday that as long as both groups of demonstrators kept their masks on, formed groups of 10 or fewer and kept those groups apart by 6 feet, they would not be asked to leave. Both groups, she noted, were compliant.
A fence also was recently placed around the Sul Ross statue.
"In anticipation of future events drawing large crowds, security officials plan to place temporary fencing around the Sul Ross statue in Academic Plaza before classes begin," the statement read. "Anyone who is not authorized to go behind the fencing is subject to disciplinary action. The barrier is expected to remain for as long as the situation indicates it is needed."
In the statement, Texas A&M President Michael K. Young said the safety of students, faculty, staff and campus visitors led decision-making.
"We encourage free expression — debating and deliberating are healthy, essential conversations," Young said in the message. "We expect everyone to treat each other with respect and to be safe, especially in the midst of a pandemic."
University police were on scene to ensure demonstrators' safety but said no arrests were made as of 8 p.m.