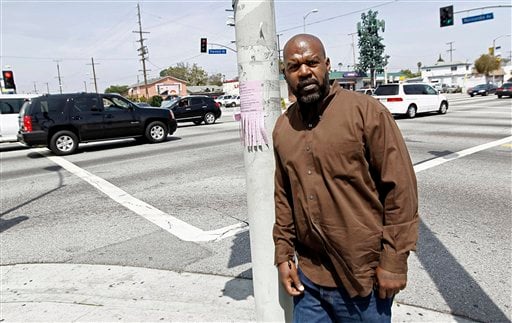 LOS ANGELES -- Henry Keith Watson remembers April 29, 1992, as if it happened just last week. History won't allow him to forget it.
It was a day that marked the beginning of one of the deadliest, most destructive race riots in the nation's history, and one in which Watson's spur-of-the-moment decision to take part made him one of the enduring faces of the violence.
He was at home that day like thousands of others when he heard the news that was racing across Los Angeles: A jury with no black members had acquitted four police officers in the videotaped beating of Rodney King, a black man stopped for speeding nearly 14 months before.
"I got caught up in the emotions like everyone else," Watson says 20 years after a riot that would leave 55 people dead, more than 2,300 injured and himself forever recognized as one of the attackers of white truck driver Reginald Denny, who himself became the enduring image of the innocents victimized during the chaos.
South Los Angeles, where the riot began, has changed considerably two decades later, as has Watson. But many things remain the same.
One place in particular that time seemingly forgot is the intersection of Florence and Normandie, where Denny was attacked on that dark day the riot began. It remains a gritty corner that's home to gas stations where men rush up to incoming cars and pump fuel for spare change, as well as a liquor store with more foot traffic than any other business in sight.
Economic disparity, coupled with racial animosity and distrust of the police created the powder keg that was the neighborhood on April 29, 1992, Watson says. Then word of the King verdict set it off.
As the liquor store at the intersection of Florence and Normandie was being looted and white passersby were fleeing a barrage of rocks and bottles, Denny stopped his big rig to avoid running over someone.
He was quickly dragged from the cab and nearly beaten to death by Watson and a handful of others. As the attack unfolded on live TV, Watson stepped on Denny's head after Damian Williams smashed the trucker's skull in with a brick.
Today, Watson still struggles to explain why he took part in the destruction. Known as Keith to his family and "KeeKee" to friends, he was a 27-year-old ex-Marine with a wife and a job who came from a good family. His father had been his neighborhood's block captain, no less, and he acknowledges his family didn't raise him to be a troublemaker.
Watson was convicted of misdemeanor assault and sentenced to time served for the 17 months he spent in jail before his case was resolved.
Watson has gotten on with his life. He has two daughters in college and for years has operated his own limousine business. Following a drug possession bust a few years after the riot he has stayed out of trouble and now helps keep watch on his neighborhood, just as his late father once did. He has spent most of his life in the neighborhood, returning to the house he grew up in last year to care for his elderly mother.
Asked if he feels badly about what he did to Denny, he says simply that what happened to the trucker that day was "unfortunate."
"But I can't take it back. There's nothing I can do."
Watson did apologize personally to Denny some years ago, the only one of his attackers to do so. Another time he offered to send a limo to pick him up and take him to Florence and Normandie, then somewhere afterward where the two could have a drink and talk.
He says Denny, who lives quietly in Arizona these days, declined. The trucker has shunned interviews for years, and repeated attempts to contact him by mail, phone and in person for this story were unsuccessful.
"He chooses to remain in private," Watson said. "And we respect his privacy. So be it."