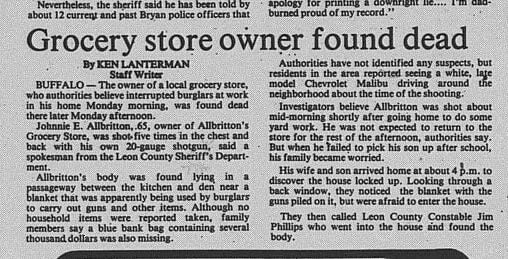 Authorities have charged the widow of a Buffalo business owner in connection to the man's 1984 death, the Leon County Sheriff's Office announced Tuesday.
According to officials, 84-year-old Norma Allbritton was arrested July 1 and charged with murder in her husband's death. Allbritton is an Anderson County resident, according to reports.
Allbritton was released from the Leon County Jail on July 3 after posting $50,000 bail, Leon County Sheriff Kevin Ellis said.
Johnnie Allbritton was found dead inside his Buffalo home on May 14, 1984. Ellis said he was shot five times as he entered his home. He was 64 at the time.
According to May 16, 1984, article in The Eagle, Norma Allbritton and a child arrived home around 4 p.m. May 14 to find the house locked and became worried because they saw guns through the window. She called police to request officers check the home.
A Leon County constable that responded discovered the body, according to the 1984 news story.
A blanket was found near the body that was believed to be used by a burglar to carry household items and guns from the home, and the family reported that a blue bank bag containing several thousand dollars was missing.
Ellis said Tuesday that the investigation is ongoing and more arrests were possible. He did not provide details about what led investigators to charge Norma Allbritton.
According to the Palestine Herald-Press, the television show Cold Justice, which brings in investigators to assist in solving cold cases, was involved in Norma Allbritton's arrest.
The newspaper reported Ellis digitized the files and evidence and sent it to the show for consideration.
"This truly was a team effort," Ellis told the Herald-Press on Tuesday. "Without Cold Justice, I don't think we could've progressed as we have — but they also couldn't have done it without the LCSO staff."
The newspaper reported Leon County sheriff investigators spent five weeks on preparatory work, then teamed up with Johnny Bonds, who worked as a homicide investigator for the Houston Police Department.
"The investigation was done at no cost to our county," Leon County investigator Tommy Page told the Palestine newspaper. "Cold Justice brought not only their expertise, but also paid for the trips to meet and interview about 50 people."
The show also provided forensic technology not available to the local sheriff's office, as well as its own lab, the report states. Producers for the show told the newspaper the show is expected to air in March or April of 2020 on the Oxygen network.