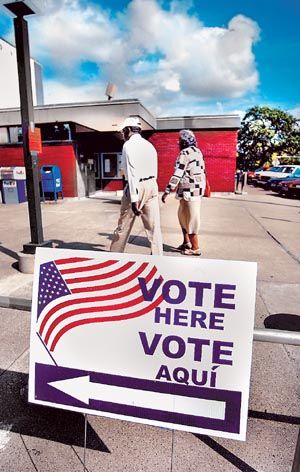 Polls will be open from 7 a.m. to 7 p.m. at 26 vote centers. The vote centers will function like early voting locations in the sense that a person may vote at any polling place on Election Day regardless of their address.
Today's election is part of the county's pilot program for the vote centers. If the system is favorable with voters, it may be used in future elections.
To make sure Bryan and College Station residents are given the correct ballots, since they will not be voting at precincts, election workers will use electronic poll books.
The e-poll books allow election workers to verify a voter's name and physical address and whether they've already voted at a different location upon presentation of their photo ID. Once the voter is qualified, two labels will printed — one to be placed on a form for the voter to sign, and another that will give them a ballot code.
County Clerk Karen McQueen said the e-poll books were used last year and during early voting, and they "worked great" — no voters received the wrong ballot, she said.
The idea is that vote centers will make getting to the polls more convenient for voters, eliminating the possibility that they may show up at the wrong location and giving them more options on Election Day.
McQueen said Brazos County will submit a report to the state indicating whether the vote centers were a success, which will either allow the county to use them in the future or revert back to polling places specific to voters' addresses.
"It's a good concept," McQueen said. "A lot of counties that have started using it like it. Our goal is to have more convenient places for the voters out there."
McQueen said the county is approaching today as a chance for election workers to be trained if the vote centers are used for the presidential election.
"So there will be more workers in this election doing on-the-job training so they get familiar with it before the big elections hit," McQueen said.
McQueen said the county hopes to see a cost savings with vote centers once the process is streamlined. Offering fewer polling locations could eventually require fewer poll workers, McQueen said.
The concept of vote centers has slowly been implemented through pilot programs across the state, starting with Lubbock County in 2006. Brazos County became interested in transitioning to vote centers in 2013 after the state Legislature allowed them to be used for primary and run-off elections.
Candidates for the Bryan City Council are Ben Hardeman and Jarrod Hamlin for the Single Member District 5 seat and Ethan Brisby, Buppy Simank and Kevin Davenport for the At-Large Place 6 seat.
On the Bryan school board, Jimmie Arnold and Ruthie Waller are running for the Single Member District 4 seat. For the At-Large Place 7 seat, the ballot will list Mark McCall and the late Tommy Bosquez.
For the College Station school board, Place 2 Trustee Carol Barrett is unopposed, while Phillip Garrett and Mike Nugent are running for the Place 1 seat.
A $135.9 million College Station school district bond package will also appear on the ballot. If passed, the bond will fund three new schools, renovations to existing campuses and purchases for technology, maintenance, buses and land.
Get local news delivered to your inbox!
Subscribe to our Daily Headlines newsletter.