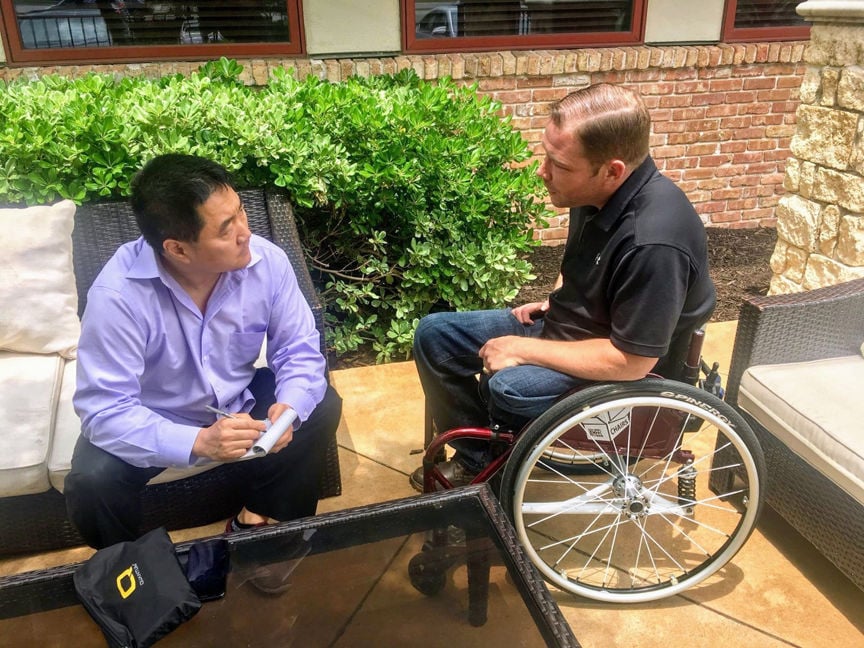 Documentary filmmaker Charlie Minn is in the Bryan-College Station area this week filming for his upcoming documentary, The 13th Man: On November 18, 1999, a College in Texas Changed Forever.
Minn is hosting an open interview session Saturday at 2:30 p.m. at Premiere Cinemas in Bryan, at which area residents can share their experiences, feelings and thoughts related to the bonfire collapse at Texas A&M that took 12 lives almost 20 years ago. Interviews may, with permission, be included in Minn's film.
Minn is a filmmaker based in El Paso and New York City.
"This documentary about the bonfire tragedy is intended to honor and represent all the innocent victims," he said.
On Thursday, Minn met with bonfire survivor John Comstock, who was an A&M freshman when "the Aggie Bonfire collapsed around and on top of me," in his words. Now 38, Comstock was 19 years old in the early morning hours of Nov. 18, 1999. He nearly died multiple times after being pulled out of the debris and is often referred to as "The 13th Man," as he was the last survivor to be pulled from the collapsed structure. He later had an unused press release announcing his death framed.
"After communicating with John for the last three or four years, and I saw that this was the 20-year anniversary, I said I better get in there now and do it," Minn said.
"After learning more about John's story, especially his humanity and his will to survive, it was a pretty easy decision, actually," he added. "John's story is truly remarkable, heroic and it's a miracle he's alive. He truly is the 13th Man."
Minn said that during previous stops in Bryan-College Station over the past few years, A&M students and former students have urged him to do a documentary on the bonfire. He and Comstock have talked with increasing frequency in recent weeks, and on Thursday, Comstock shared more of his story with Minn. 
"It was weird for me at first, because when I came to, people told me, 'By the way, everyone knows who you are, and there are people in the lobby praying for you,'" Comstock said. He said he was put in a coma for several weeks. Part of Comstock's left leg was amputated, and his right hand sustained lasting injury. 
He stayed for more than 80 days at the College Station Medical Center, and said that in those months and afterward, Aggies — and others — from all over the world reached out to him. 
Comstock said Thursday that it has been a journey to get to a place where he can share openly and comfortably about the collapse and how it changed his life, from when he was in the hospital until now. 
"That wasn't an immediate transformation," Comstock said. "It took a long time for me to get there. I got to that low point and just said, 'How much time and energy have I just wasted on feeling bad? What am I carrying around this bag of bricks for?' And I just decided that I would let it go and that I didn't want to live like that anymore." 
He described his life now as "pretty normal." Comstock works for the A&M University System and will marry his fiancée on Saturday. He graduated from A&M in 2010. 
The student-led tradition of building a bonfire on A&M's campus began in 1909 and ended in 1999 after the stack collapsed while under construction. One former student and 11 students died. The Student Bonfire, which is not affiliated with the university, began in 2002 and has since become a nonprofit organization, according to previous reporting from The Eagle. 
Minn and Comstock will film a conversation at the Bonfire Memorial, which opened in 2004 where the collapse happened. Minn said he also plans to do interviews this weekend with survivors, victims' families and first responders. 
Minn said the documentary will open Nov. 7 at Premiere Cinemas in Bryan. He anticipated it would have a runtime of 80-90 minutes. It will be his 30th film overall, and the fourth to show at Premiere Cinemas. He said 20 of his films are available on Amazon Prime.