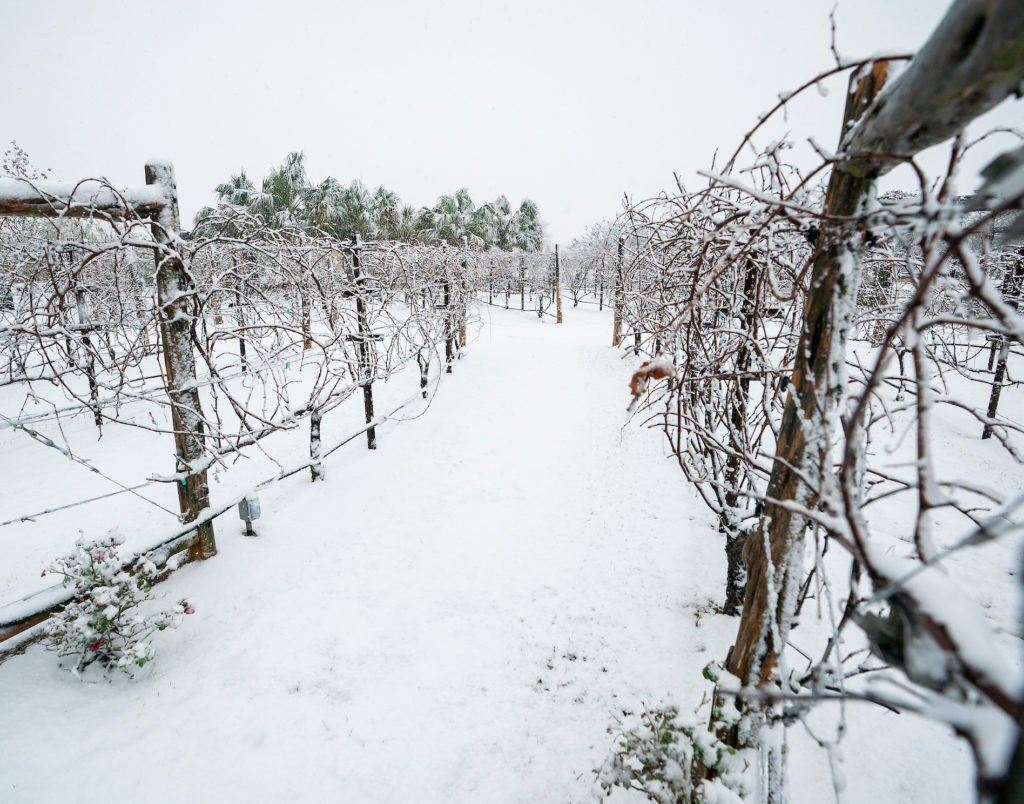 Wineries and vineyards in the Brazos Valley and across the state have had to navigate a "difficult" growing season this year as erratic and unusual weather — particularly the winter's unusually frigid temperatures and precipitation — have reduced yield in some grape varieties.
Texas A&M AgriLife Extension released a report last week detailing the challenges vineyards have faced so far in 2021 — chief among them February's historic winter storm.
"Every region from East Texas to the High Plains, the Gulf Coast and Hill Country reported crop losses attributed to weather, including Winter Storm Uri, a late-spring frost and torrential spring rains that caused a multitude of potential problems for wine grape producers," the AgriLife report reads.
Fran Pontasch, a Texas A&M AgriLife Extension viticulturist based in Bryan-College Station, said in a recent interview that the February freeze reduced some yields. The AgriLife report stated that the winter storm "caused uneven ripening in the region in varieties like Blanc du Bois, but weeks of rain have been detrimental to vines. Disease pressure was high and waterlogged grapes were splitting."
"There are still good grapes out there — it's just been a battle," Pontasch said last week. She added that recent cooler temperatures could have an impact on how wine tastes as compared to the usual Texas heat.
"That's not a projection ... but that's something interesting to look for in the 2021 vintage," Pontasch said. She urged area residents to support local wineries and vineyards, noting the myriad setbacks wrought by the ongoing COVID-19 pandemic.
Messina Hof Winery CEO and head winemaker Paul Bonarrigo said Friday that "this year has definitely given us some curveballs," noting that Messina Hof has vineyards throughout the state. The Bryan vineyard dropped to 9 degrees during Winter Storm Uri in February, with another vineyard dropping to 5 degrees below zero.
"The good news is that at that time of year, the vineyards were about as dormant as they could be, so we didn't suffer nearly the damage we expected," he said. Another freeze later in the year and hail storms in the High Plains piled onto the challenges.
He estimated a total crop reduction from weather challenges for Messina Hof of 50% to 60% when compared to the start of the year, which he said was similar to the losses in 2020.
"Even though the crop level is down, from everything I've seen, the vine health — even though we lost fruit, the vine health is actually really good," he said. "I think 2021 will go down as a quality vintage … and I think in the end, the customer will benefit because the quality is going to be really nice."
Bonarrigo said business is improving for Messina Hof this summer, with tours, winery traffic and other programs all growing in the last couple months. He expressed appreciation for the Bryan-College Station community's support of Messina Hof and urged people to visit its website for more information about its wines and events.