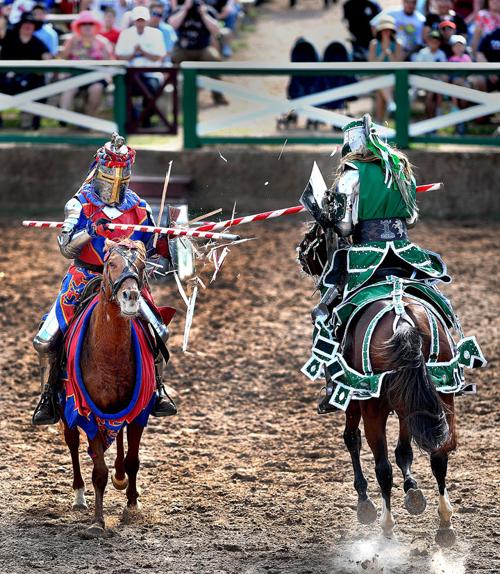 Organizers of the 2020 Texas Renaissance Festival are making some changes for this year's event as the COVID-19 pandemic continues.
According to festival marketing manager Marlena Solomon, tickets must be pre-purchased for a specific date to keep numbers manageable for social distancing. While the festival normally attracts as many as 450,000 visitors each fall, this year a maximum of 225,000 tickets will be made available. Tickets go on sale online Saturday and can be purchased in-person at H-E-B stores starting Sept. 1. The festival opens Oct. 3.
Solomon added that if the fair is canceled during its nine-week run, ticket holders can retain their tickets for redemption at the 2021 festival or receive a refund.
"We're two months away from opening day, and so many things could change, because things are changing daily with mandates and things like that," Solomon said. "We will have a more definitive answer a month from now on whether we're opening."
The festival hosted a flash sale for early ticket purchases two weeks ago. The event usually sells out at 75,000 tickets in a matter of hours, Solomon said, but only 25,000 tickets were purchased this year. She said a portion of the festival's 400 regular vendors have opted not to return this year.
For shop spaces left vacant by absent vendors, festival leaders are considering using those areas for mask relief if a guest needs to take a mask off and breathe more freely, Solomon said.
Temperature checks will be conducted on festival employees and vendors each morning and during shift change, and any employee who tests positive for COVID-19 will be required to quarantine.
"We are having decontamination done nightly in between each day," Solomon said. "... All shop [operators] are required to do their own sanitation and cleaning, and then our site crew will also be sanitizing the restrooms and common areas on a regular basis throughout the day. We are installing hand sanitizer stations throughout the festival and campgrounds."
Organizers plan to use "town crier" characters to shout social distancing reminders at crowds. Solomon said staff will monitor spacing in food lines and may limit seating at theater spaces and arenas. Visitors also may be asked to eat only at designated spaces. All vendors, performers and other staff members will be wearing masks, Solomon said. Patrons can be required to wear masks by individual shop managers regardless of mandates, and by any festival employee if Gov. Greg Abbott's mask mandate persists through the season. Otherwise, face masks will be heavily encouraged.
"We are just going to gently remind people who may have their masks off," Solomon said. "Obviously there are some people who can't wear masks due to health conditions like asthma. I think the first approach would be the gentle reminder that we have a mask requirement, and we could direct them to places they can take a break from masks. We will also have mask signs throughout festival. I don't see us forcibly kicking people out if they don't wear masks. If they get argumentative, we might. I think we would prefer to gently remind people."
Solomon noted that every year the festival hosts costume contests, and this year it will host a decorative face mask contest every day. Prizes will be offered for patrons whose face masks match their costumes best and fit the day's theme.
The Texas Renaissance Festival directly impacts the 200 residents of host town Todd Mission, according to Todd Mission city manager Neal Wendele. Some of the town's citizens both attend the festival and work at the festival as employees.
"We are really not worried about it bringing the coronavirus in," Wendele said. "The interaction with our local residents is a limited amount. We have one gas station in town and one restaurant — it's mostly self contained."
Wendele noted that Todd Mission residents are not charged a property tax, as 80% of income for the city is derived from sales tax at the festival. This funds the city's police department and volunteer fire department.
"Not having the [festival] would definitely mean reduced services," Wendele said. "We are looking for a contingency for other forms of funding."
Each year, a fraction of the Texas Renaissance Festival's ticket sales are donated to a charity based in Magnolia called the Society of Samaritans [SOS]. According to SOS executive director Shirley Jensen, the charity receives between $35,000 and $40,000 from the festival each year. Some of this money goes toward an annual job fair hosted by the organization. Last year, that job fair paired more than 75 people with jobs. Festival money also funds the purchase of food for hundreds of people in the Magnolia area each week, Jensen said.
"It's been amazing and is a big part of our plans each year," she said. "We really depend on the Renaissance festival to help us feed people each year."
While full-time staff for the festival consists of a team of 15, hundreds of performers and hundreds of vendors rely on the festival circuit each year. This year, these people have lost a considerable portion of their livelihood, Solomon said.
To learn more about ticket prices and updates from the Texas Renaissance Festival, visit www.texrenfest.com.