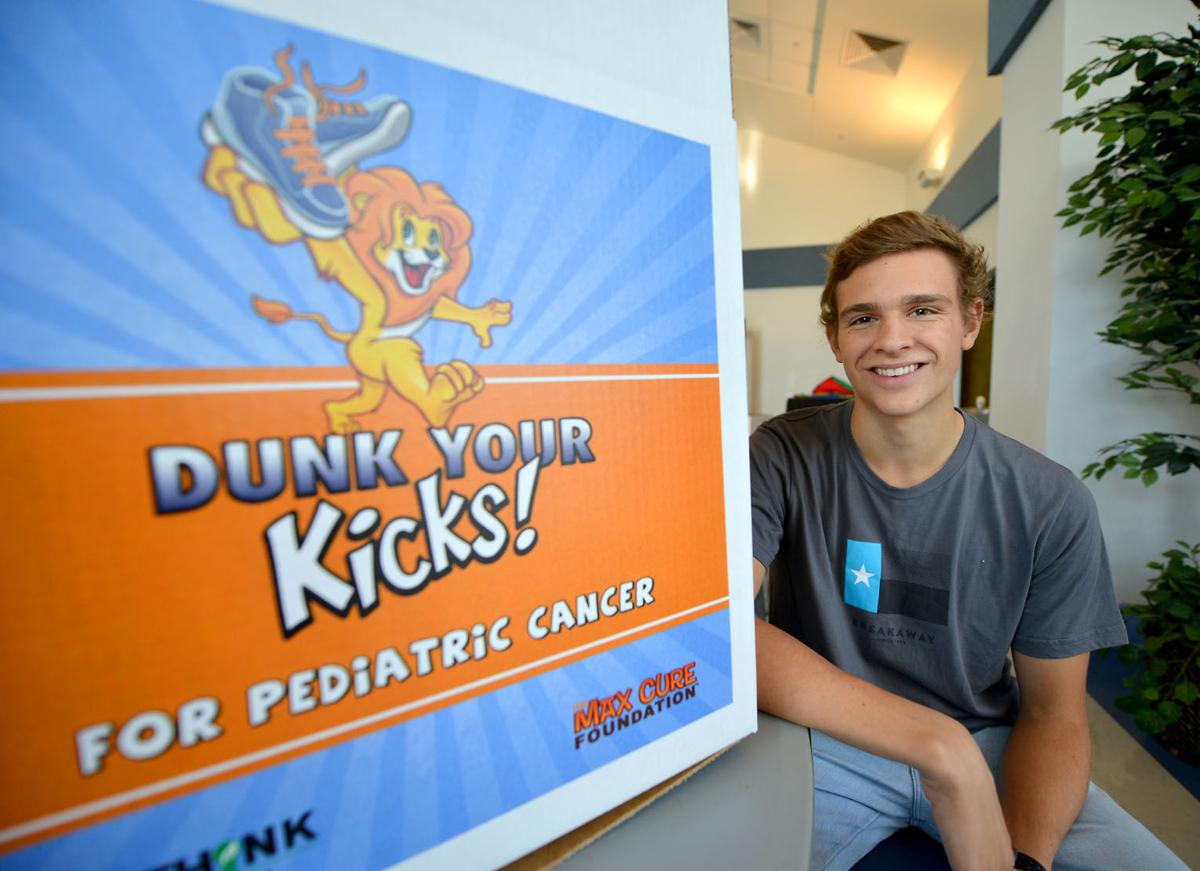 Three year-old Caleb Espinosa of Houston was already in a fight for his life with a rare form of liver cancer, but when he lost his father, Alfredo Espinosa, in a fatal accident two months ago, it heaped the financial burden of medical costs on his mother, Elsy Espinosa.
Texas A&M freshman Trevor Pownell and former Aggie football linebacker Quentin Coryatt have partnered with the Max Cure Foundation's Roar Beyond Barriers and Dunk Your Kicks programs to help raise money for the Espinosa family by recycling used sneakers on Texas A&M's campus and throughout Bryan-College Station. Coryatt said that, because almost everyone has a pair of unused sneakers, anyone can get involved.
"I think everyone genuinely wants to help, and sometimes they can't financially, can't do the things they want to do," he said. "Some tennis shoes you don't need any longer. Simply taking it to a Dunk Your Kicks container can definitely change someone's life."
Faith plays a major role in Pownell's drive to help the Espinosas, who now live with Elsy's parents. With the help of Pownell's 24 fellow candidates for the Aggie Men's Club, an alternative campus fraternal organization, almost 300 shoes have been collected since the campaign kicked off Monday. Pownell said he has yet to meet the family.
"Being in their position and having nowhere to go, I think it's our duty to help people like that," Pownell said. "Faith is a big part of my life and I think it's a big part of what I'm called to do and what we're called to do. There's such a bigger world that we live in outside the bubble of College Station."
Shoes will be collected at the drop-off points at the Koldus Building and Mays Business School at Texas A&M and First Presbyterian Church in Bryan until Dec. 31. Shoes will then be sent to Rethink Nation, which will sell the sneakers to exporters and distributors in the Affordable Clothing Market to reach families in need in developing nations. For every pair donated, $1 will go toward gift cards for the Espinosa family to cover everyday expenses such as groceries. According to Rethink Nation's website, more than 200 million sneakers end up as landfill when most of them are lightly used.
Pownell first said he decided to raise money for the Espinosas after hearing their heartbreaking story from Mays Business School professor Victoria Buenger, who is involved in MCF and lost her own daughter, Erin, to childhood cancer.
"Growing up, we were taught to look out for those in need and help those in need," he said. "I had the power and the connections to help them so I jumped on it."
Coryatt, who lost a beloved uncle to pancreatic cancer almost 10 years ago, said he spends some of his spare time at Texas Children's Hospital in Houston and can relate to the struggle families go through.
"It was so surreal because you read about it and you have other people in your life who go through it but when it's up close and in your face you can't believe its happening to you," he said. "My uncle lived a full life, but to see kids suffer it's a whole different ballgame."
Coryatt and Pownell said they are working on organizing a meeting with the Espinosas to help develop a plan for the sneaker drive and raise awareness so that it might spread throughout the Bryan-College Station community and onto other college campuses.
"The Texas A&M student base is relentless," Coryatt said. "With the right person at the helm like Trevor, he's going to be able to go out and share and spread the right message to make sure we can do what we can for the Espinosa family."
Get local news delivered to your inbox!
Subscribe to our Daily Headlines newsletter.