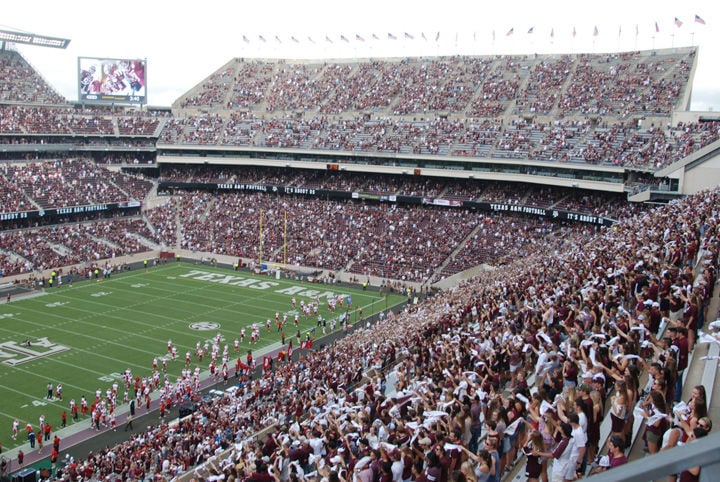 HOOVER, Ala. — There are 41 days until Texas A&M kicks off the 2019 football season at home against Texas State.
More important to some, there are 41 days until the general population at Kyle Field can purchase an adult beverage for the first time while enjoying Aggie football.
In May, the SEC lifted its 30-year ban on the sale of alcohol in general seating areas, allowing each school to decide what policy best suits its fan base, within certain guidelines.
Texas A&M was the first school in the conference to jump at the opportunity to serve beer and wine at football games. Alcoholic drinks will be sold from stationary stands, with a limit on how many beverages can be purchased per transaction.
When the conference loosened its alcohol restrictions to allow for sales in specially designated areas of stadium three years prior, A&M was an early adapter. Most notably, Aggie baseball offered a beer garden area down the third-base concourse.
"A&M was one of the three or four institutions that experimented with that approach," SEC commissioner Greg Sankey told The Eagle. "And I think they were able to learn some lessons and engagements of preparations."
While former A&M athletic director Scott Woodward and his staff laid most of this groundwork, new athletic director Ross Bjork said in an interview that he likes the foundations that were established.
"Based on what I've heard, we had very few situations that were adverse and, having those areas before, that people were responsible," Bjork said. "And so that needs to continue."
Bjork said beer and wine will be sold in separate stands from where traditional concessions, such as hot dogs, are offered. Alcohol also will not be sold in the student sections, he added.
With the addition of alcohol to the game day experience comes a higher level of responsibility, he noted. The athletic department is taking the opportunity to stress imbibing responsibly and ensuring those serving alcohol have proper training.
"Logistically, you have to set it up the right way," Bjork said. "All of your vendors have to be trained, and they have to be mindful of overconsumption."
Bjork emphasized those in attendance that witness unruly or offensive behavior in Kyle Field can report it through a messaging system by texting "AgAssist" to 99000.
Should there be continued alcohol-related issues or disturbances, alcohol availability could be short-lived, Bjork said.
"We have to make sure that our people are educated because if it's abused or we have issues, then you know what? This can be a short-term thing and no one wants that," Bjork said. "We want this to be done the right way. We want this to be done for the best experience for everyone involved whether you drink or not."
As schools from other conferences have instituted similar policies in recent years, such as West Virginia and Oregon, alcohol-related incidences have decreased while concession profits have increased, according to reports from InsideHigherEd.com and the Eugene Register-Guard.
Woodward, who is now athletics director at LSU, announced that school also will offer alcohol sales to those in general seating, making the Tigers only the second SEC school to make the change official.
So far, administrations for Alabama, Auburn, Arkansas, Mississippi State, Ole Miss, Georgia and South Carolina have said alcohol sales will not begin at football games this fall, according to various reports.
Vanderbilt, Missouri, Florida, Kentucky and Tennessee have yet to publicly make a determination either way.
"I know that there were a lot of preparations, a lot of those foundational elements about how we approach, how this is laid and what's the responsibility of our institutes and their fans to make sure that alcohol is available in a responsible way and used in a responsible way," Sankey said.
Get local news delivered to your inbox!
Subscribe to our Daily Headlines newsletter.