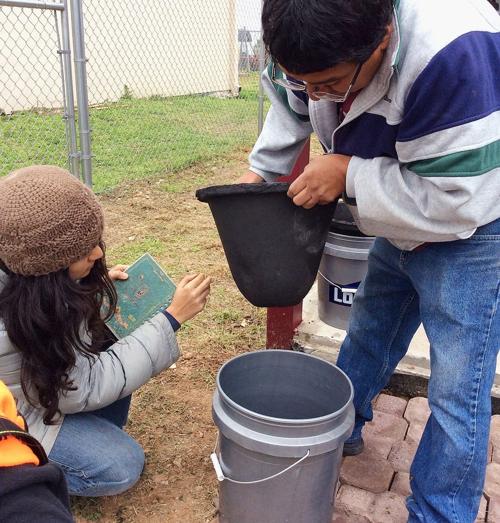 A Texas A&M program is helping rural communities on the border of Texas gain access to clean water.
The Colonias Program, run through the school's College of Architecture, has created a method of filtration with clay pots to deliver clean water to underdeveloped communities on the Texas-Mexico border. More than 2,290 such communities dot the most southern parts of Texas, providing homes to about 400,000 people, according to the secretary of State. Few have access to running water and septic systems, said Phillip Rollfing, a spokesman for the College of Architecture.
"We take it for granted that we turn on the faucet and we have water all the time," he said. "But it's amazing how many of the communities down there don't have water."
The Colonias Program is seeking to change that through sawdust and clay, the materials used to make the filters. The filters look like reddish-orange pots. But pour water in, and it will drain out the bottom with the impurities removed.
After water filters through the 5-liter containers, it is either left in the sun for eight hours or has a few drops of chlorine added. The resulting water can be used for drinking, cooking and cleaning.
Facilities in Laredo and San Antonio recently opened to teach residents how to build pots and filter water. They were built with funding help from the College Station Rotary Club. About five years ago, the club gave the project a $3,000 grant to match one given by the Rotary district. The club has continued to support the project, said the club's president, Oscar Beard.
"It's not all that much, but it's the best we can do," Beard said.
Water and disease prevention are two of the six primary focuses of Rotary Club, said Barbara Emery, grant chair for the local Rotary district.
"They teach the people totally how to do this so they are self-sufficient," Emery said. "It's a self-sustaining thing."
Oscar Munoz, director for the Colonias Program, said the filters could become a business for residents.
"Eventually, we want colonias residents to consider creating a cooperative or a small business to market the filters," he said in a statement through the College of Architecture.
Munoz has taken the filters beyond Texas, teaching groups how to filter water in Ecuador, Bolivia and Guatemala.
Emery said she has not been to the colonias communities since A&M started the filtration program, but that, during an earlier visit, she was struck by how proud residents were, despite some of them living in homes constructed of scraps.
"I was extremely impressed with the pride of the people," she said. "It's their dream to own land."