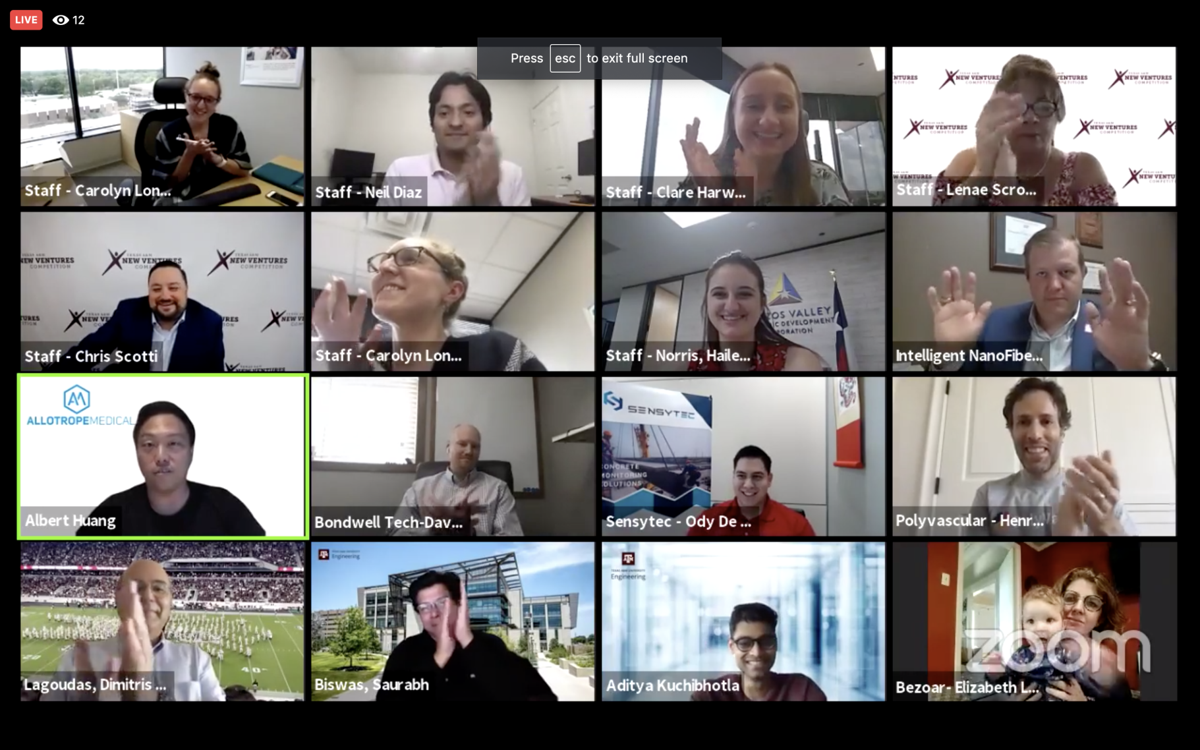 The sixth annual Texas A&M New Ventures Competition went on as scheduled last week, but instead of the Hall of Champions in Kyle Field, competitors met via Zoom.
"It's so nice to have a sense of normalcy with all this COVID stuff," NovoThelium COO and co-founder Bianca Cerqueira said during a break from the virtual competition. "Life goes on; people are still trying to move their companies forward. It's nice, it's refreshing to have a distraction from the whole pandemic and everything and be able to focus on business."
The New Ventures Competition, hosted by Texas A&M Engineering Experiment Station, brings together startup companies, all based in science and engineering, from throughout the state to pitch their businesses to judges and potential investors. Typically hosted on the Texas A&M campus, this year's event turned to a virtual platform due to COVID-19.
About a month after applications for the New Ventures Competition opened in February, the organizers decided to pivot toward a virtual event, said Chris Scotti, chair of the competition.
Instead of a cocktail hour and booths, attendees used the TNVC-branded app to connect with other participants, Scotti said. The app had a 10% to 20% participation rate during last year's competition, he said. This year, about 75% of participants were using it.
About 150 participants were part of the semifinal round Wednesday, and about 300 were registered to attend Thursday's public final presentations and elevator pitch competition between 24 teams with 16 finalists and eight alternates.
"I think they did a great job pulling it off," said David Howell, Texas A&M graduate and CEO of College Station-based Bondwell Technologies. "Obviously in person is different, and it was a little awkward talking to my laptop screen instead of people, but overall, I think it went really well."
It might have taken a bit more planning to connect with people or been a little awkward to talk to a screen instead of a person, but the most important thing, Howell said, is they were able to still make those connections.
"The key to any startup is who you know and having the connections," he said. Bondwell Technologies received $10,000 having finished in fifth place in the competition. "People are how you succeed in that, so making the right connections through these kinds of things is really important."
Second-time participants NovoThelium CEO and co-founder Lauren Cornell said she was just happy to hear the competition was still taking place.
"Especially now during COVID, the opportunity to get any kind of funding is immensely valuable," she said. NovoThelium was recognized as the second-place team for Cornell's elevator pitch and earned the Holliden Marketing & Strategists Services Prize worth $10,000.
Scotti noted participating companies do not have to have a tie to the university and the Texas Legislature mandates TEES provide economic development support for startup companies throughout the state. The businesses in Thursday's event were all based in science and engineering and represented Bryan-College Station, San Antonio, Houston, north Texas and Laredo.
"There's really not another vehicle like this, certainly not in Texas and even middle America," Scotti said. "There's a little bit of stuff like this on the West Coast, but there's nothing really paralleled anywhere in our region serving the folks that we work with. It makes me very proud of this team and set of resources and the volunteers that come together to make that happen."
The top six businesses, which presented Thursday morning were Intelligent NanoFiber (sixth place, winning $5,000), Bondwell Technologies (fifth place, winning $10,000), Bezoar Laboratories (fourth place, winning $15,000), Polyvascular (third place, winning $25,000), Sensytec, Inc. (second place, winning $35,000) and Allotrope (first place, winning $50,000).
All of the winners are listed on the Texas A&M New Ventures Competition Facebook page, along with a livestream of Thursday's competition.