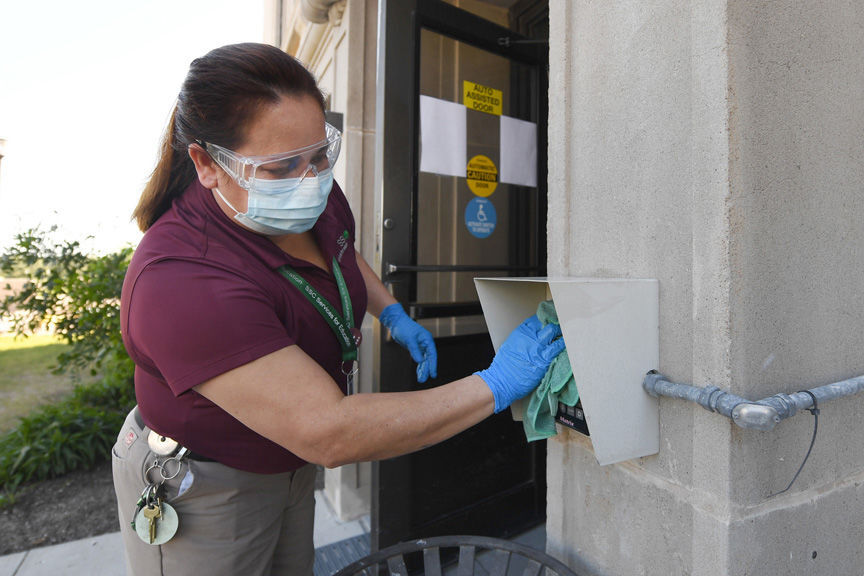 As Texas A&M students gear up for the upcoming school year, department of residence life leaders are equipping themselves with plans to keep Aggies safe in the event that someone contracts COVID-19.
Carol Binzer, director of administrative and support services in the department of residence life, said the process has been exhausting but fruitful as she and her team try to think of how to take action in any potential scenario. She said students returning to campus also have a responsibility to do their part in helping prevent illness. 
"It's going to require everybody's participation," she said. "Students are being recommended to bring some cleaning supplies with them. … Be diligent about your mask, be diligent about washing your hands and observing physical distancing. That's the best safeguard."
All A&M faculty, staff and students are required to self-report their health status using a COVID-19 Report Form if they have tested positive or if they are considered a "close contact," which generally means they were within 6 feet of someone with COVID-19 for more than 15 minutes. Binzer said roommates of people who test positive are automatically a close contact, and suitemates could potentially be as well. 
On-campus residents who test positive for COVID-19 or are a close contact are required to self-isolate while ill at an off-campus location, at home with their parents or guardians or in a temporary designated isolation room on campus. Some people may be permitted to remain in their permanent assigned on-campus rooms as long as they self-isolate and do not have to share a communal bathroom with other residents. 
There are about 100 temporary isolation rooms available, Binzer said. Some are traditional dorm rooms while others are places like dorm study lounges. Normally the space is used as temporary overflow for residents at the start of the school year, but Binzer said they were taken offline this year to ensure that they remain available for those with COVID-19 or close contacts.
While Binzer said it would be ideal to only have one person per isolation room, she said if cases rise high enough officials could assign roommates, as long as they do not combine students who tested positive with close contacts who are still determining if they have the virus. She said there are also conversations with nearby hotel and apartment complex leaders about how much space the university could potentially use in off campus facilities to house close contacts or COVID-19 positive students, if needed. 
Binzer said she thinks that most students who get sick will opt to go to their hometowns to receive care from their regular doctor and families, but said that the department is open to housing ill students if they need or prefer to stay. 
Students who self-isolate on campus could have medicine from the campus Student Health Services and food or groceries from A&M University Dining delivered to their room, as long as they fill out the proper forms to sign up. There is no extra charge to have those items delivered, Binzer said.
Similarly, students can opt to have a friend of theirs deliver their food to them, and the department would grant the friend temporary card access to get into the building. 
People who are self-isolating also will receive daily calls, texts or emails from Residence Life staff. If students do not respond to the messages, the University Police Department will send someone out for a welfare check.
The university custodial staff will disinfect rooms where a student had tested positive for COVID-19. Routine work orders will not be completed in rooms with isolating residents unless it is an emergency.
Housing contract cancellations are about the same as they have been at this time of year in the past, Binzer said, meaning the school is on track to house its typical 11,000 students across the 50 dorms and apartments at A&M. 
Binzer said that move-in assistance day — traditionally scheduled the Sunday one week before classes begin — has brought in crowds of around 15,000 people to campus in the past. This year, officials have arranged appointments so that only about 12% of residents can move in on a single day. Each resident  is limited to bringing two people to help them move, rather than the average three to five that people often invite. 
Residence halls and White Creek Apartments appointments are scheduled between Aug. 8 and 18 and Garden Apartment residents can move in between Aug. 1 to 18. Binzer said that Corps of Cadets dorms may run on a different schedule, and that Corps leadership is finalizing what that will look like. 
Get local news delivered to your inbox!
Subscribe to our Daily Headlines newsletter.