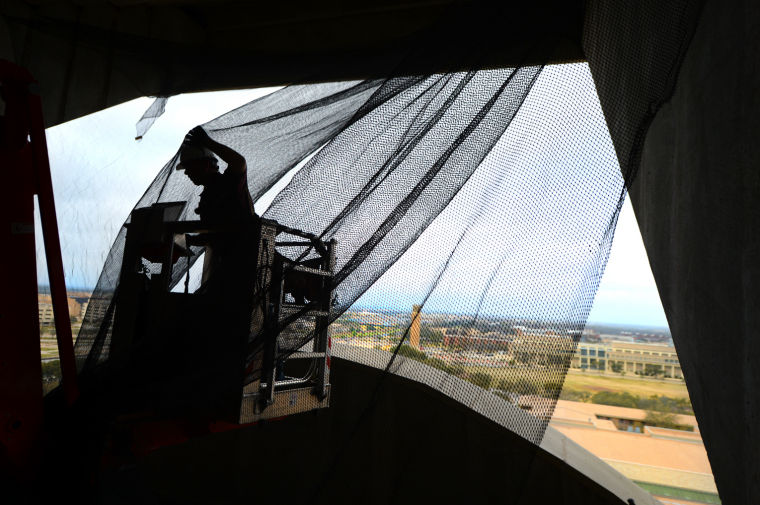 While bats are not as common in Kyle Field as they used to be, Texas A&M University officials warn football fans to stay away from any they might see at this weekend's game, as the winged mammals can carry rabies. 
According to a university press release, anyone who sees a bat is advised to contact Facilities Services Communications Center at 979-845-4311 or tell a nearby attendant or police officer. When possible, the bat will be sent for rabies testing and the Texas Department of State Health Services will be consulted. Anyone who comes in contact will remain in touch with DSHS for test results and potential treatment. 
Before Kyle Field was renovated in 2015, the stadium was home to 250,000 bats. While that number has dropped dramatically, Assistant Athletics Director Steve Miller said some bats still find their way into the stadium, so there are nets under the bleachers to keep them from roosting. 
Even so, Director of Environmental Health and Safety Christina Robertson said her staff keeps an eye out for bats when they check for safety hazards before Midnight Yell Practice and home games. 
"The message we are trying to get out is if it does happen, know what to do and know who to talk to," Robertson said. "Don't just ignore it. It is important to take action and let someone know."
Two students came in contact with a bat during the Auburn game last month and immediately told a police officer. Robertson said the bat was sent for testing and had rabies, and that DSHS kept in touch with the students to make sure they received the appropriate medical attention.
Rabies is fatal but extremely rare in the United States, with only one or two human deaths per year recorded by the Centers for Disease Control. Between 1960 and 2018, there were 125 human rabies cases reported, and according to the CDC, 70% of the infections were acquired from bats. 
It is uncommon for bats to bite or otherwise attack, professor in the Wildlife and Fisheries Sciences department Michael Morrison said, but people can still become infected without a bite.
"If there are bats around, don't mess with them," Morrison said. "If you have a cut on your hand and they get saliva on you, that could transfer the disease."
Most of the bats in the community, and specifically in Kyle Field, are Mexican free-tailed bats — the official state flying mammal. Morrison said they are common and abundant in the area.
But Morrison said trying to estimate the number of rabies cases in this breed, or any other, is nearly impossible since it is dependent on a wide variety of factors.
While Robertson said it is uncommon for the EHS crew to find bats or for game attendees to see them, she said it is important for people to report any instance immediately.