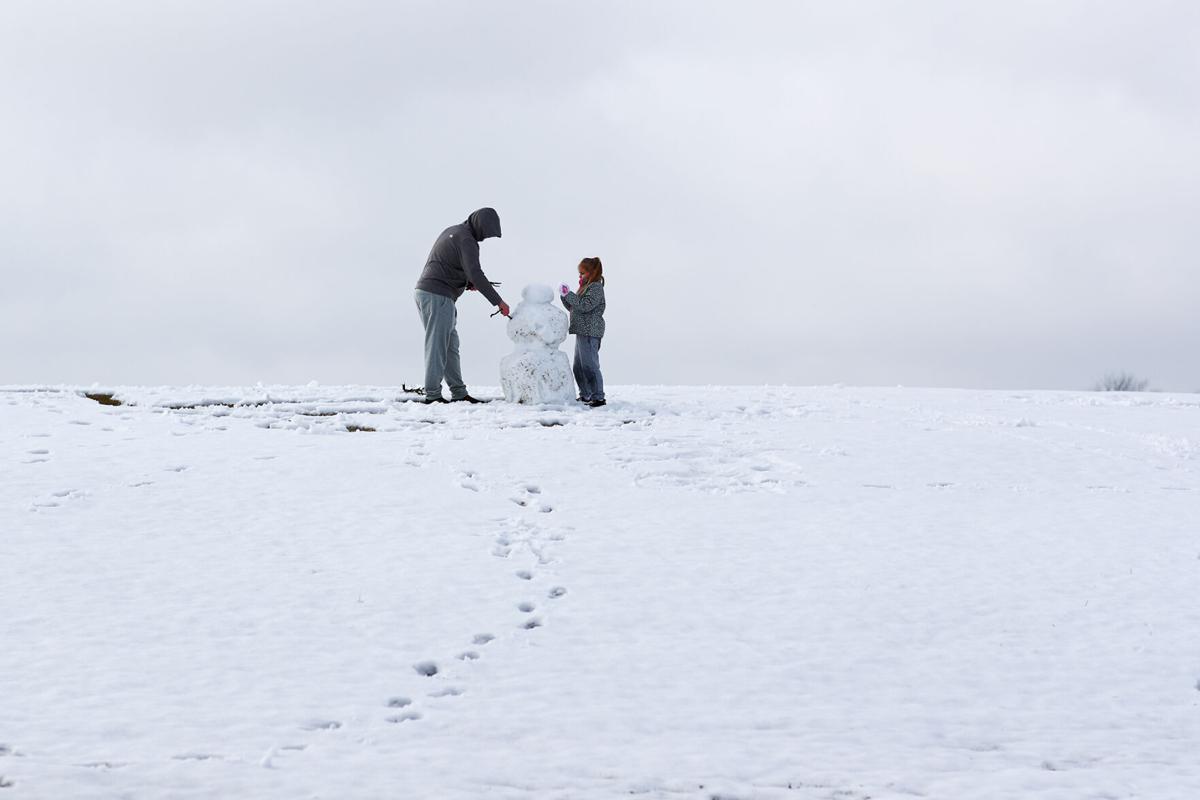 Sunday brought the Brazos Valley its first snow day since 2017, and enough icy precipitation to put it in the top five all-time snow events for the area.
The Easterwood Airport reporting station showed 4.5 inches of snow, and other totals throughout the Brazos Valley ranged from 2 inches in Navasota to 6 inches in Madisonville and near Wixon Valley, according to National Weather Service meteorologist Josh Lichter.
The weather service said Bryan had reports of 5.5 inches near East 29th Street and Texas Avenue, and College Station had the same number near Stephen C. Beachy Central Park.
The official report of 4.5 inches of snow ranks fourth on the all-time list for Bryan-College Station, with records dating back to March 1893.
The most snow in a 24-hour period is 6 inches, recorded on Jan. 30, 1949. Tied for second with 5 inches are Feb. 25, 1924, and Dec. 7, 2017.
Many people enjoyed the winter weather with sledding, snowball fights and building snowmen, and most area school districts closed Monday due to hazardous road conditions.
The lingering ice on roads led to Franklin, Hearne, Normangee, Centerville, Iola, Snook, Madisonville, North Zulch and Caldwell announcing the start of school Tuesday would be delayed until 10 a.m.
The Bryan school district will have a two-hour delay Tuesday. The College Station school district expected to make a decision by 6 a.m. Tuesday.
Blinn College and Texas A&M delayed the start of classes Monday and Tuesday until 10 a.m. due to the road conditions.
Bryan and College Station police departments responded to multiple reports of vehicle crashes and stranded motorists with vehicles that had left the roadway due to icy surfaces.
Bryan Police Department's Public Information Officer Kole Taylor said BPD officers responded to approximately 30 crashes and 20 reports of stalled vehicles or vehicles off the roadway on Sunday.
Tristen Lopez, public information officer for the College Station Police Department, said CSPD officers responded to about 25 vehicle crashes and 21 "motorist assists" where a vehicle had left the roadway.
Lopez said CSPD also responded to calls at two apartment complexes about weather-related damage. At one complex, a section of covered parking had collapsed onto the cars parked underneath. The other complex had a tree fall through a roof. No injuries were reported in either situation.
Jay Socol, College Station communications director, said the Fun For All Playground in College Station was closed due to the amount of snow in the canopies covering playground equipment.
Residents throughout Bryan and College Station also saw power outages, with as many as 1,000 BTU customers and more than 550 College Station Utilities customers without electricity. Mike Connor, senior energy accounts manager for BTU, said 99% of BTU's outages was due to the snow accumulating on trees and power lines, and tree branches falling onto the lines.
As of Monday afternoon, there were still about 150 BTU customers without electricity, primarily in the rural areas, he said.
College Station Utilities had nine outages on Sunday with the largest affecting 560 customers, according to Timothy Crabb, director of electric utilities. Most of the outages were due to tree branches falling onto circuits, transformer overloads or branches falling onto the power lines.