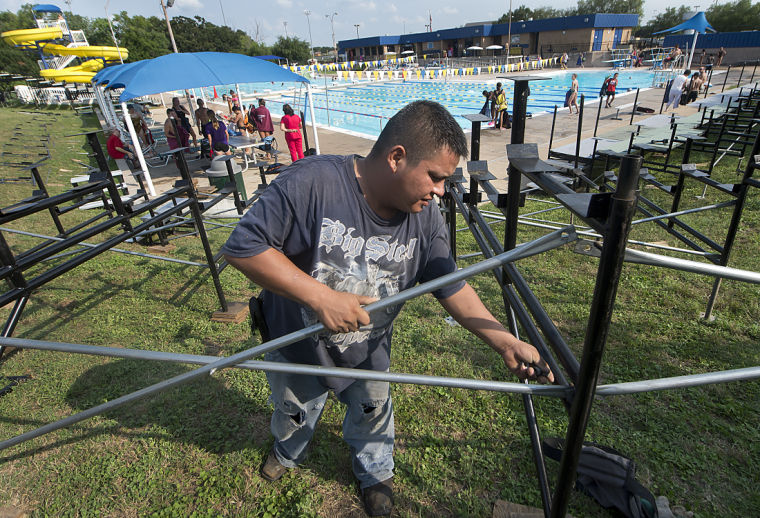 Bleachers are being installed at the Bryan Aquatic Center and restaurants are being advised to prepare for a football-style weekend as Aggieland gets ready for about 25,000 visitors to the area for the 2014 Summer Games of Texas.
Bryan-College Station will host the Games, an Olympics-style competition for amateur athletes across the state, for the fourth time. The twin cities also hosted in 1988, 1994 and 2000 and will do so again in 2015.
The event is governed by the Texas Amateur Athletic Federation.
"Attendees can expect to experience a world-class sporting event with a hometown feel," said Kelli Nesbitt, marketing coordinator for College Station Parks and Recreation. "The energy and competition will be high with athletes from all over the state coming to compete for the gold medal."
With a week to go before the first competition on July 31, crews have begun installing directional signs at 10 sporting venues in Bryan, College Station and Texas A&M as volunteers stuff 10,000 bags for athletes and coaches.
More than 8,000 athletes between the ages of 5 and 50 are expected to partake in the events, which include archery, boxing, soccer, swimming, golf, tennis, track and field, skateboarding and lifeguard training. Baseball, bowling, kickball and softball were canceled due to low participation.
Athletes had to qualify for the more popular events -- swimming, track and field and the lifeguard competition -- but registration is still open for several competitions. Boxing and soccer registration closes Friday. Disc golfers have until Saturday to register, while athletes interested in competing in archery or tennis have until Monday. Skateboarding registration closes Aug. 1
"Anyone who attends could see a future Olympian as numerous Olympians are past TAAF athletes," said Mark Lord, TAAF executive director. "This is a great opportunity to see some of the best athletes competing against fellow Texans."
The Games are also expected to have a positive economic impact on the area.
The 2012 and 2013 Games of Texas in Corpus Christi reportedly generated almost $16 million in total economic impact. The same is expected in Bryan-College Station.
"What a fantastic way to boost our economy in a typically slow month before Aggie football," Nesbitt said.
The impact of the Games is starting to show as hotels are already sold out and visitors have started booking rooms in Navasota, Hearne, Brenham and even Temple, according to the Bryan-College Station Convention and Visitor's Bureau.
The five-day event running from July 31 to Aug. 4 will officially kick off with an opening ceremony at 7:30 p.m. on Aug. 1 at Blue Bell Park, featuring the national anthem by the Singing Cadets and music by Vocal Trash.
Admission is free to all events except boxing, track and field and swimming. Children ages 3 and younger receive free admission. Boxing tickets are $7 per day, swimming tickets are $5 per session or $25 for six sessions, and admission to track and field events costs $7 per day or $25 for four days.
For more information, visit taaf.com or contact College Station Parks and Recreation at 764-3486.
Get local news delivered to your inbox!
Subscribe to our Daily Headlines newsletter.