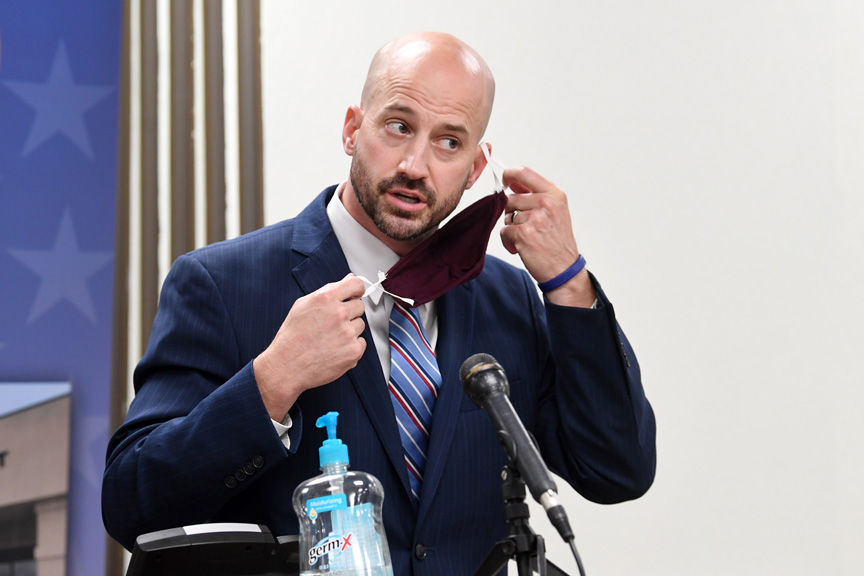 Brazos County health officials reported 33 new cases of COVID-19 on Friday, bringing the number of overall cases in the county to 565.
Brazos County Alternate Health Authority Dr. Seth Sullivan said in a phone interview Friday he's concerned this spike in cases is related to community transmission and recent large indoor gatherings. He added that these cases are separate and not related to established clusters from Parc at Traditions or Sanderson Farms.
"When we bring in a lot of different folks from different areas into one gathering inside, indoors, and we're not socially distancing, that's a really good way to transmit the virus," Sullivan said. "All of those things we come together and like to do, those are still at risk and those can develop clusters. It only takes one person within tight closed quarters to — especially somebody who's not wearing a mask — to spread the virus within that gathering."
This is the second-highest single-day number of COVID-19 cases reported in Brazos County since the beginning of the coronavirus pandemic. Brazos County has reported 10-plus cases for four consecutive days. Sullivan said he expects the trend of double-digit new daily cases in Brazos County to continue.
"I hope it doesn't [continue], but we have to look at what's going on," Sullivan said. "We're opening up. I'm concerned that folks feel like we're done with this and we're through it.
"We have to remember that although we are opening up, the way that we're opening up with social distancing where we can, with good hand hygiene, with recommended mask-wearing, especially if it's difficult to social distance, and doing those things, that's reasonable," he continued. "But if we say, 'Oh, because we're open and now we can just go back to our lives,' and then we take the virus into an enclosed space where nobody's wearing masks and there's lots of people there, that is where we'll see clusters just like this and that is inevitable. That will continue to happen.
"This is a reminder of how careful we need to be. We all want to be open. We all want to get our lives back to the level that we can, but we have to do it safely."
Of the total cases, 345 are considered active, 33 more than Thursday's total; 198 people have recovered, which is the same total since Wednesday. There were eight Brazos County residents hospitalized Friday, which is two less than Thursday's total. Four people were discharged from the hospital. To date, 22 Brazos County residents have died after being treated for COVID-19.
Health officials said Friday that 8,844 tests for COVID-19 have been administered by Brazos County health care providers, which is 21 more than Thursday's total.
On May 31, more than 600 people, including Sullivan, gathered along Texas Avenue in Downtown Bryan for a demonstration against racism and police violence in response to the death of George Floyd. Black Lives Matter B/CS is organizing another demonstration Sunday in Downtown Bryan, and turnout could surpass 1,000 people.
Sullivan said he was pleased to see the number of people wearing masks and trying to stay distanced from one another at the demonstration, but noted he would like to see less bunched gatherings at street corners.
"What I would recommend is that everyone there, out of respect of their neighbor, wear a mask. I would recommend that everyone there separate as much as they can and social distance," Sullivan said. "Last week, folks tried to [distance] along the streets. Up and down the streets, they were trying to separate. You could see folks trying to do that, and I commend that."
With the state entering Phase 3 of Gov. Greg Abbott's reopening plan this week, Sullivan also recommended local residents check out reopening guidelines for restaurants, retailers and other businesses. Sullivan also said not to be afraid to hold businesses accountable for following reopening capacity guidelines.
"We can remind them, 'Hey, this is important stuff. This is all outlined in the way we're supposed to be doing this,' " Sullivan said. "And we have to be clear: this is our best shot of avoiding problems down the road and being able to stay open. … We have to do it together and we have to encourage one another to do it together."
The health district will have its next news conference to provide updates on COVID-19 at 4:30 p.m. Monday. The news conference can be seen at theeagle.com or on our Facebook page.
Brazos Valley
Leon, Milam, Robertson and Burleson counties all reported new cases on Friday.
In Leon County, there was one additional case, bringing the total there to 11, according to the Texas Department of State Health Services. Four people have recovered there.
According to Milam County officials, there are three additional cases there, making a total of 35. One person is hospitalized, and 28 have recovered. One person has died, officials said.
In Robertson County, there were four additional cases, bringing the total there to 15, county officials said. Seven people have recovered.
Burleson County is now reporting 29 cases, two of whom are inmates at the county jail. Eight people have recovered, county officials said.
Grimes County continues to report 226 cases, 184 of which are connected to the Texas Department of Criminal Justice, county officials said. There are 36 recoveries, 21 of which are at the TDCJ. One person, an inmate at the Wallace Pack Unit, has died in Grimes County.
In Madison County, officials continue to report nine cases. Seven have recovered. Washington County officials report 207 cases, 111 of which were connected to the Brenham Nursing and Rehabilitation Center. Six people are hospitalized, and 93 have recovered, county officials said. There have been 27 deaths in Washington County.
Statewide
As of Friday, 71,613 people have tested positive for COVID-19 in Texas, 1,693 more than Thursday. According to the DSHS, 1,788 have died, 21 more than the day before. Officials have administered 1,061,576 virus tests and 113,372 antibody tests. There are 1,855 people in the hospital, officials said.