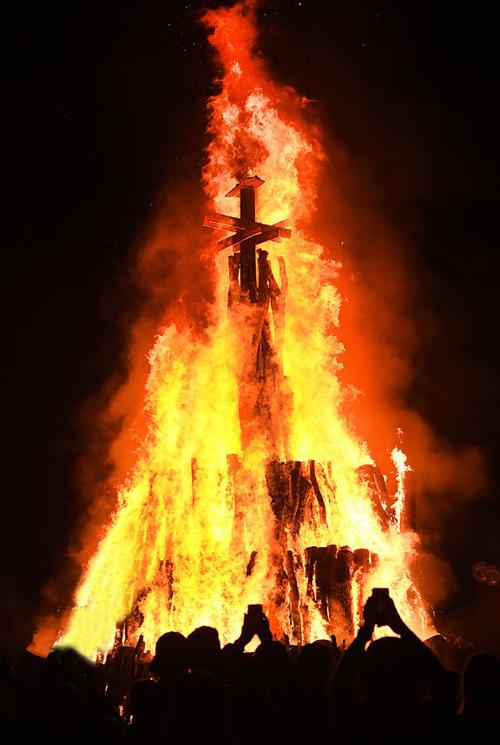 Thousands of Texas A&M students, alumni and families stood in a large pasture in Benchley on Friday and watched as the Student Bonfire, a beacon of school spirit, burned slowly in the night in advance of today's football game against Louisiana State University.
For Jordan Klepser, an Aggie junior and Bonfire crew junior redpot, the night was a culmination of hard work and camaraderie that have left an impact that will last a lifetime.
"I think there's nothing like this in the world," he said. "The camaraderie and bonds you get, you can't find anywhere else. This is not a résumé builder -- you make your friends here and stick with them for life."
Klepser was selected as a sophomore to join the redpots, designated as higher-level leaders amongst the intricate network of stack building crews. Klepser has volunteered his time for the past few months as a junior redpot, working under the leadership of an assigned senior redpot.
This senior is considered Klepser's redpot "dad," and Klepser the senior's "son." After the fire was lit Friday evening, Klepser's "dad" ceremoniously changed out of his Bonfire jumpsuit and allowed the younger student to wear the clothes for the remainder of the night. It's traditions like these, Klepser said, that create strong bonds between the students who give their time to build up the giant wooden beacon weeks before Burn Night.
He explained the significance of certain logs positioned throughout the stack, noting that one log in particular had the name "Kris Ann" carved in large letters facing outward. This, he said, was done in honor of Student Bonfire alumna Kris Ann Martin, who died earlier this year after a battle with breast cancer. Student Bonfire board members who spoke to the crowd said Martin helped found the Student Bonfire board of directors and the organization's scholarship fund.
"When a log faces out, it signifies that that entity is dying," Klepser said. "So we have Kris Ann's name facing out."
This year marks the 16th year since Student Bonfire was first hosted off campus. The student-run tradition of building a bonfire on the Texas A&M campus started in 1909 and ended in 1999 after the stack collapsed while under construction. Eleven students and a former student were killed. The non-university-affiliated Student Bonfire began in 2002 and has since become a nonprofit organization with official bylaws governing the design of the stack overseen by former students who serve on the board of directors.
Chad Hutson and Kristen Escobar, two friends from the Houston area in attendance Friday, both were part of Student Bonfire in the early 2000s, and Escobar helped build the stack that fell in 1999 when she was a freshman, as well as the first off-campus stack during her junior year. Both friends were brownpots at the time, though brownpots in those days went by another name.
Both said it was nice to see the Aggie spirit alive and strong. The friends each brought their families along Friday night. Hutson said each year he has taken one of his children to walk a lap symbolically around the stack. Though he will support his children no matter which educational path they will choose, he said, Hutson hopes his kids will carry on the Aggie tradition.
"Hopefully one year they'll take me on a lap," he said.
Magnolia couple Mike and Sari Elias attended their first Burn Night on Friday. While neither attended Texas A&M -- Mike Elias is an LSU alum and Sari Elias' grandfather is an Aggie -- they were excited to be part of the fun.
"This always been on our bucket list, to go to a Texas A&M-LSU game," Sari Ellis said.
While Mike Elias was wearing a purple-and-white LSU baseball cap and watching an effigy of his alma mater burn, he said he felt welcome at the event.
"I feel fine," he said. "Everyone has been very nice and gracious. We were one of the first ones stuck in the mud [trying to park], and the parking attendant joked that they have special parking for LSU fans -- and then [he] helped us get unstuck. ... The only thing I've heard people say is that it's going to be a great game tomorrow."