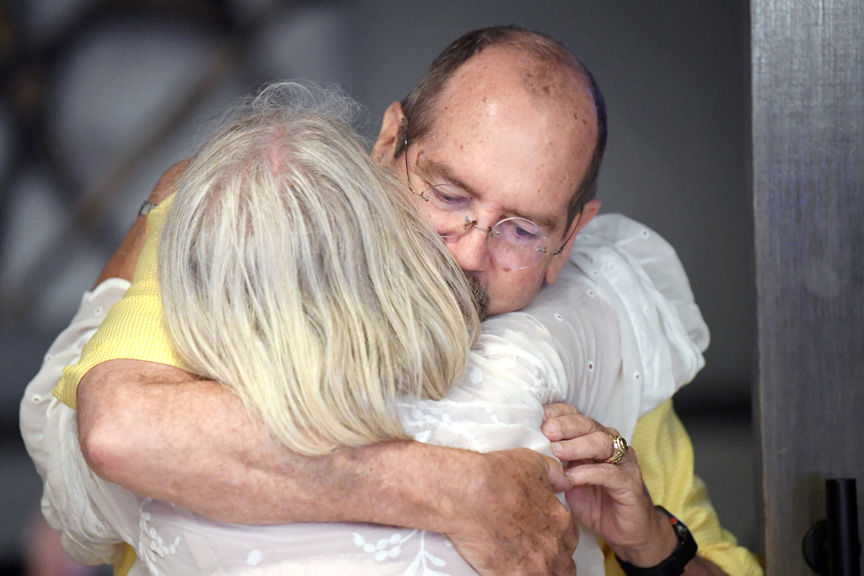 Brazos County Precinct 1 Commissioner Steve Aldrich will serve a second four-year term after defeating Republican runoff opponent Michael Schaefer on Tuesday night. 
Aldrich garnered 1,462 votes, or 52.61%, while Schaefer received 1,317 votes, or 47.39%, in a close and at times contentious runoff race. In an interview with The Eagle at his watch party at Urban Table restaurant, Aldrich noted that after the early voting and absentee ballot numbers were released — the evening's first vote totals to be shared — he and Schaefer were tied at 803 votes apiece. 
"I really appreciate people getting out and casting a vote for me and showing confidence in me," Aldrich said. "Runoff elections are always about getting your vote out."
Brazos Count Elections Administrator Trudy Hancock said that runoff turnout, at 12,162 total votes cast, was 10.39% of the county's 117,027 registered voters. In the March 3 primary, voter turnout was 32,122 of 116,753 registered voters in Brazos County, or 27.51%.
"For a runoff, it's a decent showing," Hancock said. 
Aldrich will be unopposed on the ballot in November. He said that he wants to focus on supporting local businesses in the midst of the COVID-19 pandemic, among other goals. 
"We've got a lot of big challenges for our community, and whether you voted for me or you didn't vote for me, that makes no difference whatsoever," Aldrich said. "What matters is that we do the work together."
Schaefer, who is College Station school board president, said in a phone interview with The Eagle that he believes Precinct 1 has been "neglected" and that the campaign brought forth awareness of his concerns about the precinct. 
"The great part of living in the United States is that we get to elect our government officials," he said. "I want to thank my supporters and family for a hard-fought campaign. It was obviously a very close race. I believe that this election brought to light the needs of Precinct 1." 
Schaefer, who was elected to the College Station school board in 2014, said he will not run for reelection in November when his seat is on the ballot. 
"I feel like it's better than when I found it," he said, noting the district opened five schools in five years and hired a new superintendent during his tenure. Schaefer said he believes in term limits and therefore will cap his board service at two terms.
Hancock, in an interview at the Brazos Center after final numbers were released, said that election workers reported, overall, a smooth day of voting. She added that a state inspector who was present in the area praised the local voting process and the pandemic-related precautions. 
Hancock said she will meet with election judges in the coming days and weeks to evaluate "what worked and what didn't" in advance of what is widely expected to be a high-turnout Nov. 3 election due to the U.S. presidential race, a U.S. Senate race and numerous contested local and regional elections. 
"I don't think we'll change a whole lot," Hancock said. 
Brazos County Democratic Party chair TC Langford said that she was disappointed in the 10.39% turnout, considering voters from both parties had high-profile races to weigh in on. Langford, who will be succeeded by incoming party chair Wanda J. Watson next month, said she wants to see expanded mail-in voting in advance of the November elections due to the ongoing COVID-19 pandemic. 
"I think the low turnout is indicative that people don't want to vote in person," Langford said. "I hope that the state wakes up and recognizes that." 
Brazos County Republican Party chair David Hilburn said that he was happy with the current protocols in place and that he opposes further expansion of vote-by-mail. Hilburn expressed satisfaction at the slate of Republican candidates and incumbents who will be on the November ballot, mentioning State Rep. John Raney in particular.
 "I'm excited with who we have on the ballot as a whole," Hilburn said. "I think the way that [Hancock] and the Secretary of State put the precautions in place worked well." 
---
Eagle staff writer Chelsea Katz contributed to this report.
Get local news delivered to your inbox!
Subscribe to our Daily Headlines newsletter.