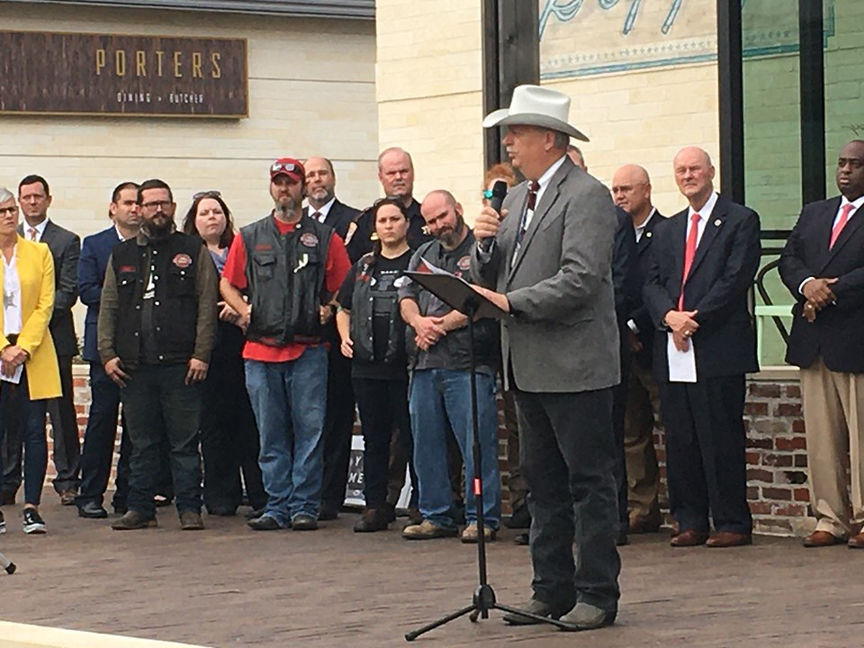 Brazos County law enforcement officials, nonprofit leaders, state representatives and other advocates gathered Thursday at Century Square in College Station to announce the launch of the "Can You See Me?" campaign, designed to raise awareness of human trafficking.
The campaign, which includes dozens of billboard advertisements and radio public service announcements across the state, is a partnership between A21, the Outdoor Advertising Association of Texas and Gov. Greg Abbott's Child Sex Trafficking Team, according to a press release from the governor's office. From now through October 2020, billboard space in more than 70 Texas markets will feature the campaign's message.
"The University of Texas estimates that 313,000 victims of labor and sex trafficking are here in Texas," said Janet Kasper, regional administrator with Abbott's Child Sex Trafficking Team. "Y'all, 313,000 is crazy. That is unacceptable, and as a state we are saying: enough."
Each billboard will depict an image intended to communicate a common occurrence of trafficking and display the Polaris National Human Trafficking Hotline phone number (888-373-7888). Additionally, Texas first lady Cecilia Abbott's voice will be featured on public service announcements on iHeartRadio stations, offering educational information.
At the local launch event, law enforcement members and state representatives Kyle Kacal and John Raney addressed a small crowd of media members, as did nonprofit leaders including Rebecca Carey, director of Hands of Justice, a faith-based anti-human trafficking charity in Montgomery County
"I was just 21 years old when I was trafficked by a man [who] I really believed cared about me," she said. "I was manipulated, threatened, beaten and sold, and I was raped over a two-year period of time so that my trafficker could continue on with a drug and gambling problem. ... What I want people to learn in hearing stories like mine is to know that human trafficking is not black and white. It's complicated, complex and dark, and it is really hard for survivors to talk about."
Carey said she was not kidnapped off the street and implored her audience to ask themselves: If they had seen her as a younger woman, would they have seen her and know she was being trafficked?
"Educating the community in knowing what to look for and how to help is vital in this fight against injustice," she said.
Many who spoke emphasized the need for the public to make reports whenever they notice something suspicious. College Station Police Department Chief Scott McCollum noted that trafficking often takes victims across jurisdiction lines, and stopping it requires help from multiple parties.
"Due to the unique situations and demands these cases present, we often struggle to identify resources that meet the victim's needs while ensuring their safety," he said. "As such, it is clear we must come together to create a collaborative approach to establishing protocols and identifying resources that provide the victim with the comfort and safety that they need while healing from these tragic events."
Get local news delivered to your inbox!
Subscribe to our Daily Headlines newsletter.