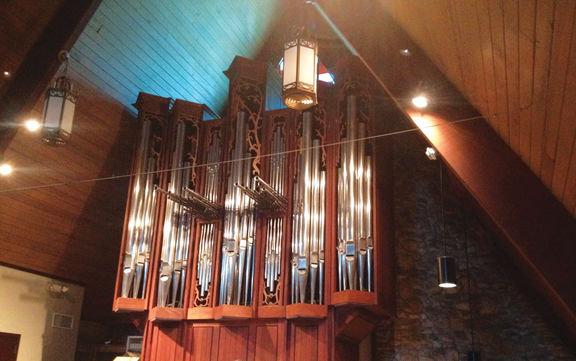 Services at College Station's St. Thomas Episcopal Church will soon be louder and more sonically diverse, thanks to a new organ debuting in December.
"The sound in the room is going to be incredible," said Bonnie Harris-Reynolds, the church's organist and director of music.
St. Thomas bought the organ in the spring from St. John Lutheran Church in Cypress. Valued between $400,000 and $500,000, Harris-Reynolds said the church purchased the instrument for "an unbelievable price," giving them an "unbelievable opportunity."
Pieter Visser and his son Michael built the organ. Harris-Reynolds said Pieter Visser is a "master organ builder," and is passing his knowledge along to Michael.
Stored in the balcony at St. John Lutheran Church, the organ was safe from the devastation Hurricane Harvey wrecked on the Houston area. Harris-Reynolds said Harvey damaged St. Thomas Episcopal in College Station, but restoration work for the damaged carpets and wall behind the altar is nearly complete. The work that remains won't produce nor stir up dust, so the new instrument can be brought into the church without fear that dust will damage the pipes and the organ's inner workings.
The organ case base and the pipes arrived earlier in the week; the mahogany upper and lower organ case will arrive next, followed by the blower, windchests and the mechanism that gets air into the pipes from the manuals and pedal.
Harris-Reynolds said the organ is arriving piece-by-piece, meaning the instrument will need to be deconstructed in Cypress, brought to College Station, then reassembled.
"There is an interesting and intricate and elaborate process going on right now," said Harris-Reynolds.
The new organ will be larger and feature more varied sounds, Harris-Reynolds said, filling the resonant room with "beautiful" musical notes.
An organist for 50 years, Harris-Reynolds is looking forward to the 4 p.m. dedicatory recital at St. Thomas Episcopal Church on Dec. 3, which is the first Sunday of Advent. The recital will feature a variety of composers, places and times, which will show off the new organ's sounds and resources. There will also be a blessing and dedication of the new instrument.
"It's going to be so exciting," Harris-Reynolds said. "I can hardly wait to get my hands on it."