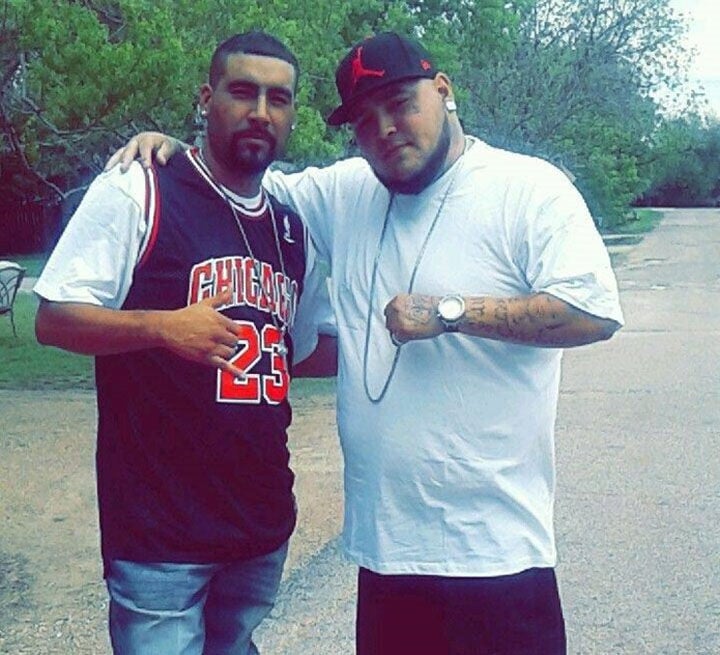 A man who was shot Monday night in his Brenham-area home was remembered by family and friends as a devoted father, avid outdoorsman and top-notch athlete who always had a smile on his face.
Ernest Trevino Sr., 31, was found with a single-gunshot wound to his chest in his Hummingbird Road home around 10:45 p.m., authorities said. He was taken to an area hospital where he was pronounced dead. Nicholas Royal Porter, 20, of Tomball, was charged with murder in connection to Trevino's death and is being held at the Washington County Jail on $1 million bond. Washington County Sheriff Otto Hanak could not comment on the investigatin, but said Trevino and Porter were acquaintances.
Trevino's siblings, LeAnn and Michael Trevino, said their brother only wanted to focus his attention on loving his family. The Trevinos spent the first few years of their childhood in Austin, but the family moved to Smithville, where Ernest Trevino excelled as a member of the Smithville High School football team. According to LeAnn and Michael Trevino, he received an array of awards for his athletic prowess and was invited to play for Abilene Christian University in the early 2000s.
Kelley Miller, a Smithville resident who grew up with Ernest Trevino and was a close friend in high school, said she remembered how he loved the student-to-student peer mentorship program PALS. Along with several others, Ernest Trevino helped create the local offshoot of PALS called PAX, where high school students would establish a longer-term mentorship with younger troubled children in the district.
"Ernest was a super, super sweet guy; very loving," Miller said. "The only time he didn't have a smile on his face was when he lost a football game."
After graduating high school, Ernest played football for ACU as a defensive end for two years before transferring to a culinary school near Smithville, wanting to pursue his love of cooking and be closer to his family. He graduated from the school, though cooked as a hobby. For the past six years, he had been a supervisor for Davis Treescapes. An avid outdoorsman, he loved being an arborist or "tree doctor," Michael Trevino said.
Despite his love for football and his job, his family said his No. 1 priority was his two children, 3-year-old Ernest Jr. and his infant daughter Katherine. He loved spending time with his children and enjoyed taking them to the park or fishing at his pond.
"He was the best dad a kid could possibly have," Michael Trevino said.
Michael Trevino said his brother once said if anything were to happen to him, he wanted Michael Trevino to watch over his children and show Ernest Jr. how to be a good man. Though his children are young, Ernest Trevino had already started using his income tax returns to invest in a college fund for Ernest Jr. and Katherine.
Hours before his death, Ernest Trevino had received some happy news, his brother said.
"Monday, he just found out he was approved to gain joint custody of the kids," Michael Trevino said. "He could bring them out of the county and everything. He was so excited."
Miller remembered how Ernest had been one of the only people to reach out and comfort her when one of her loved ones died. He cared very much for other people, she said, and had a nurturing spirit.
Miller said she hopes authorities will continue to investigate Trevino's death thoroughly.
"I just want justice for Ernest," she said.
Services for Ernest Trevino will be at 10 a.m. Saturday at the Angel Funeral Home in Austin. Michael Trevino has set up a GoFundMe account for Ernest Jr. and Katherine's college funds at www.gofundme.com/8tppmu-lost-loved-one.