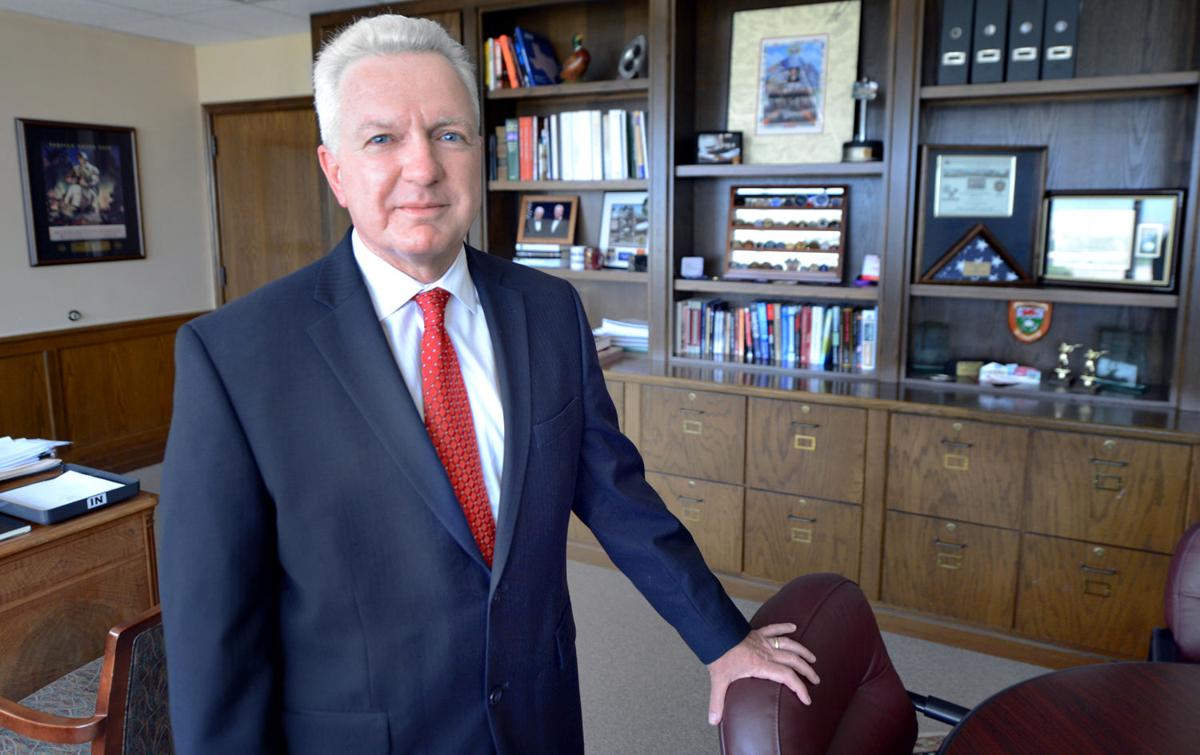 More than a month has passed since Texas A&M University Health Science Center CEO Dr. Brett Giroir was given the option to resign or be fired from his post, but little has been shared publicly about the circumstances surrounding his exit.
Documents obtained by The Eagle through the Texas Open Records Act state Giroir had "exceeded expectations" in his 18 months in the top administrator role, yet Giroir said there appeared to be a potential personality conflict before new A&M President Michael Young started at the flagship school in May.
Young and A&M System Chancellor John Sharp declined to comment on Giroir's explanation of being let go, saying he was told it was so the university could find a candidate who would attract more funding from the National Institutes of Health, while coordinating more interdisciplinary work. Too, Young and Giroir seemingly had different visions for the HSC when it came to pulling in big money.
"If Mr. Young wanted a change of one of his people, that's fine. I think it could have been orchestrated in a different way," he said, referring to the ultimatum he was given to resign or be fired within 30 minutes, then being told he'd have to leave the building immediately and he would no longer have access to his email.
Some administrators at A&M said the departing measures were standard procedure.
Still, the question remained: Why would Giroir be shown the door after being credited by some to have helped land a $286 million Biomedical Advanced Research and Development Authority grant to create the Center for Innovation and Advanced Development in Manufacturing, as well as for having led an effort to increase HSC research expenditures by 34 percent while seeing a 68 percent increase in federal funding in 2014?
'Team effort' brought funds
A statement from the university was given to The Eagle in recent weeks, responding to questions about who was responsible for orchestrating the increases in expenditures and federal funding. The statement does not give most of the credit to Giroir, but rather to Chancellor Sharp and others within the HSC.
"It is inaccurate and disingenuous at best to attribute growth in this area solely to Dr. Giroir," the statement reads, saying that the Health Science Center reported $25 million -- a 33 percent increase -- in growth in total research expenditures.
Eighty percent of that growth, the statement says, was a result of Chancellor Sharp moving $19.8 million in federal expenditures attributable to the Center for Innovation and Advanced Development in Manufacturing from the Texas A&M University System office to the management of the Health Science Center as part of it merging into A&M.
The statement, sent by university spokesperson Shane Hinckley, said the remaining $5 million in competitive funding was not a 34 percent increase in total annual research expenditures and is not a 68 percent increase in funding from federal resources as reported by Giroir.
This remaining $5 million was brought in by HSC faculty researchers in other areas, some of it years in the making, the statement read.
"It has taken a team effort to drive the programmatic growth to date, and only a team effort will sustain it going forward," the statement says. "With new faculty recruits -- several of which were made possible by the Chancellor's Research Initiative -- and under the leadership and vision of President Young, the HSC will be able to work in a true interdisciplinary manner across colleges and units to focus on the academic and research initiatives that are expected from a rapidly emerging academic health center within a national research university."
A January 2015 press release sent out by the HSC called the 2014 spike in expenditures and funding "unheralded." In that release, Giroir chalked up the "remarkable accomplishment" to the "hard work of our faculty." He went on to say that the treatments that are being brought from the labs of the HSC to people and "the entities that support such work -- from the National Institutes of Health to the Gates Foundation -- are taking notice."
The funding spike was listed under accomplishments cited by Giroir in a self-evaluation from March 2015 that he submitted to former Interim President Mark Hussey, according to a copy he shared with The Eagle.
In his March 2015 evaluation of Giroir, Hussey wrote a list of observations, including that Giroir "oversaw a significant 35 percent increase in research expenditures for the HSC."
Regardless of what Giroir or any other official in a vice president position accomplished before Young arrived, Sharp in April asked for resignation letters from each of the administrators prior to Young's May 1 start date.
According to Sharp, the new practice would allow Young and other incoming presidents at all system schools to build leadership as they saw fit. So far, Giroir has been the only official out of 17 to be let go.
According to Giroir, the day he opted to resign, he asked Young what the motive was for giving him the ultimatum to resign or be fired, to which Young replied by saying the university wanted a CEO who could secure more National Institutes of Health funding and engage in more cross-disciplinary work.
Young said earlier this month he could not discuss the reason for letting Giroir go, but he did say the NIH could be a higher priority funding pool for the HSC to pull from going forward.
Giroir, a former NIH investigator himself, said he agreed with Young that the center needed to draw more funds from the NIH, but said he was well on his way to doing that through research projects and recruiting top-tier faculty. The only caveat, he said, is NIH funding has been increasingly difficult to come by, so organizations like the Gates Foundation and state funding and BARDA-type awards are areas that could supply that demand.
"One of the benefits of bringing me here was because I knew there was a lot of money you needed to get from other agencies," Giroir said.
According to the NIH database, the Texas A&M Health Science Center pulled in more than $44.9 million during Giroir's tenure from 2013 to June 2015, double the amount the flagship university received from the NIH during the same time period.
While Young was president of the University of Washington during the same 2013 to 2015 time frame as A&M, Washington received $1.1 billion, ranking second in the country behind only Harvard for much of that time.
"It can be tremendously powerful," Young said. "It's a fairly robust pool of money we want to and ought to be more engaged in pursuing."
For Young, the recipe for HSC success through NIH funding means laying the groundwork for facilities like a hospital that will attract those. According to Giroir's self-evaluation, working toward a new hospital was not in the cards.
"We have a med school that does some degree of research, but we don't have a hospital plan and the consequence is that is a lot of work required to go to the NIH," Young said. "That's something we need to get fixed so we can have pre-preparation through the clinical approach."
Giroir said in June that Young was correct, that the HSC needed more NIH money, and that the center, under his direction, was "clearly on the way to do that."
"You can't substantially change the research profile in a year period," Giroir said. "It's a building project. It was our intention to build over a five-year period to raise the profile to have the HSC be one of the most innovative centers and bring the college of medicine into the top six nationally."
The personnel evaluations from Hussey and Sharp showed confidence in Giroir to carry out his work as CEO, but there were a few blemishes noted.
Sharp's August 2013 review of Giroir when he was vice chancellor for strategic initiatives rated Giroir on a 1-5 scale, five being "excellent" and one being "poor." Sharp gave Giroir mostly 4's and 5's in areas of leadership, management and communication skills, but issued low marks in the 2's and 3's in the personal attributes subcategories of "loyalty/commitment" and "team player."
Hussey's March 2015 review marked Giroir's overall rating as "exceeds expectations" and called Giroir a "highly-energetic, bright leader with tremendous passion for making a difference." Hussey goes on to point out to Giroir that he gives the impression to some that he is "more interested in promoting yourself vs. the Texas A&M University-Health Science Center, its programs and faculty."
Giroir said he recently was hired for two part-time roles with the Texas Medical Center in Houston as a senior fellow at the Health Policy Institute and a senior adviser at TMCx, a business accelerator, where he will work closely with startup companies. He will remain on A&M's payroll through September, but further details of his salary were not on file, according to A&M's open records officials.
He said he is excited to work on policy and commercialization projects that drive him, but he still misses A&M and the relationships he built and has no hard feelings toward his former employer.
"I'm still very supportive," Giroir said.
Get local news delivered to your inbox!
Subscribe to our Daily Headlines newsletter.