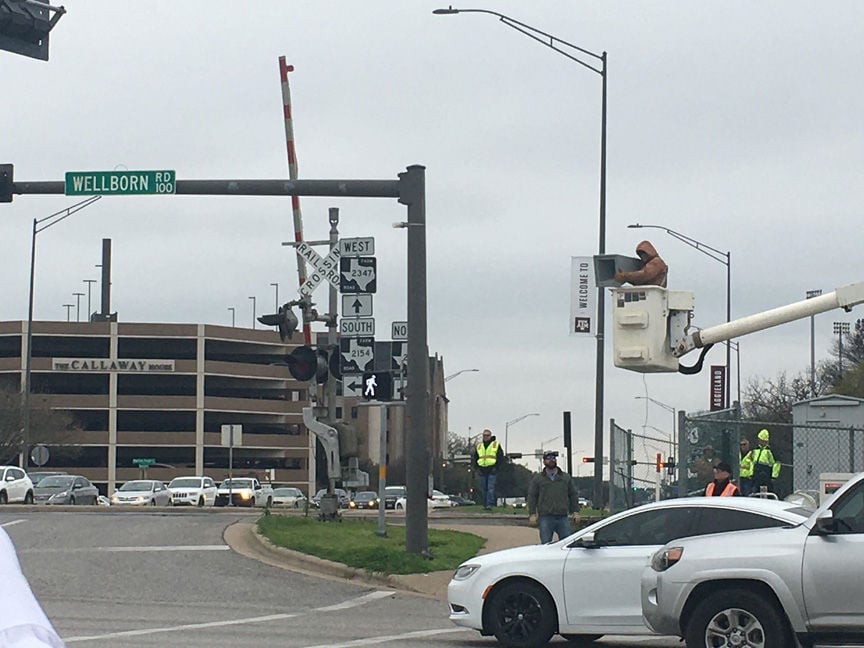 Texas A&M University staff members, those with the city of College Station, engineering company representatives and the media were able to hear an example Wednesday of a lower-decibel wayside train horn that, officials say, could eventually be installed at the intersection of Wellborn Road and George Bush Drive.
The city of College Station, Texas A&M, the Texas Department of Transportation, Union Pacific Railroad and other entities continue to move toward solidifying a grade separation project at the high-traffic intersection. According to Peter Lange, A&M's associate vice president of transportation services, they hope to first complete $5 million in improvements to intersections along Wellborn Road between George Bush Drive and F&B Road.
One of these improvements is slotted to be the installation of a wayside horn at George Bush Drive and Wellborn Road. Eventually, the need for any horn noise would be eliminated with the completion of grade separation construction, as passing trains would travel over traffic using a bridge.
Gary Schatz of Mobility Planning & Engineering spoke at Wednesday's event, and he explained that a wayside horn would take the place of a train's horn. The lower-decibel horn ideally would only be heard by traffic traveling near the intersection.
"When the train is approaching, lights start flashing and the gates come down. Instead of the train blowing its horn and filling everything around with sound, the wayside horn would just warn traffic, because that's really where the need is," he said.
Robert Albritton with Quiet Zone Technologies also addressed the small crowd and said that these horns would be activated by the same circuitry that activates lights and gates at a train intersection.
"A wayside horn, to meet [Federal Railroad Administration] regulations, would need to reach 92 decibels at 100 feet from the center line of the track, across each roadway," he said.
Lights atop the horns would remain constantly flashing whenever the horns are in good working order. Should the horns malfunction, Albritton explained, the lights would shut down, and train conductors should know to sound their engine's horn.
Lange pointed out that wayside horns and their resulting "quiet zones" have been established in various places across Texas, including at an intersection on Greens Prairie Trail in College Station. Texas A&M's office of Transportation Services already has sought out an engineering company it hopes to hire for the George Bush Drive project, but the office and its partners must first await approval from the Federal Railroad Administration before moving forward. It already has taken steps required by the federal government to apply for a quiet zone.
"We are putting the project on our systems capital plan and are hoping to get approval this week," Lange said. "And we will start working immediately once we get that approval."
He noted that the lack of a loud train horn adjacent to Kyle Field should provide more peace for area residents and for A&M students studying in buildings near the intersection of Wellborn Road and University Drive.
Get local news delivered to your inbox!
Subscribe to our Daily Headlines newsletter.