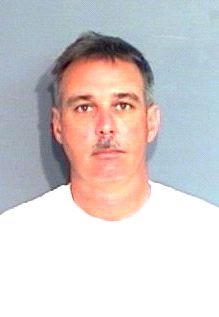 A College Station police sergeant accused of knocking his wife unconscious during a fight last week was arrested Wednesday and charged with misdemeanor assault.
Sgt. Gary Vick, a 16-year veteran of the College Station department, was placed on administrative leave Friday after his wife filed the domestic violence complaint.
Promoted to sergeant in 2002, Vick serves as the supervisor over the department's motorcycle unit. Bryan police formally charged him Wednesday with assault causing bodily injury-family violence, a Class A misdemeanor punishable by up to one year in jail.
Under state law, anyone convicted of a family violence offense loses the right to carry a firearm - a punishment that essentially could end Vick's police career in Texas.
The argument between the 40-year-old officer and his wife, Beverly, apparently began Friday at their Bryan apartment, according to a sworn affidavit filed by the Bryan police officer investigating the disturbance.
Beverly Vick told police that she started to walk away from him, but he grabbed her and she ended up on the floor with her husband holding her down. Fearful of an impending assault, she told authorities that she decided to "knee him in the groin." Gary Vick then stood up and kicked her in the leg as he threatened to teach her a lesson, she told police.
She told police she could not remember what happened next because she lost consciousness but awoke with bruises on her chest, hips, arms, hands and legs and small cuts on her face, according to the affidavit.
Bryan Assistant Police Chief Pete Scheets said the warrant for Vick's arrest was issued last week, but officers weren't successful in locating the College Station police supervisor until Wednesday when Beverly Vick requested an ambulance at their Plainsman Lane apartment. Officers also responded to the call and Gary Vick was arrested after being treated and released at St. Joseph Regional Health Center.
Scheets - who described Vick as fully cooperative - would not release why the ambulance was called for Gary Vick, saying only that the police supervisor had a medical condition.
Gary Vick was released the same day from the Brazos County Jail on a $5,000 personal recognizance bond, according to jail records.
Officer Rhonda Seaton, spokesperson for the College Station department, said Gary Vick would remain on leave pending the outcome of an internal department review and Bryan's criminal investigation. Both are standard procedure when an officer is charged with a criminal offense, she said.
The internal review is designed to determine if Gary Vick's conduct violated any department regulations.
"We will cooperate with Bryan PD and their criminal investigation, and do whatever they need us to do," Seaton said. "We will help in whatever way they request."
• Holly Huffman's e-mail address is holly.huffman@ theeagle.com.
Get local news delivered to your inbox!
Subscribe to our Daily Headlines newsletter.