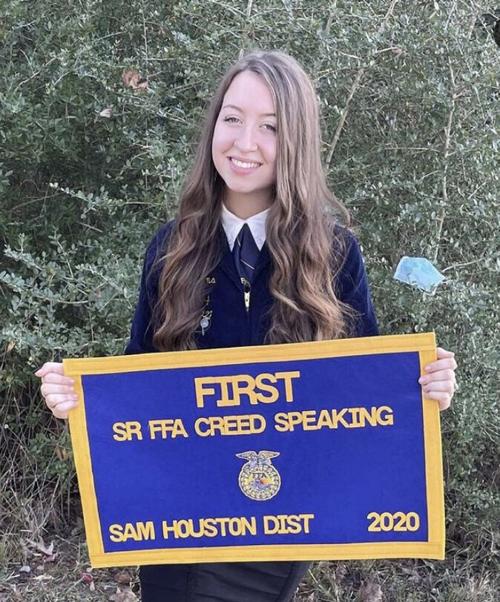 What started as a mistake in Normangee High School senior Jade Williams' schedule her freshman year has led to a future career as an advocate for agriculture.
Williams was new to Normangee that year, moving from Dallas with her mom and brother. Intending to be in a nursing class, she was instead put into an intro to ag class by mistake.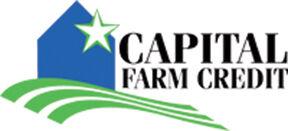 As a home school student before enrolling at Normangee High School and coming from a large city, Williams said she had no knowledge of agriculture or how important the industry was to her and her life.
"I'm so grateful because [FFA] gave me a common ground with the people that I was involved with on a daily basis that I didn't have a common ground with, and it gave me an appreciation for their lifestyle," she said. "… It taught me those public relations skills, and it gave me an opportunity to go on these trips and meet these people and understand what agriculture really means to my friends at school that I didn't relate with and had to gain an understanding with."
During that first class, she learned the average farmer feeds about 113 people — up from about 15 in the 1980s — and that the agriculture industry is more than just farming and ranching, but affects all areas of people's lives.
"When I saw how deeply it related or resonated with me, I just knew it was something I wanted to be a part of on this bigger scale of what it does in public speaking, in the political realm, in the science classroom and in just regular farming," she said.
Williams said her ag teacher, Renita Schroeder, guided her through FFA. Since joining Normangee FFA, Williams has participated in livestock judging, public speaking, public relations, creed speaking and photography and has held leadership positions in the chapter. She also has shown broilers and goats.
She serves as vice president of her FFA chapter, and is serving as secretary for FFA Area IX. On Monday, she was named the 2021 Normangee Junior Livestock Show fair queen.
Schroeder said the senior has gone from wearing cat ears and funky glasses to belt buckles — including a broiler showmanship buckle — and a fair queen's crown. She said Williams has not given up who she was when she first arrived in Normangee, but has become a more diverse version of that person, saying she still might show up one day with cat ears on her head.
"I think she's really a great role model for other students about how there's so much diversity in our organization; there's so many directions you can go," Schroeder said. "I mean, she's still not going to be the person that gets out and farms the land. … That's not her, but at the same time, I think it has really helped us to say, you know, you don't have to be a traditional ag kid. You don't have to have been involved in 4-H since you were in the peewee division of showing cattle. You can come in, and you can find a spot."
Farmers and ranchers do not get to walk away or clock out, and they continue working through pandemics or any weather conditions, Williams said, adding what happens in the ag industry affects everyone in all areas of the country.
"I just think it's so important that we understand that it's more than a job to them; it's a lifestyle," she said. "And it's their lifestyle that supports our lifestyle, whether it's those cool clothes you want to wear, that nice fancy food you want to take a picture of and post on Instagram. That's all affected by agriculture. That's honestly what makes the world go round."
After graduating from Normangee High School, Williams plans to attend Texas A&M to study ag communications and then hopes to intern with the Texas and Southwestern Cattle Raisers Association.
The daughter of a single mom, Williams said she has worked full-time at Stanley Feed in Normangee throughout high school but hopes to receive scholarships to help fund her college education. With scholarships, she said, she will not have to worry about taking a semester off to pay for future semesters or opportunities.
Schroeder said she is proud to see Williams going after scholarship opportunities, saying it has been fun watching the senior go from a naïve freshman to an advocate. She credits Williams' natural curiosity and leadership for that growth.
"She's a great kid, a great young woman," Schroeder said. "I just look for her to be very successful in whatever she chooses to do, wherever she goes and whatever she does because she does really set herself to a high standard."