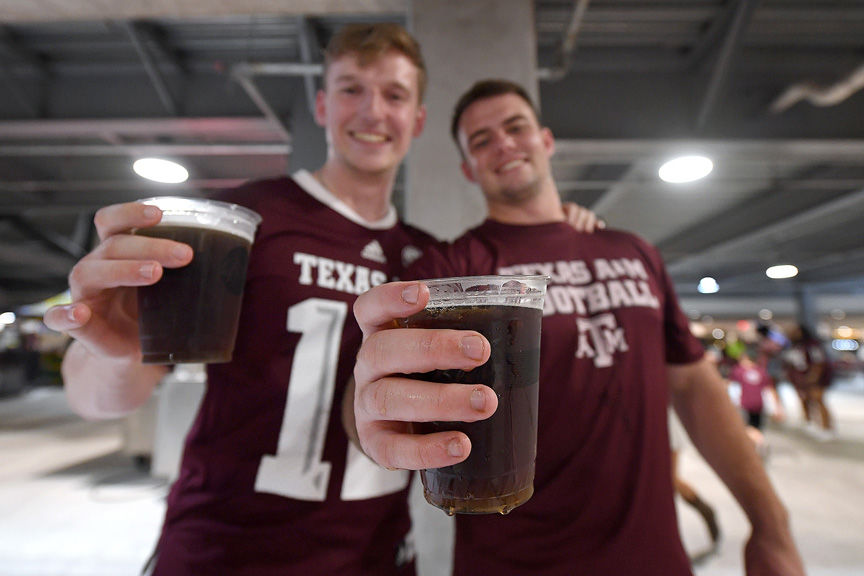 Thousands of Aggie fans waved, cheered and twirled their white towels from the stands of Kyle Field on Thursday evening as Texas A&M kicked off the football season against Texas State.
It's the kind of display of Texas A&M spirit that comes with home football games.
What made Thursday night's game different, however, were the fans in the general seating areas sipping on cold beers as they watched the Aggies beat the Bobcats, 41-7.
Texas A&M officials have been preparing for this for months, as the SEC announced it was lifting its 30-year ban on the sale of alcohol in general seating areas at football games in May. Aggie Hospitality company Levy brought in an additional 250 employees trained in alcohol sales to work various stands throughout the stadium where fans — 21 and older with a valid ID card — could purchase beer and wine. Additional security officers in uniform, on horseback and in plain clothes were also brought in by the university to ensure that alcohol was not shared with underaged students, and that any unruly or overly intoxicated fans were either ejected or arrested.
Texas A&M spokesman Mike Wright stressed before the game that the university will be observing fan behavior and evaluating the practicality and safety of the change.
"Everything will be up for reassessment at the end of the season, or even on a game-by-game basis," he said.
Beer and wine were sold at stands separate from food and nonalcoholic beverages, and points of sale were located throughout the stadium, except on the student section second deck. Fans could only purchase drinks before the game's fourth quarter, in quantities of two beverages or fewer per transaction, with glass sizes between 16 and 25 ounces. They were also encouraged to text AgAssist dispatchers with any concerns regarding fan behavior, underaged drinking or other issues unrelated to alcohol.
"AgAssist has been very good for us," said Texas A&M University Police Department spokesman Lt. Bobby Richardson before the game.
By the end of the game, UPD had arrested two people outside the stadium, Richardson said. According to the official UPD Twitter account, at least four people were ejected from the game by officers, either for public intoxication, use of unauthorized alcohol or sharing unauthorized alcohol. Richardson said his department's officers know how to spot someone sharing alcohol with an underaged friend and have experience identifying students who have brought their own alcohol into the stadium illegally.
Bringing outside alcohol into the stadium is still prohibited, and providing alcohol to a minor is a Class A misdemeanor punishable by a fine and jail time, he noted.
Texas A&M senior Kyle McCarver purchased a 25-ounce beer for $13 at a low-level deck Thursday. He and friend John Michael, a fellow senior who also purchased a beer, noted that the beer sales could have somewhat of a positive impact.
"I think this is smart revenue-wise," McCarver said. "And the people who want beer will get it."
"I feel like this will limit people sneaking in stuff because they can buy beer here," Michael added.
Aggie seniors Skye Lovelady and Shelby Hotz said they tried to buy beers but were unable to because the stands selling alcohol only accept cash. Regardless, they were generally in favor of the change at Kyle Field.
"I enjoy it personally because it's hot outside, and having a nice, cold beer while watching a football game is fun," Lovelady said. "It definitely creates a more responsible atmosphere, as there's less [incentive] to binge drink."
Hotz noticed the greater police presence but said she didn't mind it.
"I like cops being here," she said. "They're not trying to bust everybody; they're just trying to make sure we're safe. Aggie football is fun, and they don't want [someone] to ruin it for anyone else."