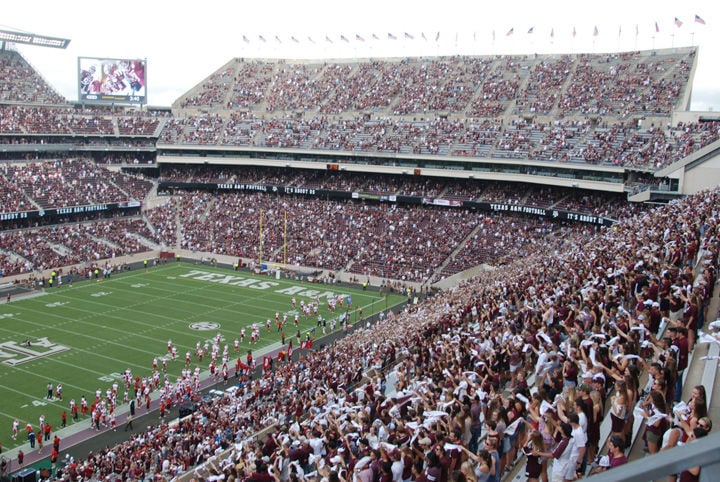 Blake's Steaks cheesesteaks, Schlotzsky's original sandwiches and Dat Dog's gourmet hot dogs are a few of the new food options available in Kyle Field this season.
Attendees can also purchase options from Freebirds World Burrito and Papa John's Pizza, and fans in premium seating areas can choose from a specialty menu by Rudy's Bar-B-Q and an exclusive chuck and short rib blend from Aggie Grind Burger, according to the 12thman.com.
Aggie Hospitality — the university branch of Texas A&M Athletics' concession partner, Levy Restaurants — will run 90 percent of the concessions dining locations with volunteers from student and nonprofit groups. Last year, volunteers earned $250,000 for their organizations.
Alcoholic beverages also will be available for the first time after the Southeastern Conference renewed its policies in May.
Draft beer and wine bars will be sold at every level of the stadium, except 350 near the student section on the east side of Kyle Field. However, students who are 21 years and older can purchase drinks at other sections and take them back to their seats. Alcohol sales will stop at the end of the third quarter of the game, and attendees can only purchase two beverages each transaction.
More than 250 new bar team members have been added to Aggie Hospitality staff to help manage alcohol sales at the games, according to Texas A&M Today. Each of them received State of Texas Alcohol Responsibility Training to learn how to spot fake IDs and behavior associated with over-intoxication. Levy also provided its own training program with similar lessons, as well as skills to help workers handle disorderly or intoxicated customers.
Other changes in Kyle Field this season include redesigned menu boards and signs to help speed up orders.
The new food items are only available in specific sections, not at every concession stand. A detailed list can be found at 12thman.com.
Get local news delivered to your inbox!
Subscribe to our Daily Headlines newsletter.