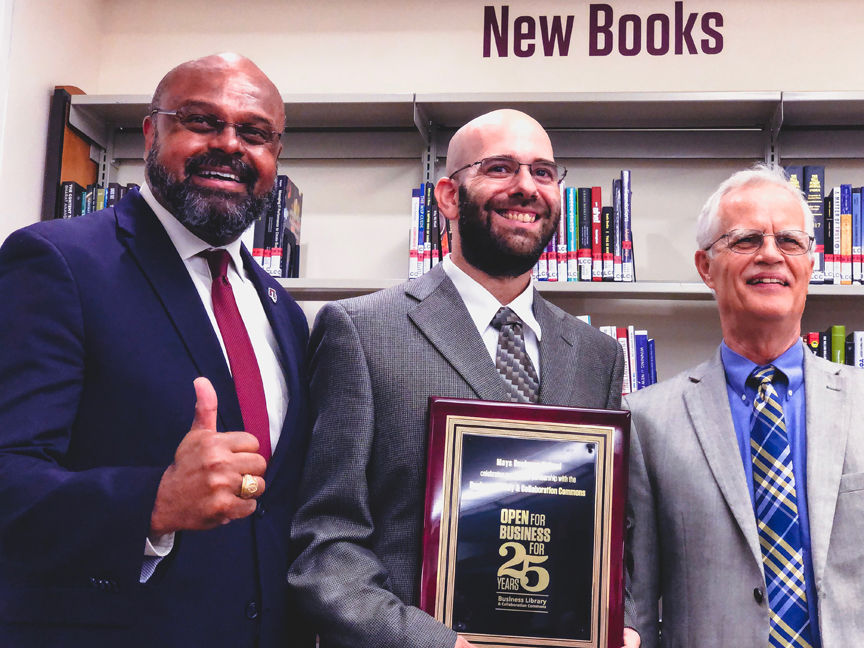 Nearly 100 people filled the ground floor of the newly renamed Business Library and Collaboration Commons on the Texas A&M University campus to celebrate the West Campus business library's 25th anniversary. 
Staff members from the Mays Business School and University Libraries joined other A&M staff members and students Thursday afternoon for food, conversation and brief remarks as business school and library personnel celebrated their increased partnership. 
Business library director Jared Hoppenfeld said that Mays Business School and university libraries have increasingly worked together to serve students at the facility.
"For quite a while now, our library has had a business collection, business librarians and other business professionals — and now we have a business name, having recently changed our name to the Business Library and Collaboration Commons," Hoppenfeld said. 
Hoppenfeld said the library formerly known as the West Campus Library opened "to much fanfare" as an agriculture and business library in 1994. In his introductory remarks, Hoppenfeld outlined the facility's changes over the years, noting to laughter that the old computers, box monitors and TV/VCR combos are long gone.
"We've gone from a quiet study library — the whole building was really quiet back then — and now we've mixed together quiet study and collaborative space," Hoppenfeld said.
He said the number of study rooms have nearly doubled in recent years — from eight to 15 — and the facility is open 24 hours a day during the school year except on weekends.
Mays School Dean Eli Jones said that business students and faculty rely on the Business Library and Collaboration Commons for their studies due in part to the physical proximity of the library to Mays. He expressed gratitude for the partnership between Mays and University Libraries and said the goal is to serve students as effectively as possible.
"We talk about collaboration across this campus, and this is a good and tangible example of it," Jones said. "At Mays Business School, our mission is to create a business education complex where we emphasize creativity, communication skills and collaboration." 
The facility, which has been renovated in recent years, includes "bike desks" on the second floor for those who want to exercise while they study, and a non-academic book swap location. Staff members said the library is working on creating a prayer and meditation room. 
David Carlson, dean of university libraries at A&M, said that technological advancements have not lessened the importance of physical space and proximity in academic work. 
"A lot of people talk about the importance of electronic resources, and how you can reach them from everywhere — and that is entirely true," Carlson said. "But it has not, in any way, shape or form, led to a reduction in the use of space in the libraries. What it has led to is a keen difference in how people use the space — which is why we think the 'collaboration commons' part of the name is so important." 
Business librarian Jennifer Wilhelm said the ground-floor commons is often crowded, with small groups of students using the space to work and others using the couches to take naps.
"The students really love to come in here and hang out," Wilhelm said. "The first floor is really the collaboration space — you see students coming in to meet in their small groups. A lot of business classes require small group projects, so they meet here. This is an absolutely packed floor every single day when the semester is open." 
Wilhelm said most of the students who use the facility are business students, with other students also taking advantage of the recently renovated space. She cited apartment complexes and other living centers as factors in students' presence in the West Campus library and commons.
"There is a lot drawing folks over here to West Campus now," Wilhelm said. "We are still primarily a business-focused library, but we welcome everyone to come in. There are librarians here to help you."
Get local news delivered to your inbox!
Subscribe to our Daily Headlines newsletter.