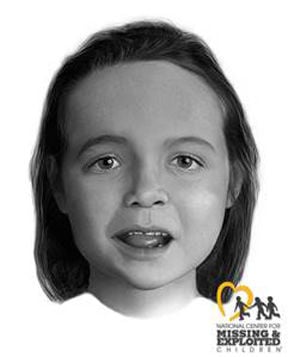 It was three years ago Tuesday when Madison County deputies were called out to a pasture off an Interstate 45 access road on the report that a body had been found.
There in the vegetation was a suitcase containing a tiny skeleton wrapped up in trash bags. While authorities still don't know the identity of the girl dubbed "Madisonville Jane Doe," scientists have been able to narrow down her age, her ancestry and a possible geographic location where she originated.
"We have solicited help from the National Center for Missing and Exploited Children, and they have put us in contact with a lot of labs and resources that have been able to help us out," Madison County Sheriff Travis Neely said.
NCMEC has paid for the girl's remains to be analyzed by different laboratories in Dallas and near the Mexican border. Scientists determined she was between the ages of 2 and 6 before her death and suffered from a medical condition known as micrognathia, which caused her to exhibit a small jaw bone and require a feeding tube. In fact, a feeding tube was found in the black suitcase with her, though detectives were unable to decipher any relevant information from its manufacturing origins, Neely said.
Forensic experts estimated that Madisonville Jane Doe had been dead three to five months before the landowner found her. It is believed she was either white or Hispanic and had thick dark hair, according to NCMEC.
Recently, scientists determined through genetic research she had Native American lineage. A CT scan was performed on Doe's skull, and a forensic sketch was created to represent her face. Scientists also analyzed the pollen found on the suitcase and her remains, and they determined that Doe is likely from southeastern Arizona or a region of Mexico near there.
The girl's death has been ruled a homicide, but autopsy results could not clarify her exact cause of death. According to the NCMEC's website, her body did not show signs of trauma. She was wearing a pink dress with hearts, butterflies and the phrase "Follow Your Dreams," and a size 4 diaper. Neely said investigators were unable to track down where the suitcase itself might have been purchased and used.
According to Neely, about six weeks ago, NCMEC and a Dallas laboratory were able to send some of Doe's DNA for further analysis.
He added that NCMEC and the Federal Bureau of Investigation have both made contact with connections in Arizona and the southwestern U.S. as part of their search for the girl's identity. But, should Doe prove to come from another country, the investigation would become even more complicated, Neely said.
"If she is from Mexico, it would be hard for us to follow up — or if she was from a country even farther south than Mexico," he said. "I'm hoping once we get the ancestry [DNA analysis] results back, we can try and put our heads together on the resources we could reach out to.
"I still hope some day, somehow, some way, a lead will come and open things up more."
Anyone with information on Madisonville Jane Doe is asked to call the National Center for Missing & Exploited Children at 1-800-THE-LOST [1-800-843-5678].
Get local news delivered to your inbox!
Subscribe to our Daily Headlines newsletter.