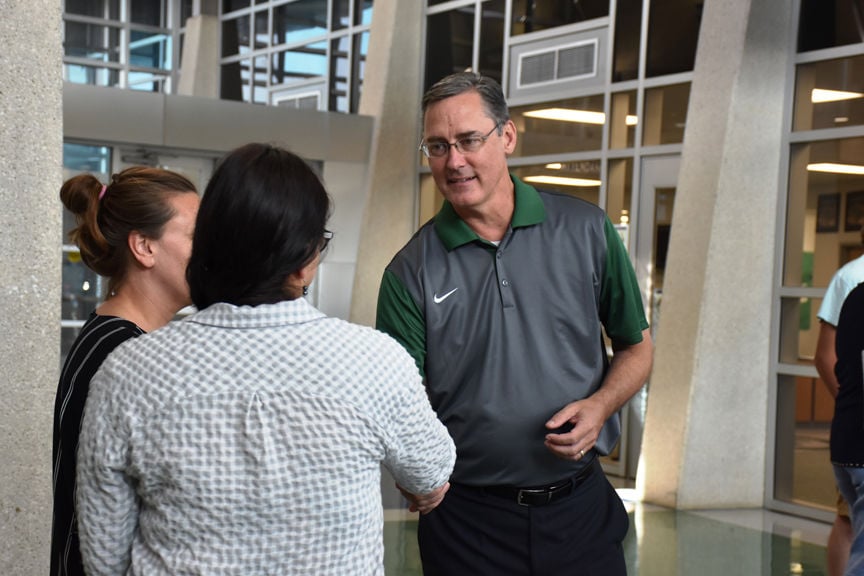 To the Rudder High School and Jane Long Intermediate School communities, Mario Bye was an administrator, but to his family, he was a husband and father.
Bye, 52, died March 14 after months fighting to recover from a traumatic brain injury he suffered in an October car wreck.
"He's just a good guy who wanted to do everything that he could to help us and other people," his wife, Deanna, said.
Following the wreck, Deanna used Facebook to keep their friends, family and communities updated on her husband's journey.
"At first I started writing in a journal, and I was writing it as if I was writing to Mario in the journal, but I also wanted to update everybody, so I figured if I tagged Mario on Facebook, then he would know the story, too, when he got better."
She thought the more people who knew meant more people who could be praying for him.
Once she started posting the updates, she started getting stories about how her husband had impacted people's lives, from giving someone her first administrative job to taking an employee's parents on a golf cart tour of Seven Lakes High School when he was an administrator at the campus in the Katy school district.
"Mario just saw people as humans, which I think sometimes people don't," she said. "They look at a piece of paper or they look at kids' grades, and they don't see the person behind that piece of paper to know who they are. He was very good about seeing the person that they were or they are."
After two years as principal at Liberty Hill High School, Mario was named principal of Rudder High School in 2018. For two years, he commuted to Bryan from Liberty Hill so his children did not have to make another move.
"We just didn't want to move the kids again," she said. "… We lived in Bellville for almost 11 years, and moving them [to Liberty Hill] was really hard to do. That was the only home they'd known."
She said he had a small apartment in College Station for when he had Rudder games or events to attend. However, while he was attending Rudder games, he was missing his own children's events and games.
"He just didn't want to do that anymore, so he needed to find a job either closer or that required less of his time in Bryan," she said. "… Jane Long was perfect for that because they got out of school early, and there weren't all those extracurricular activities. … It was good. We were finally getting back to having our family together again, and then the wreck happened."
It was that routine that let her know something was wrong, because Mario was not at the Liberty Hill football game as planned.
According to what she has been told, Deanna said, Mario was at the intersection of FM 908 and U.S. 77 in Rockdale on his way to Liberty Hill from Bryan and was hit by an oncoming car. With the position of the sun at that time of day, the direction of the car and the gold color of the vehicle, they suspect he might not have seen the vehicle, which police said was going below the posted 70 mph speed limit.
"I don't know what happened and we'll never know, and even if it had turned out differently, I think we would never have known what happened that day," she said.
He was flown to St. Joseph Health in Bryan where his treatment began before entering rehabilitation.
"But Mario kept fighting; he kept fighting. He just kept defying the odds," she said. In December, he showed his doctors and his family that he was capable of reading and math and could hear what was happening, even if he could not respond back.
When he went in for an appointment to address an increase of fluid in his brain, Deanna said, she expected him to begin making progress afterward — but then they found a bleed in his leg.
"His brain was starting to heal, and then for his body to shut down, it's just devastating," she said.
Her favorite memories with her husband are the trips, hikes and vacations they did as a family.
"I'm still so grateful for that time that we had, from the time he started to come out of the coma in November, until this," she said. "… We were able to talk to him, and although he couldn't talk to us, we were able to share what was going on with us, with him through the iPad, through FaceTime. I'm still so grateful for that. I wish we had been able to hear him tell us he loved us and all of that, but I'm so glad that we had time to tell him all those things, to let him know how much he meant to us and to still be a part of our lives, for that time."
She is working to establish a Mario Bye memorial scholarship and is also asking for stories about her husband to include in a book she will make for their children. Stories can be shared through an online form at tinyurl.com/MarioByeMemories.