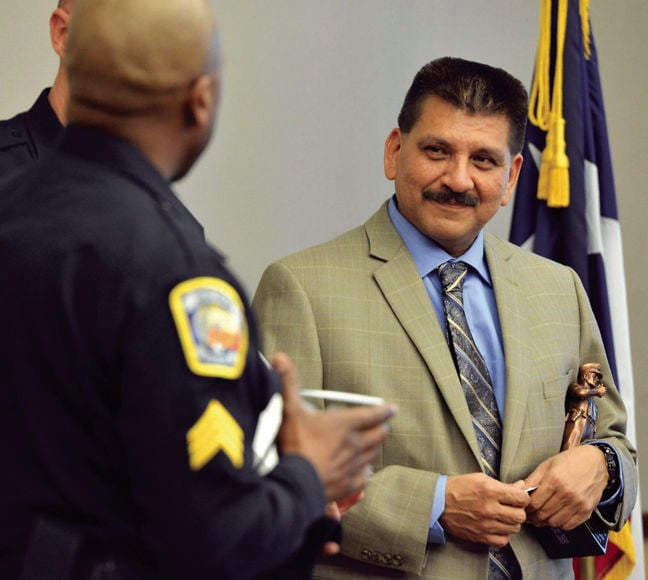 George Aguilar, who spent more than half his life with the Bryan Police Department, died Monday — one day after his 62nd birthday — after a battle with cancer.
The Bryan Police Department formally announced the veteran officer's passing with a Facebook post Tuesday. The post noted that Aguilar, who served with the department for more than 34 years before his 2015 retirement, had dedicated much of his career not just to police duties, but to working with children. Aguilar served as a school resource officer and K-9 officer, and he was involved in a now-retired police department summer camp program known as Camp PAL.
Articles mentioning Aguliar's work can be found throughout The Eagle's archives.
He is referenced as a counselor for Camp PAL, a free summer camp with the mission of providing local children with a positive association with police officers.
A May 1998 article details his career working with K-9 officer Tara, who would patrol Bryan ISD campuses with Aguilar.
The Eagle also covered Aguilar's February 2015 retirement, after which he went on to serve as a Brazos County bailiff, a position he held until his death.
"You don't police like a guy who's been on the job for 35 years," Bryan Police Chief Eric Buske is quoted as saying in the 2015 report. "You police like a new guy. We're going to miss you."
The article notes that Aguilar received six commendations during his time with Bryan PD.
Retired Bryan police officer Mark Ricketson shared a story Tuesday about his time working with Aguilar.
Ricketson explained that he was a young Aguilar's supervisor on patrol. One night, Ricketson was in pursuit of a suspicious man on Texas Avenue, and he had chased the suspect into an apartment. Ricketson was soon flanked by several officers to subdue and detain the man.
Aguilar was there to help and was wearing a shredded, tattered uniform. Ricketson said that night Aguilar had stopped the suspect on a traffic stop and was dragged by the man's car before he let go and shot at it. Aguilar then hitchhiked a ride with some passing Texas A&M students to help assist at the apartment complex.
"He's gonna stick with his man if he's after someone," Ricketson said.
Ricketson described Aguilar as easygoing, helpful, always smiling and a hard worker — the ideal patrol officer. Dale Cuthbertson, another retired Bryan PD officer, also reflected on Aguilar's smile and measured ways.
"If you had a high-stress call with emotions involved, he was the guy you wanted there with you," Cuthbertson said. "He was just so calm. ... He was the kind of guy who had the demeanor where he could bring quiet to an agitated, emotional state and diffuse the situation."
Cuthbertson said Aguilar had fought prostate cancer, which was detected in 2019. Cuthbertson and fellow law enforcement members involved with the Brazos Valley Thin Blue Line Foundation raised funds to assist Aguilar, who had relocated to the Dallas area to be close to a treatment center.
"He fought it," Cuthbertson said. "He fought hard. ... I'm a little distraught over George's death. He was one of the good guys. ... It's hit a lot of us hard, a lot of us old-timer officers."
Visitation will be from 11 a.m. until services at 1:30 p.m. Friday at Callaway-Jones Funeral Home. Burial will be in Rest-Ever Memorial Park.
Get local news delivered to your inbox!
Subscribe to our Daily Headlines newsletter.